WASHINGTON -- Lawyer and gun rights activist Gayle Trotter gave vivid testimony to the Senate Judiciary Committee at a Wednesday hearing on gun violence. Trotter, a senior fellow at the conservative Independent Women's Forum, argued that a proposed ban on assault weapons would "disarm" vulnerable women and "put them at a severe disadvantage" in fights with multiple criminals.
Trotter painted a picture of mothers under siege in their homes, and when Sen. Sheldon Whitehouse (D-R.I.) questioned the details of one example she offered, she told the lawmaker he didn't understand the issue. "You are a large man, tall man, a tall man," Trotter said to laughter from the audience.
"You are not a young mother who has a young child with her and ... you cannot understand. You are not a woman stuck in her house, not able to defend her children, not able to leave her child, not able to go seek safety, on the phone with 911," Trotter said. And that woman, "she's not used to being in a firefight."
Despite arguing for serious firepower, Trotter said later the most important thing about assault weapons for women's defense is the way the guns look.
"An assault weapon in the hands of a young woman defending her babies in her home becomes a defense weapon," said Trotter, a mother of six. "And the peace of mind she has ... knowing she has a scary-looking gun gives her more courage when she's fighting hardened violent criminals."
More than once during her testimony, Trotter seemed to imply that five-on-one firefights are somehow easier for a man to win than for a woman and that women are at a grave disadvantage to men because women have so much less experience in firefights.
Despite her strong emphasis on the need to prevent violent crimes against women at home, Trotter is an outspoken opponent of the Violence Against Women Act, a law designed to aid women faced with domestic violence. In 2012, she wrote on the Independent Women's Forum's blog that VAWA infringed upon the rights of men who were falsely accused of domestic abuse. The law would also embolden "false accusers," who would take "needed resources like shelters and legal aid … denying real victims of abuse access to these supports," she wrote. Trotter and the forum characterized VAWA as "reckless demagoguery."
Trotter was the only woman who gave detailed testimony on Wednesday, alongside National Rifle Association CEO Wayne LaPierre, constitutional law professor David Kopel, Baltimore police Chief Jim Johnson and retired Navy Capt. Mark Kelly, husband of former Rep. Gabrielle Giffords (D-Ariz.).
Guns are a relatively new topic of interest, at least publicly, for Trotter. A tax attorney by trade, she appears to have published her first op-ed about gun control in September. In it, she urged voters to "cling to your guns."
Trotter also maintains a personal blog, www.gayletrotter.com, in which she addresses faith and values. The blog, which has been operating since 2010, contains only one post about gun rights, published about a week before Wednesday's hearing.
Her presence at the Senate hearing appears to be tied to her status at the Independent Women's Forum, a nonprofit public policy group. But the forum doesn't specialize in firearms issues. Its stated mission is "to expand the conservative coalition" by making conservative ideas more attractive to women and by "increasing the number of women who understand and value the benefits of limited government, personal liberty, and free markets."
Like Trotter, the Independent Women's Forum has recently shown interest in gun rights. Before the Sandy Hook Elementary School shooting, the last time the group had published multiple items on gun rights was 2000, when gun advocate John Lott's book More Guns, Less Crime was referenced on its website.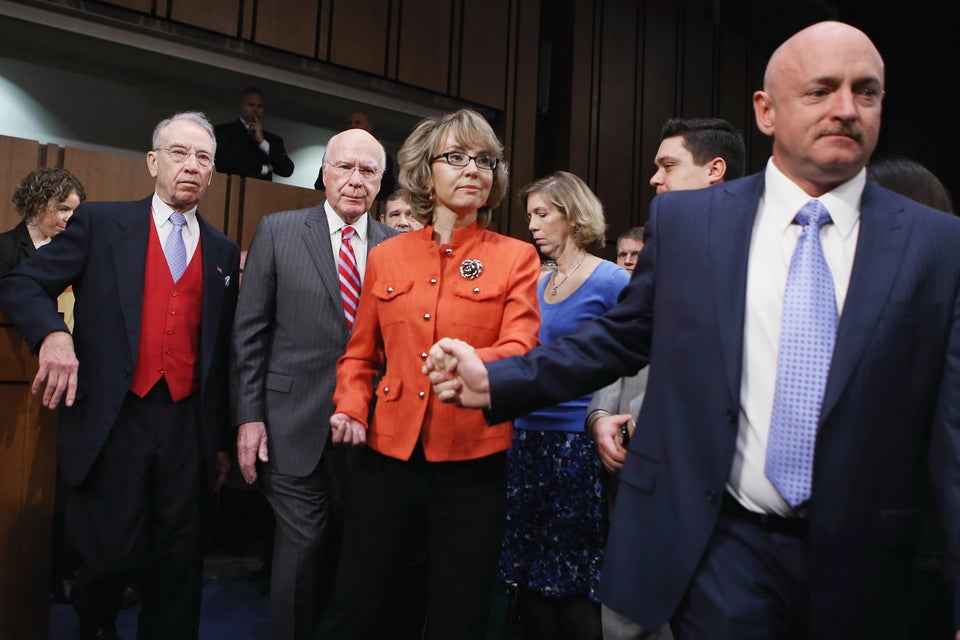 Giffords Appears At Gun Control Hearing
Popular in the Community