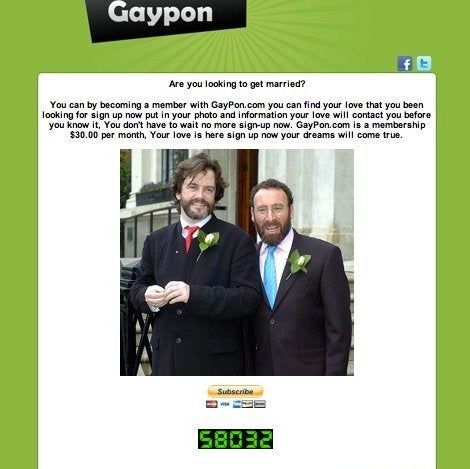 Imagine the vexation 32-year-old Robert Graham felt in January when he wanted to purchase web space for his new business Gaypon and discovered the URL GayPon.com already belonged to someone else. What's worse is that the page wasn't being utilized.
Gaypon -- not GayPon.com -- a recently launched online company, has quickly been dubbed "the gay Groupon." Gaypon and Groupon aren't affiliated, but the premise is essentially the same: Offering daily deals from local and national businesses. In Gaypon's case, the businesses are prescreened to determine they are gay-friendly, and a small percentage of the proceeds go to LGBTQA charities (Lesbian, Gay, Bisexual, Transgendered, Questioning and Allied, according to the website).
Graham and cofounder Jason Buszta probably hoped people wouldn't confuse their site for the GayPon.com already in existence. But, alas, that very same mistake is what led us to the elusive, original GayPon. NBC Bay Area made the same error, posting a GayPon.com picture -- the civil partnership ceremony of Shakespearean director Sir Gregory Doran and thespian Sir Anthony Sher -- in an article about Gaypon. (NBC has since taken the picture down, according to Graham).
Graham told SF Weekly he immediately contacted the owner of what was then, according to him, just an untouched website for sale. The man's asking price for the URL was steep: $17,500. Definitely not a Gaypon deal.
"I offered him $5,000, which I thought was more than fair," Graham said.
Instead of going back to the drawing board, he bought up as many other domain names as possible that he could link back to his site, DailyGaypon.com.
That, however, hasn't prevented confusion -- especially because GayPon.com has undergone some radical changes since Graham said he first made contact.
For one thing, GayPon.com now shares the same logo, green backdrop and tropical drink artwork as Groupon. That's where the similarities end. The rest of the page reads, verbatim:
Are you looking to get married? You can by becoming a member with GayPon.com you can find your love that you been looking for sign up now put in your photo and information your love will contact you before you know it, You don't have to wait no more sign-up now. GayPon.com is a membership $30.00 per month, Your love is here sign up now your dreams will come true.
The links to its social networking sites are a dead end, leading straight to the Twitter and Facebook homepages, and Graham said he and his friends attempts to subscribe were in vain.
Further digging showed that GayPon.com was registered by Kari Bian in 2001 under the business Success Incorporated. Bian is also the registered owner of many other sites, including areyougay.org and whorse.com.
Bian, who is based in Malibu, told SF Weekly his original name was Saeid Yomtobian before he became an American citizen five years ago.
In 2000, Fox Legal Group successfully won the domain names "foxchannel.com" and "alienmovies.com" from Yomtobian via the National Arbitration Forum. The panel arbitrating the case ruled that Yomtobian's domains were too similar to FOX's registered trademarks.
Even though GayPon.com replicates the Groupon homepage, Bian told SF Weekly that there is no connection.
"Mine is a gay site. It has nothing to do with those daily deals."
He said because he bought the site nine years ago and has been developing it into a business during the last eight to nine months, he does not think Gaypon has a claim to it.
"They have no right to anything," he said. "When did they start their company?"
He said it was none of our business when we asked how many sites he owns.
Graham said he does not believe GayPon.com is a real dating site. He said he suspects that Bian bought the address years ago hoping people would be directed to his site by mistyping "Gayporn.com." Then, he tried to make it look like a legitimate site once Graham tried to purchase it.
Bian, however, said he was not contacted by anyone regarding Gaypon until a month ago.
Graham, for his part, will be taking legal action.
"It's a cyber piracy issue," Graham said. "It is cyber squatting -- when somebody goes out and takes up a whole bunch of accounts to try to make a profit and take advantage of small businesses like us."
Graham said he thought it was "mind-blowing" that Groupon hadn't ordered the site to be taken down yet, given the aesthetic similarities.
Groupon has not immediately returned our request for an interview.
Gaypon is based in Detroit, Michigan, but will feature more online deals in the future for the rest of the country.
To compare, here's what the other two sites look like: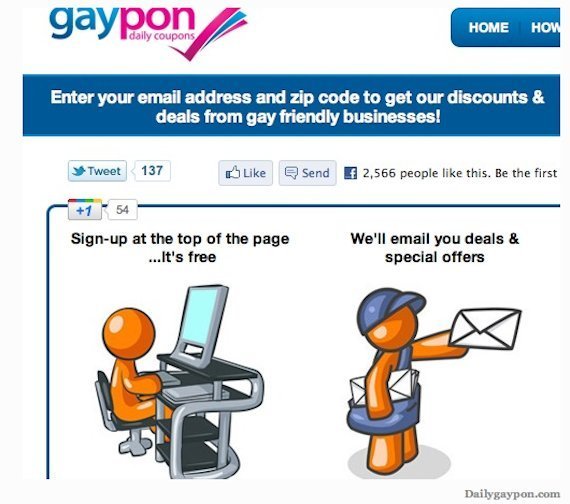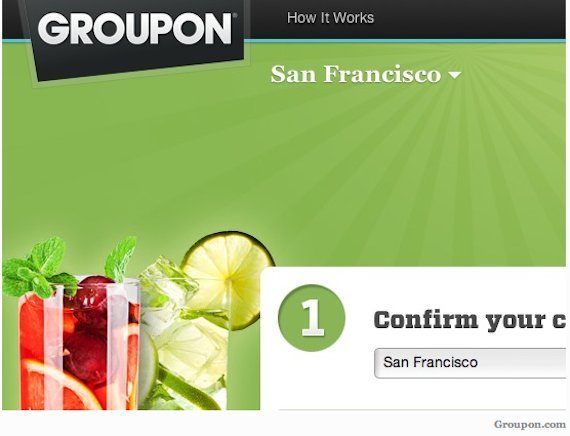 Popular in the Community