A newly formed queer, anti-gun group staged a protest and die-in outside of an NRA-supporting politician on July 4 in upstate New York.
Gay Against Guns (GAG) partnered with New Yorkers Against Gun Violence on Sunday at the Patchogue, New York, July 4 Parade in order to shame Rep. Lee Zeldin (R-NY), who represents Suffolk County in Congress. The move is the first in a larger campaign on the part of GAG to shame those that they dub to be "NRA Puppets."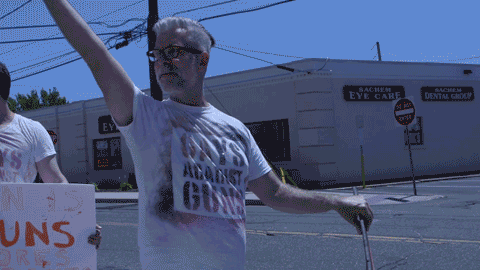 Those protesting also handed out informational flyers detailing Zeldin's history when it comes to the NRA and gun violence, including voting down bills like those meant to ban assault rifles after the Sandy Hook massacre.
"We're publicly shaming NRA puppet Zeldin today because his record on gun-control is abysmal," GAG cofounder Brian Worthsaid in a press release sent to The Huffington Post. "He opposed the 2013 New York SAFE Act, one of the strongest gun-control laws in the country; he hasn't signed on to either HR 4269, the assault-weapons ban, or HR 1217, the background-check bill; and he's a sponsor of the dangerous HR 402, which would override the SAFE act and impose a federal mandate allowing concealed-carry weapons in public places."
Zeldin, among other targets in the GAG "NRA Puppet" campaign, is up for reelection in November.
Head here for more information on Gays Against Guns.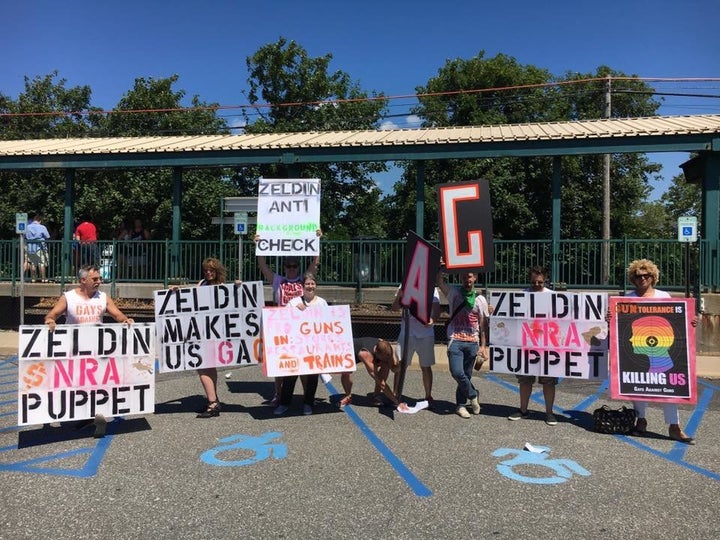 Popular in the Community