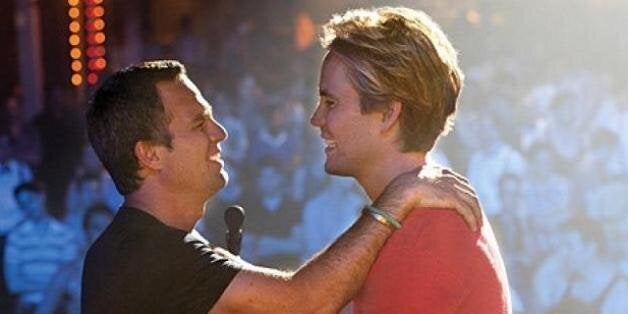 For anyone under 30, it may be difficult to imagine a time when the gay-rights movement wasn't operating at a milestone-a-minute pace. From Michael Sam's "kiss seen 'round the world" to states like Oregon, Pennsylvania and Wisconsin tripping over themselves to let same-sex couples walk down the aisle, change is occurring at such a remarkable pace that it is difficult to contextualize how far we've come. Just 45 years ago gays had little choice but to quietly rise above the separate-but-inherently-unequal pre-Stonewall era. And it was only a generation ago that HIV demonstrated just how M.I.A. government and society could be -- as long as the plague was knocking on someone else's door. People who lived during these times were warriors on the front lines of history, but today the pace of change threatens to wash away the past in the eyes of a new generation. Fortunately a wave of artistic and media projects has emerged to remind us of these heroes, to refocus us on the type of activism that helped elevate the LGBT movement and to inspire us to make that final push.
How to Survive a Plague is the best documentary you've never seen. David France's 2013 Oscar-nominated film uses archival video footage to tell the tale of the early days of the HIV struggle, where everyday-Joes-turned-activists Peter Staley, Bob Rafsky and Mark Harrington refused to play victims, taught themselves how to read medical journals and brazenly led the national conversation on treatment and prevention. Plague demonstrates how perseverance and the sheer desire to live can mobilize even the most intractable members of society, save Ed Koch and Ronald Reagan.
Next, Ryan Murphy's much-ballyhooed adaptation of Larry Kramer's The Normal Heart provides a polished and effective complement to Plague's grainy documentary. That the story was even green-lit at all (it famously sat on Barbra Streisand's desk untouched for 20 years) was due to Mr. Murphy's sense of urgency and the foresight and finances of HBO, a company whose pioneering project development has done as much to expose the nation to the plight of the LGBT community as any non-for-profit or government entity. The Normal Heart, Kramer's mostly autobiographical but fictionalized account of the early days of AIDS, conjures the ghosts of Fire Island past so that their struggles remain relevant and instructive.
Together these two films do more than share the story of AIDS with those who were either too young to understand or not yet born: They serve as a de facto master class in Activism 101. The AIDS epidemic rallied the gay community, bringing gay people out of the shadows with a vision, a voice and an in-your-face crusade that redefined the struggle for equality.
Of course, AIDS activists would never have had the tools to organize without following the playbook of those who had committed to the struggle before them. It is with this fact in mind that StoryCorps, the nation's leading oral history project, created OutLoud, an LGBTQ project that aims to capture the stories of those who lived during the pre-Stonewall era. "What we are trying to do," said Dave Isay, the founder and president of StoryCorps, "is to introduce the entire country to the lives, stories, struggles and victories of the LGBT community." If exposure elicits change, then OutLoud is poised to become as much a vehicle for progress as it is a collection of stories. "The personal stories are the best way to move hearts and minds, much more so than statistics, and certainly hand-in-hand with the important litigation and advocacy work; it's the human stories that in part have driven things forward."
Fortunately StoryCorps will not be standing alone at the Stonewall tea dance. Openly gay German director Roland Emmerich, best known for popcorn blockbusters like Independence Day and The Day After Tomorrow, is also set to put his imprimatur on LGBT liberation by tackling 1969's "little protest that could" in the upcoming film Stonewall. Emmerich was 14 years old at the time of the Stonewall riots, an event that no doubt left an indelible impression on the filmmaker. With the understanding that our window into the Stonewall generation is closing fast, Emmerich is taking a break from blowing up the world to blow up some minds instead. His timing couldn't be better.
Not every entry in the modern canon of LGBT media is transcendent. For all the hype surrounding Dallas Buyers Club, it was, at its core, the story of a straight bigot who only turns to the gay community out of desperation -- and for profit. And if you base your knowledge of the history of marriage equality on Jo Becker's Forcing the Spring, you might naively draw the conclusion that the movement started itself a few years ago. While victors indeed get to write history, social movements are not won by spiking the football at the 50-yard line.
People can still get fired in 29 states for their sexual orientation (and in 32 states for their gender identity), and same-sex couples cannot get married anywhere south of the Mason-Dixon line and, depending on their zip code, may have great difficulty raising a family. ENDA passed the U.S. Senate last November but -- spoiler alert! -- has hit a "dead ENDA" in the House of Representatives. Forty percent of all homeless youth in the United States are LGBTQ, and 400,000 children remain in foster care while many states make it difficult for gay couples to adopt. The last time I witnessed a victory this incomplete, President Bush was standing under a "Mission Accomplished" banner.
It is critical for young people today to understand how gay men and women of the 20th century were able to overcome the mightiest of obstacles, and these projects have made these experiences wonderfully accessible. Listen to the OutLoud interviews. Rent How to Survive a Plague. Unpeel the layers of The Normal Heart. The gays of future past have given us the rules of engagement, and now it's up to us to see the mission through. So skip that next dinner out and volunteer with the Hetrick-Martin Institute, host of the Harvey Milk School. Volunteer for the Trevor Project and slow the tide of suicide in LGBTQ youth. Come to Provincetown for Family Equality Council's Family Week and watch how loving and inspirational gay families are. Get involved with Freedom to Marry, because Evan Wolfson is the godfather of marriage equality, and 19 states isn't the end zone. Support the Treatment Action Group, and donate your old furniture to Housing Works, because there is still no cure for AIDS. Non-engagement is not an option, and President Obama can't do it all for us.
In an age of ubiquitous techo-activism, some messages are just too important to deliver in 140 characters or less. With a dose of old-school engagement -- and perhaps a few more HBO projects -- someday soon the pride parade will take a page from St. Patrick and become an exercise in fabulous redundancy, transgender people will walk down the street without causing whiplash, and my children will be able to introduce their two daddies at school without the requisite reading of And Tango Makes Three. Until then, let's keep the champagne on ice.