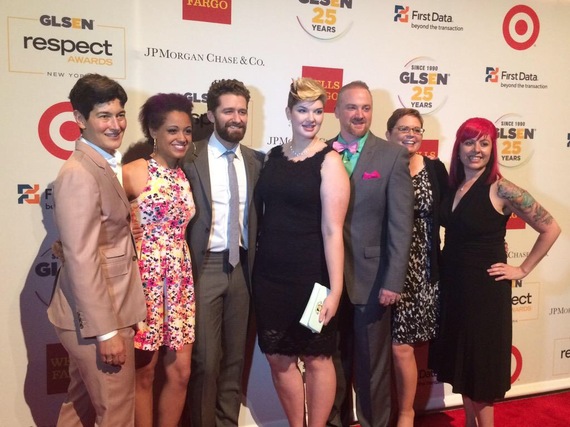 On June 1, 2015, I experienced one of the most powerful moments of my life when I joined Jackie Swindell, Parker Davidson, and Awreon Riley at the GLSEN Respect Awards to accept the award for GSA of the Year. We decided to use that opportunity to call attention to the lack of LGBTQ anti-bullying policies in America's schools and to remind everyone that the battle for respect and equality is far from over in the middle of our country. Here is the transcript of that speech. Read the words and know that they come from the hearts of two educators and two students who desire to see a public school system where all students are celebrated for being exactly who they are.
Jeremy
"Thank you all so very much. My name is Jeremy Charneco-Sullivan, and I am one of the sponsors of the Nixa High School Gay-Straight Alliance. With me is my co-sponsor Jackie Swindell, our club president for the past two years Awreon Riley and the president for next year Parker Davidson.
Jackie and I have watched the incredible group of students who make up our GSA combat bullying from their peers, teachers, administration, and their state representative.
We have seen them pull together and adopt families at the holidays, get hundreds of their classmates to take the Ally Pledge, lobby their state legislature for more comprehensive and LGBT-inclusive anti-bullying policies, recruit New York Times best-selling author and activist Zach Wahls to come to our school and rally for an LGBTQ-inclusive curriculum, and, perhaps most importantly, establish a safe space where LGBTQ students and their allies can come together and find support, strength, friendship, and acceptance.
They have accomplished all of these things in a state with no anti-discrimination protections for LGBTQ citizens or state-wide marriage equality. They have accomplished this while being located eight miles south of a community where the voters just decided to overturn that city's LGBTQ ant-discrimination protections. In short, these students are standing on the front lines every day. Thank you GLSEN for recognizing these amazing young people and how they are changing the hearts and minds of their very conservative community."

Jackie
"This year, two openly gay teachers in our school have resigned in part due to their feeling that they are treated as 'less than' their straight, cisgender (and largely white, conservative Christian) colleagues.
One of those teachers is standing right next to me.
If our teachers do not feel safe and supported at school, our students cannot feel safe and supported at school. We need teachers like Jeremy and students like Awreon and Parker in our little neck of the woods. Thank you, GLSEN, for recognizing all people."
Awreon
"Growing up, I always had that question in my mind. Am I a lesbian, bisexual or just a confused straight person? Two years ago, I joined the Gay-Straight Alliance to help me answer that question. This club has not only helped me find myself, but also have countless new experiences. My favorite thing is the messages I get late at night from members with no one else to really talk to. I'm not a therapist, but I listen and I tell them to keep smiling and never change yourself.
Harvey Milk said, 'Hope will never be silent.' Our club has given hope to so many young people. These young people are now refusing to be silent. I want to thank GLSEN for telling these students and our club as a whole that we are important. This is not a message we hear very often being in the bible belt.
When I first moved to Nixa, I was spit on, pushed around, and called names. In the beginning, students started a petition to try to stop our club. We stood firm and strong and are now one of the largest student organizations at our school. For those who have laughed, petitioned, or ignored us, I say, 'Thank you.' Without that, we wouldn't have been inspired to work harder, be louder, and stand stronger.
We also want to thank our local Springfield, Missouri, chapter of GLSEN, the Springfield chapter of PFLAG, the Gay and Lesbian Community Center of the Ozarks, PROMO, our families, our friends, and our allies. We would not have been able to accomplish what we have without your unwavering support and encouragement."
Parker
"I feel free. For once in my life, I feel free. I feel accepted. I feel I'm in that happy state of mind where I was told I was supposed to be. I'm not afraid anymore. I can be who I am, and I owe that to our GSA.
As a high school student, my biggest worry should be if my crush likes me or not, but when I was a freshman, my biggest worry was whether or not I was going to be attacked that day. 'Is today the day someone decides that they dislike the way I love so much that they would hurt me? Is today going to be the day someone confronts me about my weird obsession with rainbows or is someone going to question my hair cut to the point where I feel uncomfortable?'
My GSA provides me a place where my top priorities are my crushes, and that's pretty amazing from where I started. We also want to thank all of the community and staff members who donated to our online campaign to send all of us here. We made our goal in less than three days, which is pretty incredible.
Looking towards the future, we still have so much work to do. Our country needs LGBT-inclusive anti-bullying legislation that requires schools to protect their LGBTQ students. Our country needs to protect LGBTQ people from any type of discrimination. It is time that dreams become realities for all people. It is time that LGBTQ people are judged solely by the content of our character, not by who we love or with what gender we identify."
Jeremy
"The students are right. This battle is far from over. By leaving Nixa High School, I will be able to build and strengthen other GSAs in our area with the help of GLSEN Springfield. When asked about why our club is allowed to exist and hold events and functions, our administration simply says that it is doing what the law requires. If society had only done what the law required, slavery would be legal; segregation would be legal; women would not be allowed to vote; interracial marriage would be banned; and my marriage would not be legal in the eyes of the federal government.
Sometimes we must go beyond doing simply what is required of us. Sometimes we must take a step further because it is the only just and right decision. Schools must take a stand and say, 'We support these students. We are proud of these students. They are amazing just as they are. They will be protected no matter what.' Until that day happens, we will continue the fight.
After our local paper ran a very small piece about our award, I received a lovely letter in the mail. Essentially, it told us we have a choice: We can cancel our trip to accept an award for selling out the bible belt to the LGBT cult, or continue on in blindness. What this person doesn't realize is that we do this to combat blindness, to combat darkness.
Desmond Tutu said, 'Hope is being able to see that there is light despite all of the darkness.' The Nixa High School GSA shines the light of hope for the young people of southwest Missouri. Thank you GLSEN for showing these students just how powerful their light can be."
REAL LIFE. REAL NEWS. REAL VOICES.
Help us tell more of the stories that matter from voices that too often remain unheard.