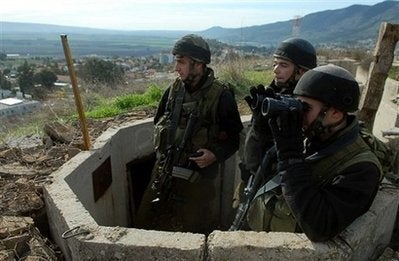 Barack Obama is not even President yet but he may have just played a central role in getting to a ceasefire in the current Gaza Israel crisis -- just by being there. All the signals are that we are in a final and ugly escalatory cycle in advance of hostilities being ceased and that the proximity of this war ending to next week's inauguration of the new president is not coincidental.
Here's where things stand:
Egyptian mediation is now reaching a ceasefire package building on U.N. Security Council Resolution 1860, and barring last minute hiccups, it is likely to deliver a breakthrough in the very near future. The elements of that ceasefire package are well known: ending military actions and rocket strikes, withdrawing IDF forces, opening the Gaza border crossings, and preventing future weapons smuggling into Gaza. In fact, one of the most painful truths of this conflict is that these ingredients were known in advance and had the current, frantic diplomacy been conducted one month ago, this terrible human suffering could probably have all been avoided. The details are now being hashed out with the comings and goings of Israeli and Hamas officials in Cairo.
On the Israeli side, there have been fierce disagreements within both the political and military leaderships since Operation Cast Lead was launched. Defense Minister Barak apparently supported a truce during the very first days of the attack. Foreign Minister Livni later got on board for a de-escalation, and with the military chief of staff widely reported to be unenthusiastic about an entrenched and prolonged re-occupation of Gaza, the Prime Minister seems finally ready to bring this to an end.
In recent days, the Israeli media has seemed to be building to this crescendo with generous helpings of propaganda with regards to Israel's achievements and the enfeeblement of Hamas (the true picture is likely to be more mixed).
The Defense Minister also scored his victory photo today with the killing of Hamas Interior Minister Said Siam. While that is the picture most Israelis will be looking at, the rest of the world is likely to be pouring over further bombings of U.N. facilities and a death toll that is now over a thousand, of which according to Israeli estimates, only 360 are Hamas fighters (according to Ofer Shelah in the Maariv newspaper, quoting Israeli military sources). Nevertheless, the war has given Ehud Barak and his Labor party a boost in the run-up to February's elections.
The war has been popular with Israelis and a key element in delaying a ceasefire has been the need for not just one, but two, victory narratives and photos--one each for the two senior ministers whose parties are competing in elections (Livni and Barak). By the way, it's worth remembering that the Iraq War was just as popular with the American public after three weeks as this action is with the Israeli public. But even if Israel ends now, the longer term consequences are likely to be as debilitating for Israel in this situation as they have been for the US in Iraq.
According to the latest news, Livni is now likely to get her own victory photo, too. The Israeli Foreign Minister is on her way to Washington to sign a memorandum of understanding with Secretary Rice regarding American commitments to assist in preventing weapons smuggling into Gaza. It will almost certainly be Rice's last act in office.
Hamas, too, is busy preparing its own victory narrative. They will claim to have withstood the Israeli onslaught and to have deterred the Israelis from entering deeper into the urban warfare awaiting them in Gazan cities. They will assert that despite international efforts to isolate Hamas, they have been negotiating the terms of the ceasefire and that they have achieved their key demand of lifting the closure on Gaza (it's worth noting that according to Israeli's former Mossad chief and former national security adviser, Efraim Halevy, "If Israel's goal were to remove the threat of rockets from the residents of southern Israel, opening the border crossings would have ensured such quiet for a generation"). Expect Hamas to also emerge politically strengthened with President Abbas having looked like a bystander throughout this conflict and even being perceived by many as complicit in the destruction wrought on Gaza. The terrible images emerging from Gaza, and that may get worse (when foreign camera crews finally get into Gaza and the extent of damage becomes known) are likely to generate further sympathy.
If a ceasefire is becoming imminent, then it is fair to assume that while the dynamics of the conflict (Israeli recoil from fully re-occupying Gaza), and the diplomatic effort have played a role, the key element to timing here is the approaching Obama presidency.
First of all, the various actors--and one imagines Israel in particular--will not want to piss on Obama's parade this Tuesday. More substantively, there is an expectation that the new president would have felt compelled to immediately intervene in this situation. While there is an assumption that the Obama administration will remain strongly supportive of Israel, one can also anticipate a more thoughtful articulation of what serves American interests in the Middle East, how the close Israel-America relationship should be managed, and the taking of corresponding efforts to immediately de-escalate this spiraling crisis. It might be pushing the envelope to call Obama the peacemaker here, but it's hard to deny that his impending entrance to the world stage has an effect.
If this conflict does now end (as one desperately hopes it will), then it will of course be the Obama administration that is left to deal with the fall out. The memo of understanding, due to be signed by Israel and the US tomorrow, is one part of that. It seems to be a smart move by Condoleezza Rice to give this to the Israeli Foreign Minister in order to get her fully on board for ending the war. If it is indeed mostly political theater, an election campaign photo-op for Livni, then so be it. But if it amounts to more, then this might well be one final poison chalice that the Bushies are bequeathing to 44. If America is to play an active military role in the Sinai, then expect complications and a scenario with all the makings of nurturing over time another insurgency with possible blowback, and even with consequences for the shaky and unpopular regime of Egyptian President Hosni Mubarak.
Then there is the rest of the post-Gaza mess: a humanitarian emergency to alleviate, the further weakening of America's regional allies, notably including the Palestinian Authority, and a new wave of anger in the region directed at America and its Israeli ally. The first challenge is to make the elements of the ceasefire actually work--ensure an end to hostilities, an IDF withdrawal, and functioning border arrangements. Immediately following that comes the need to rebuild and rehabilitate Gaza which will require an international effort. Essential here will be to avoid the temptation of using reconstruction assistance as a blunt instrument to advance regime change in Gaza but rather to shape this as a core ingredient in facilitating the beginning of a serious Palestinian national reconciliation. That means changing course on the previous failed policy and encouraging-and not vetoing-third party mediation efforts between Fatah and Hamas.
But it is the bigger picture of the festering Israeli-Palestinian conflict that will continue to sap US credibility and security until a workable equilibrium can be found. That will require a realistic approach not only to Gaza and its rulers but also to the other 94% of the Palestinian territories - the West Bank and East Jerusalem (the '67 territories)--an approach that finally guarantees Israeli security within recognizable borders and Palestinian independence and de-occupation. US leadership will be a prerequisite for achieving it.
This issue has forced itself early onto the Obama agenda and if it returns to the back burner then it is guaranteed to periodically explode in everyone's face, sucking America in and costing America dear. A better option is to push for a workable solution now. Nothing will more dramatically and positively affect the prospects for successful US diplomacy in the vital challenges it faces in this most dangerously destabilized of regions.
Related
Popular in the Community