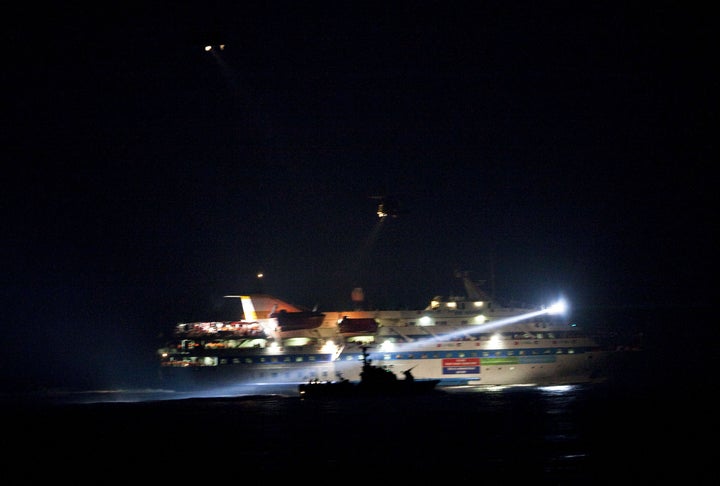 ANKARA, Turkey (AP) -- Turkey withdrew its ambassador to Israel and called for an emergency session of the U.N. Security Council as condemnations erupted across Europe and the Arab world Monday over Israel's deadly commando raid on ships taking humanitarian aid to the blockaded Gaza Strip.
Government after government demanded an explanation from Israel, which said its soldiers were trying to defend themselves against armed activists. The White House said it was trying to learn more about "this tragedy."
Turkish Prime Minister Recep Tayyip Erdogan said "it should be known that we are not going to remain silent in the face of this inhumane state terrorism." Most of the nine dead were apparently from Turkey, once a close ally of Israel.
In Istanbul, a crowd tried to storm the Israeli Consulate. North of Jerusalem, Palestinians hurled bottles and stones at Israeli soldiers. In Jordan, hundreds urged their government to follow Turkey's lead and cut ties with Israel. Dozens of Egyptians protested outside the foreign ministry in Cairo criticizing the Egyptian government holding pictures of late President Gamal Abdel Nasser.
Israel said the activists attacked its commandos as they boarded the six ships taking tons of supplies to Gaza, while the flotilla's organizers said the Israeli forces opened fire first.
U.N. Secretary-General Ban Ki-moon condemned the violence. The European Union's foreign affairs chief, Catherine Ashton, said the bloc was deeply concerned and she called on Israel to carry out an inquiry. British Foreign Secretary William Hague deplored the killings and called for an end to the Gaza blockade.
Greece, Egypt, Sweden, Spain and Denmark summoned Israel's ambassadors demanding explanations for the violence, with Spain and France condemning what they called the disproportionate use of force. Greece suspended a military exercise with Israel and postponed a visit by Israel's air force chief. Germany called for an immediate investigation but was careful not to directly place blame, and said it was seeking information on six German citizens believed to have been aboard the ships.
In Tehran, dozens of angry students pelted the U.N. offices with stones and eggs in protest, burning Israeli flags and chanting, "death to Israel" and "down with U.S." Police blocked them from reaching the building. The president of Iran, a key supporter of Hamas, called the raid "an inhuman act." In Baghdad, an estimated 3,000 Shiite followers of the anti-American cleric Muqtada al-Sadr shouted "Death, death to Israel!" and "Death, death to America!"
Riot police used tear gas to drive back hundreds of protesters demonstrating outside the Israeli Embassy in Paris. There were also demonstrations in Rome, Sweden, Norway, Cyprus and more than 20 cities in Greece.
In Athens, riot police used tear gas and stun grenades to disperse around 2,500 Greeks and Arabs protesting outside the Israeli Embassy. Some protesters threw stones and tried to push past police lines to reach the embassy. About 2,000 people demonstrated peacefully in Thessaloniki.
The African Union issued a statement to "strongly condemn" the raid and said it "complicates the existing situation and the effort to bring just, lasting and comprehensive peace to the area."
Abdel-Rahman al-Attiya, the head of the Gulf Cooperation Council, a regional group, said "Israel is a renegade entity that violates international law" and said the attack should be considered "a war crime."
In Saudi Arabia, which has promoted a wider Arab-Israeli peace proposal calling for a land-for-peace swap, the Cabinet headed by King Abdullah called on the international community to hold Israel responsible for its "barbaric" policies.
But the strongest reaction came from Turkey, where Deputy Prime Minister Bulent Arinc said Turkey was canceling three joint military drills and calling on the U.N. Security Council to convene in an emergency session about Israel. Turkey is currently a member of the council.
He also said a Turkish youth soccer team currently in Israel would be brought home.
The raid also brought heightened attention to Israel's blockade of the Gaza Strip, imposed after the Palestinian militant group Hamas seized control of the tiny Mediterranean territory in 2007. The blockade - along with Israel's fierce offensive against Gaza in the winter of 2008-2009 to stop Hamas rocket fire on Israeli villages - has fueled anti-Israeli sentiment around the Arab world.
The Cairo-based Arab League called an emergency session for Tuesday to address the attack, as the two only Arab states with peace deals with Israel - Jordan and Egypt - sharply condemned the violence.
The incident also put Egypt in a tight position. The only Arab country bordering the Gaza Strip, it has helped enforce the blockade by cracking down on smuggling tunnels that are a key source of goods to Gaza's 1.5 million people and by rejecting pressure that it open its border crossing.
A group founded by Nelson Mandela that includes Nobel Peace Prize winner Desmond Tutu and former President Jimmy Carter said "the treatment of the people of Gaza is one of the world's greatest human rights violations and that the blockade is not only illegal, it is counterproductive."
In Beirut, about 500 Palestinian and Lebanese activists protested in front of the U.N. headquarters, setting Israeli flags on fire. In neighboring Syria, more than 200 Syrian and Palestinian protesters staged a sit-in before the offices of the United Nations.
Related
Popular in the Community