 Hassan al-Hallaq and his family -- two boys, ages 4 and 6, and his pregnant wife, due to give birth in days --- were preparing to break the Ramadan fast in Gaza City on a Sunday night earlier this month. They had recently moved in with Hassan's sister, who lives closer to the center of town, trying to stay safe during the latest round of fighting between Israel and Hamas.
They never expected two missiles to hit their new home shortly after 7 p.m. that night, killing Hassan's kids and 29-year-old wife, Samar. His 62-year-old mother, sister and brother-in-law, as well as four children from the floor below, were also killed in the blast.
"You think it's never going to happen to you, you're in denial to keep yourself sane," said Mariam Muhanna, one of Samar's cousins who lives in Gaza. "The breaking point was when Samar passed -- it became real," she added, her voice shaking.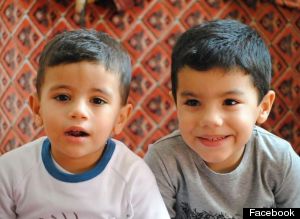 Hassan's young family was among more than 100 people killed that Sunday, July 20, one of the bloodiest days of fighting in the region. Since then, the death toll in the conflict has leapt to more than 1,400 Palestinians and more than 60 Israelis. Hassan's wife, mother, sister and two children became part of a staggering statistic -- nearly half of at least 827 Palestinian civilians killed have been women and children, according to the U.N. Office for Humanitarian Affairs.
"Since the Israeli ground offensive started, a child has been killed approximately every 90 minutes in Gaza -- they have been among the worst affected," said Alun McDonald, spokesman for the international development organization Oxfam. "The biggest difference in this offensive compared to the last two has been the targeting of people's homes ... which put women and children at more risk."
While recovering from severe injuries at the hospital, Hassan asked about his family. Relatives initially told him that his wife and kids were ok, but he knew something was wrong, said Yara al-Zinati, Samar's cousin.
"How can you feel when you lost everything in one moment?" al-Zinati asked.
The Israeli military, which aims to stop the militant group Hamas from firing rockets and destroy tunnels the group uses to stage deadly attacks, says that it has "no intention to harm civilians." Israel also says that it issues warnings to Gaza residents, which had prompted Hassan to move his family twice in the past few weeks. His relatives said he did not receive a warning before the most recent strike. Palestinians pray at a mosque in front of five coffins belonging to members of the al-Hallaq family during their funeral on July 21. (AP/Lefteris Pitarakis)
"They were actually heeding the warnings of the Israeli army, it's just ironic that [Samar] left her house for safety," said Muhanna, a cousin of Samar.
The 24-year-old, originally from Texas, saw something of a role model in Samar.
"She was fluent in English, and for her to be a college graduate and a working mom, well that's difficult in Gaza," Muhanna said. "She just loved helping people. She just wanted to make life a little better."
Samar studied English education in Gaza and taught at a U.N.-sponsored school before marrying Hassan seven years ago and having two children, Kenan and Saji. They recently spent time in England after Hassan won a prestigious scholarship at Oxford Brookes University for a master's program in e-business.
Since moving back to Gaza last year, Hassan has been working as an IT manager for the Bank of Palestine.
Iain Chalmers, one of the founders of the scholarship, and his wife, Jan, said that Hassan has been committed to developing the region's banking system. They helped organize a vigil for about 200 people in Oxford last week to honor the family.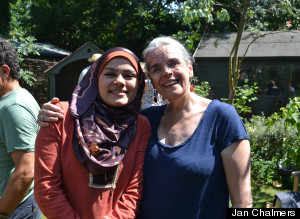 Samar al-Hallaq and Jan Chalmers in Oxford, England, in 2013
"The whole thing [in Gaza] is a tragedy. But when it's someone you know…" Jan Chalmers said, breaking off. "Now the unthinkable has happened."
"He was on the crest of a wave, a Ph.D. in the pipeline and business going well," she added. "They both had great prospects."
Chalmers had recruited Samar to the Palestinian History Tapestry Project, a nonprofit in England that supports Palestinians who make traditional embroidery. She was working as the coordinator of a women's sewing circle in Gaza before she died, Chalmers said.
A few days after the strike, Yara al-Zinati, Samar's cousin, wrote on Facebook from south Gaza that she had never felt her heart "choking the way it was when [she] heard the news."
Hassan al-Hallaq's brother, Mohammed Al-Hallaq, weeps over the graves of his family during their funeral on July 21. (AP/Lefteris Pitarakis)
"At the very moment when you lose your favorite people, you realize that our lives are not ours; they will be gone in any moment," she wrote.
Al-Zinati had called Samar's mother a few days before the strike to check in. "She said, 'They are good and safe. They managed to move to safer ground,'" al-Zinati recalled.
She said that she keeps going back to Samar's Facebook page to look at photos of her children.
"She just wanted to raise her children in a peaceful environment, so they could become something in the future," al-Zinati said. "She did do her best to give them a peaceful life, but in the end they didn't get a chance to live."
Popular in the Community