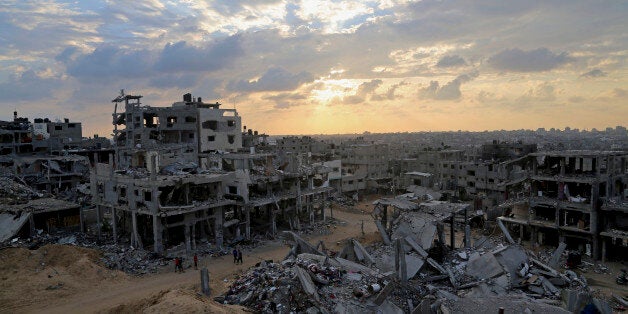 Thaeer Juda's mother, sisters and brothers passed away a year ago. That day a cease-fire was announced in Gaza. After 50 days of fighting some 1,800 children had become orphans, according to Euro-Mid Observers for Human Rights. Below is an excerpt from my book, "Shell-Shocked: On the Ground Under Israel's Gaza Assault" based on my experience reporting from Gaza on this day.
JABALYA Refugee Camp, Northern Gaza -- As shouts of celebration about the cease-fire ring out across Gaza, 10-year-old Thaeer Juda lies in Gaza's Shifa hospital ICU unit.
He's badly injured and has had his right leg and some of his right fingers amputated. His left side is only marginally better off. His hands have been shattered, while his face and chest have been pocked by shrapnel that ripped through his little body after an Israeli strike.
Thaeer will survive, but will have to do so without many of the loved ones he expected to know for the rest of his life. He doesn't know what happened to his mother, Rawia, or his two sisters, Tasnim and Taghreed, nor his brothers Osama and Mohammed. But they are all gone -- killed in one foul swoop by the same Israeli strike that landed Thaeer in hospital and will keep him there, long after the "victory" cries outside have died down.
Disaster struck this family just before sunset, on a very hot August night.
Rawia Juda, 40, was sitting on her doorstep in the fresh night air, telling stories to her children to distract them from the horror of Israeli missiles and bombs. Just for a few moments, the family expected things to stay quiet.
When she finished, she went into the house to check on her husband, Essam, 45, who had decided to give her a break from the domestic routine and was busy cooking the evening meal. Taghreed, 12, and her Tasnim, 13, were playing with a doll. One had asked the other to fetch a comb to style the hair of toy bride, in preparation for its wedding.
Mohammed, 9, and Osama, 8, were also nearby playing with a balloon. Each time a missile struck, they would run over to their mother's arms and hide until the smoke disappeared and things were quiet enough to play again.
Rahaf, 11, was visiting a friend next door and playing, blissfully unaware that she would never see her family alive and together again.
Before long, however, the brief lull was shattered.
Out of the sunset, two Israeli drone missiles hit Rawia and her children, shattering their bodies into pieces. The explosions shook the whole neighborhood and people ran to the site hoping to help but instead they were greeted by dead bodies of friends and family they could no longer recognize.
Essam Juda, the father, quickly ran outside screaming for help "help me, neighbors, help me." When his daughter Rahaf ran over from next door all she could do was look at her mother's dead body and scream.
The family insist they don't know why they were hit and swear there could not have been any military target nearby.
A cousin Mohammed, who came to help with the rescue, said that the children were merely playing "the house was filled with our laughter only. Does that upset Israel?"
He explained that Osama, 8, was excited about starting his first school year and already had his drawing book and paints inside his school bag, although he never got the chance to use them.
When the family's bodies were brought to the hospital, a trail of neighbours and distant relatives, young and old, rushed behind the ambulance whizzing to Kamal Adwan hospital. Most of them were bring pieces of shattered, burnt bodies to be put them back together for burial.
An old man wearing a Palestinian Keffiyeh, wrapped the body parts together in a white shroud so that the family could be promptly laid to rest.
"The world cries for dead Jewish child in Israel, but will they cry for this good Palestinian mother and her four dead children?" he said as the small bodies were carried, two on each orange ambulance stretcher.
Usually a mother gets the last look at her deceased children, but this time she was also gone. Her remaining children were either left ravaged by the shrapnel and fighting for their lives, or were broken on the inside by the loss, facing a gaping hole as they realised that they would forever remain separated from their loved ones.
At Shifa hospital, next to the broken body of Thaeer, many friends gathered to offer their blood for transfusion. Mohammed Alhessi was one of those who donated his blood.
"This was a family not a military target," he said. "No-one in the family is associated with the resistance and they live far from where any resistance rockets are fired," he added referring to Tal al-Zatar, one of the most crowded areas in Gaza Strip.
The rockets have now stopped falling but tonight may not be any easier for many in Gaza. After 50 days of fighting some 1,800 children have become orphans in Gaza, according to Euro-Mid Observers for Human Rights.
A total of 536 children were also killed in Gaza, comprising almost a quarter of the total Palestinian dead, according to the Al-Mezan Centre for Human Rights which has been monitoring the death toll.
Israel is also believed to have carried 145 strikes on families which have killed or gravely injured many members of the same family.
Children that are left behind are usually taken on by extended family members, but the scars prove hard to heal. The trauma of losing a limb, or a loved one, is likely to endure long after the smell of explosives and decomposing bodies begins to fade.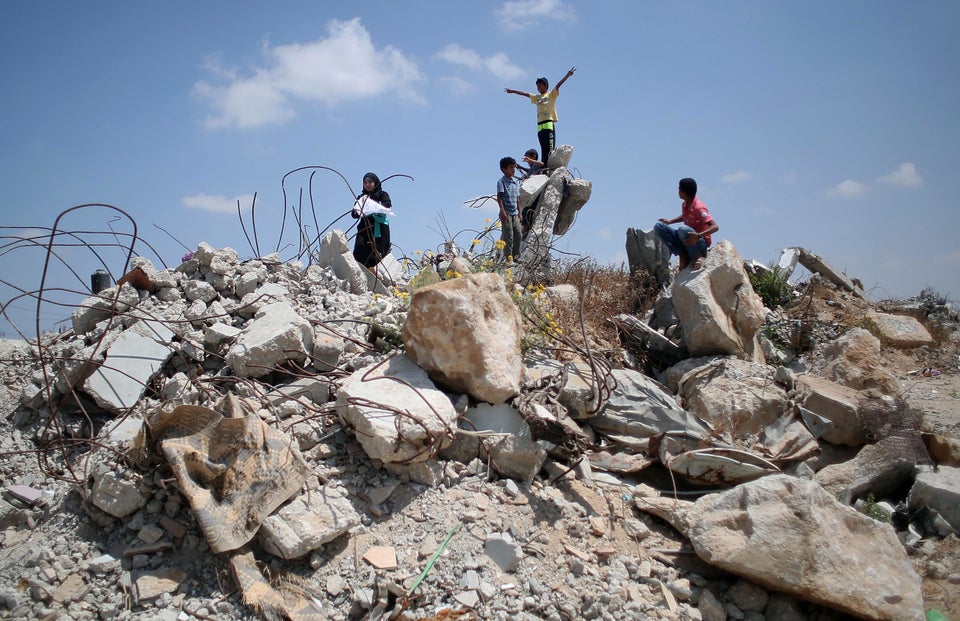 Gaza War Anniversary Photos
Related
Popular in the Community