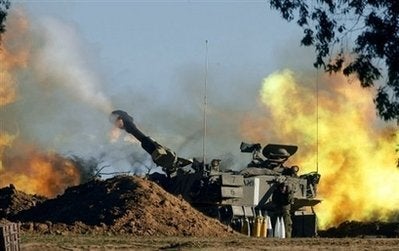 Jerusalem-- Almost two weeks have gone by since Israel launched operation "Cast Lead" on Gaza, and dozens of foreign journalists still wait at the Israeli-Gaza border, watching the military operation in Gaza from afar. Israel still refuses to let any media cross into the strip. The restriction has created a very different reporting atmosphere than that during Israel's Second War on Lebanon in summer of 2006. At that time, foreign media was able to report on the conflict from both sides. Today, almost all reports that come out of Gaza are strictly from Palestinian and Arab sources.
A couple of days ago, CNN's anchor Campbell Brown complained that her network was trying to report as accurately as possible on the fighting in Gaza but can't because CNN has no reporters on the ground who can bring you first-hand information about what is taking place. The reason, she explained, "we have no reporters on the ground in Gaza is because Israel will not allow foreign journalists into Gaza."
She went on to say, "Much of the information coming out of Gaza is impossible to verify and many of the images you see on television are provided by Hamas."
There are more than a dozen television stations that still operate out of Gaza. For the past several years, Arab satellite networks have dispatched news reports out of Gaza almost on a daily basis. Leading Arab satellite networks all have offices and reporters in Gaza, such as, Al Jazeera (Arabic and English), Al Arabiya TV, Dubai TV, Nile TV, Abu Dhabi TV, to name a few. Then there is Hamas' Al Aqsa TV and independently owned Ramattan News Service. They have been beaming images of starving children living in desperate conditions during the Israeli siege on Gaza to millions in the Arab world and beyond. Despite these abundant news sources, CNN and other U.S. networks have elected to cover Paris Hilton and Anna Nicole Smith for days on end. Let's face the facts. Images of starving children do not sell advertisements. Trash does. Now, many of those children are dead!
Another thing Ms. Brown neglects to mention is that CNN's "missing in action" status predates this war. CNN and other U.S. networks have been cutting back on their foreign correspondents for years. We saw this before when the war on Afghanistan was first launched in the aftermath of 9/11 when Al Jazeera was one of the few networks reporting out of Kabul. Similarly, the first images of the War on Iraq were seen by the rest of the world through Arab lenses, primarily Abu Dhabi TV, Al Jazeera and Al Arabiya.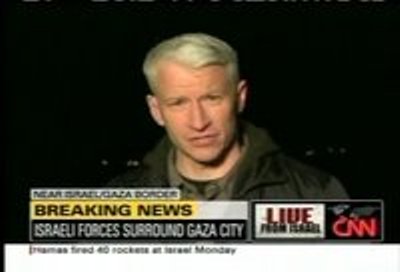 And when CNN reporters finally do arrive, Ms. Brown, they never give a damn about the 1.5 million residents of Gaza who spend their daily existence in one large prison caged like animals in a filthy and an unsanitary environment. They can be found hanging around the Hilton in Tel Aviv and the American Colony in Jerusalem sipping on Martinis and exchanging laughs with their Israeli fixers. They then pile up in a bus in front of the Israel Government Press Office, 37 Hillel St. Jerusalem and off they go on an organized tour of Ashkelon and Sderot. Details of this tour are in a copy of an e mail sent to foreign correspondents working in Israel: (I purposely omitted names and phone numbers)
From: XXXXSent: Monday, January 05, 2009 9:02 AMCc: XXXXSubject: GPO-TRIP Gaza Border Field Tour - interviews with residents and officials Importance: High
The Israel Government Press Office in conjunction with The Israel Project invites visiting and Israel-based foreign journalists to a Gaza border region tour.
Details: Tuesday January 6 - leaving from the GPO offices, 37 Hillel St. Jerusalem, at 09:00 sharp. Pick up at 10:30 at the Holiday Inn Ashkelon.
▫ Interview residents and officials in Ashkelon and Sderot (different languages)▫ Sderot police Kassam rocket exhibit ▫ Meet with police bomb disposal experts▫ Briefing by IDF Spokesperson▫ Barzilai medical center - meet the injured and Gazans treated in hospital
Register today (!) with the GPO's XXXX at tel. 050-XXXX (only!)Please note if you wish to be picked up in Ashkelon or Jerusalem. Incidentally, your colleague Anderson Cooper parachuted into Tel Aviv and went to Ashkelon and Sderot...what a coincidence! He stood in front of the pile of exploded Qassam and Grad rockets and explained to us the difference between the two. I've never seen him explaining American-made Israeli hardware, such as F-16, Apaches, phosphorous bombs...maybe he ran out of time since he had spent a whole total of 24 hours in Israel before returning to the States.
Popular in the Community