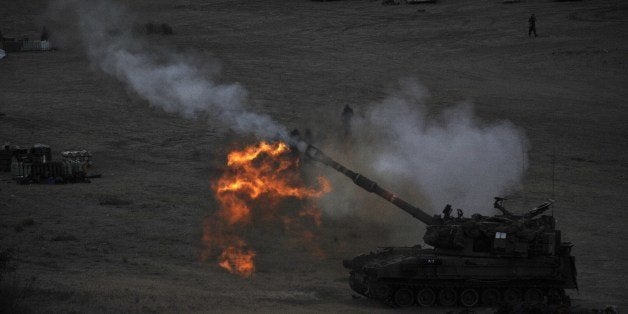 * Israeli tank fire kills 16 Palestinians before dawn
* Kerry reports progress in ceasefire talks; Israel is mum
* U.S. extends ban on U.S. flights to Israel for second day
By Nidal al-Mughrabi and Allyn Fisher-Ilan
GAZA/JERUSALEM, July 24 (Reuters) - The death toll in Gaza topped 700 on Thursday as Israeli tank fire before dawn killed 16 people in the Hamas-dominated coastal territory, including six members of the same family, Palestinian health officials said.
The continued violence defied world efforts to achieve a ceasefire between Israel and the Islamist group Hamas after 17 days of fighting, though some officials voiced optimism that a limited truce may be within reach.
U.S. Secretary of State John Kerry, flying back from Israel to Cairo for more talks with Egyptian mediators, reported some progress in ceasefire talks.
An Egyptian official said on Wednesday a humanitarian truce may go into effect by the weekend, in time for the Eid al-Fitr festival, Islam's biggest annual celebration that follows the fasting month of Ramadan.
However, a senior U.S. official said this was a U.S. hope but a truce was by no means locked in.
"It would not be accurate to say that we expect a ceasefire by the weekend," said the U.S. official, who spoke on condition of anonymity. "We are continuing to work on it, but it is not set at this point."
Israel's security cabinet released no decision after meeting late into the night on a proposed humanitarian truce under which fighting would cease immediately but negotiations for terms for an extended deal would begin only in several days' time.
Hamas leader Khaled Meshaal, speaking in Qatar, said his fighters had made gains against Israel and expressed support for a humanitarian truce, but only if Israel eased restrictions on Gaza's 1.8 million Palestinians.
"Let's agree first on the demands and on implementing them and then we can agree on the zero hour for a ceasefire ... We will not accept any proposal that does not lift the blockade ... We do not desire war and we do not want it to continue but we will not be broken by it," Meshaal said on Wednesday.
Israel has signaled it prefers to press on with its ground troops offensive to find and destroy Hamas's rocket stores and wipe out a vast network of tunnels Israel sees as having been built for the purpose of infiltrating its territory.

But Israel is also under growing pressure to curtail the fighting, especially with American aviation authorities having banned U.S. flights to Tel Aviv for the past two days, spooked by rocket salvoes out of the Gaza Strip.
On Tuesday the U.S. Federal Aviation Administration took the rare step of banning flights to Tel Aviv, and renewed the order on Wednesday.
Many other foreign carriers, on heightened alert after a Malaysian airliner was shot down over a combat zone in Ukraine last week, followed suit. Israeli carriers continued to operate.
Hamas spokesman Sami Abu Zuhri praised the flight bans as a "great victory" for the Islamist group.
Israel also came under criticism from the U.N. High Commissioner for Human Rights Navi Pillay, who said there was "a strong possibility" Israel was committing war crimes in Gaza, where 703 Palestinians, mostly civilians, have been killed in the fighting.
Pillay also condemned indiscriminate Islamist rocket fire out of Gaza, and the United Nations Human Rights Council said it would launch an international inquiry into alleged violations.
Israeli Prime Minister Benjamin Netanyahu reacted furiously.
"The decision today by the HRC is a travesty," he said in a statement. "The HRC should be launching an investigation into Hamas's decision to turn hospitals into military command centers, use schools as weapons depots and place missile batteries next to playgrounds, private homes and mosques."

The U.N. secretary-general, Ban Ki-moon, lashed out at militants in Gaza, by expressing "outrage and regret" at rockets found inside a U.N. school for refugees, for the second time during the current conflict.
Storing the rockets in the schools "turned schools into potentially military targets, endangering the lives of innocent children," U.N. employees and the tens of thousands of Palestinians seeking shelter at Gaza schools from the fighting, Ban said. He urged an investigation.
Kerry returned to Egypt late on Wednesday after meeting in Jerusalem and the West Bank with Palestinian President Mahmoud Abbas, Ban and a grim-faced Netanyahu.
"We have certainly made some steps forward. There is still work to be done," said Kerry, on one of his most intensive regional visits since Netanyahu called off U.S.-sponsored peace negotiations over Abbas's power-share deal with Hamas in April.
Israel launched its offensive on July 8 to halt rocket salvoes by Hamas and its allies, which have struggled under an Israeli-Egyptian economic blockade on Gaza and were angered by a crackdown on their supporters in the occupied West Bank.
After an aerial and naval bombardment failed to quell the outgunned guerrillas, Israel poured ground forces into the Gaza Strip last Thursday to destroy Hamas's rocket stores and tunnels.
"We are meeting resistance around the tunnels ... they are constantly trying to attack us around and in the tunnels. That is the trend," Israeli military spokesman Lieutenant-Colonel Peter Lerner said on Wednesday.
Palestinian health officials said Israeli tank fire killed 16 people early on Thurday, including six members of the same family.
Three Israeli soldiers were killed by explosive devices on Wednesday, lifting the army death toll to 32. Three civilians have also been killed in rocket attacks out of Gaza, including a Thai laborer hit on Wednesday.
The military says one of its soldiers is also missing and believes he might be dead. Hamas says it has captured him, but has not released a picture of him in their hands.
Rocket fire at Israel slowed slightly on Wednesday when 98 rockets were fired, 70 of them striking Israeli territory and 25 intercepted by Israel's Iron Dome defense system. Through much of the fighting more than 110 rockets had been fired daily at Israel.
Israel said it detained 150 Palestinians in Gaza for questioning about involvement with militants, and that it targeted more than 100 rocket launchers, tunnels and military compounds across Gaza on Wednesday.
Gaza has been rocked by regular bouts of violence since Israel unilaterally pulled out of the territory in 2005.
Hamas, which rejects Israel's right to exist, balked at Egypt's truce proposal last week and said its conditions had to be met in full before any end to the conflict.
These demands include the release of hundreds of Hamas supporters arrested since last month in the West Bank and an end to the Egyptian-Israeli blockade of Gaza, which has stymied the economy and made it near impossible for anyone to travel abroad.
The war is exacting a heavy toll on impoverished Gaza. Palestinian officials say at least 475 houses have been totally destroyed by Israeli fire and 2,644 partially damaged. Some 46 schools, 56 mosques and seven hospitals have also suffered varying degrees of destruction.

(Additional reporting by Ori Lewis, Maayan Lubell in Jerusalem, Ali Sawafta in Ramallah, Arshad Mohammed and Yasmine Saleh in Cairo, Amena Bakr in Doha and Stephanie Nebehay in Geneva; Writing by Allyn Fisher-Ilan; Editing by Mohammad Zargham)

Popular in the Community