EREZ CROSSING, Gaza Border- They came in buses and cars from Jerusalem, Tel Aviv, and the Galilee: Palestinians, Israelis, and few international activists. They waved Palestinian flags and carried banners chanting in Arabic and Hebrew: "Break the Siege," "Set Gaza Free," and "Down with Netanyahu and Mubarak."
"Welcome to Erez Crossing Point," the sign reads in Hebrew, Arabic, and English. The ultimate irony, as no one is allowed to cross in or out except for a lucky few, such as diplomats and aid workers, or the unlucky ones who suffer from terminal illnesses. The rest of the 1.5 million Palestinian inhabitants remain caged in like animals in the largest open air prison on earth, called Gaza.
Eighty-six international activists were allowed to enter the Strip last night from Egypt through Rafah. We were told that they too, accompanied by hundreds of Gazans, were chanting and waving on the other side of the border, but we could not see or hear them. Between them and us were a few hundred meters, a wall, a steel gate, and armed Israeli soldiers.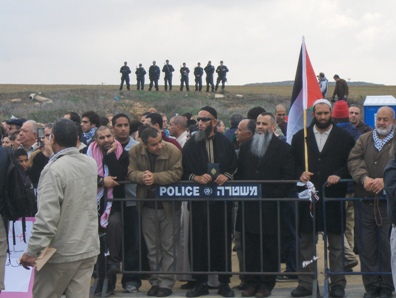 More than a thousand activists from around 40 countries remained in Cairo after the Egyptian government declined them entry due to the "sensitive situation" in the Palestinian territory. When was it not a "sensitive situation" in Palestine?
Several of their members were forcibly detained in hotels around Cairo, as well as violently forced into pens in Tahrir Square by Egyptian police and security forces.
The scene in Erez was like something from a movie set: chanters to the left of the gate, reporters to the right, and the Israeli Police and Border Patrol in the middle. There were no scuffles or confrontations, except for an argument between a Palestinian from Jaffa and Bedouin manning the "Free Gilad Shalit" tent.
"Aren't you ashamed of yourself?" yells the Palestinian, who called him a "house Arab." A shouting match ensues, and the reporters, along with their cameramen shove and elbow their way to capture the scene. Last year, I covered the war from the same vantage point. Journalists were prevented entry into Gaza by the Israeli military. I returned that evening to East Jerusalem where Palestinians huddled around television screens to watch the carnage in Gaza. On New Years Day, I awoke with a news hangover. Israeli jets were pounding Gaza for the sixth continuous day, and the Israeli military was building up its forces along the border in preparation for a ground incursion. I can still hear the sound of the jets screeching above.
The prison gate opens momentarily, and an old Palestinian man is being pushed on a wheelchair past the border guards for treatment at al-Makased Hospital in East Jerusalem. I ask before the pack of reporters attack him, "Hajj, how is Gaza?"
"It's like hell," he answers.
REAL LIFE. REAL NEWS. REAL VOICES.
Help us tell more of the stories that matter from voices that too often remain unheard.