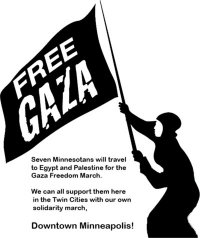 Gandhi said that the purpose of nonviolent action is to "quicken" the conscience of humankind. Citizens of Minnesota are called upon to stand in solidarity with an expected 1,300 International Peace Activists (including a number of Minnesotans) from over 40 countries marching in Gaza-to lift the inhumane siege of Gaza and to align ourselves with International Law and on the side of human rights.
Many Minnesotans who cannot afford the actual trip to Gaza are planning a parallel march that will take place in the sky ways of downtown Minneapolis. We will meet at the Hennepin County Government Plaza (2nd floor) at 11:30 a.m. on Wednesday, December 30th and will proceed into the sky ways from there. People are encouraged to bring children as we would like the nearly 1 million children in Gaza to be symbolically represented.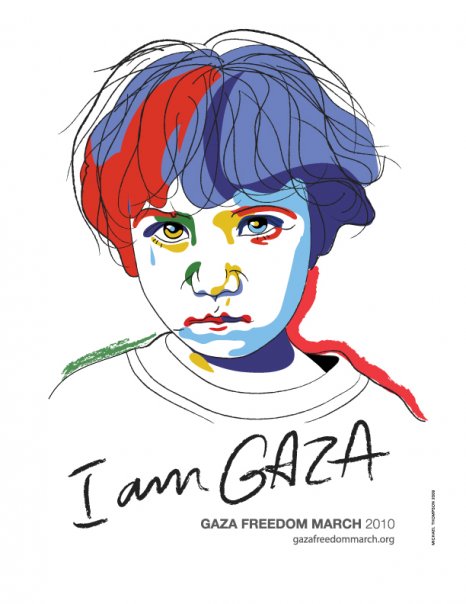 No one has better explained the importance of this historic action on a human rights level than one of the Minnesotans going to Gaza, Sylvia Schwarz, in her recent commentary, excerpted below:
Human rights: not to be entrusted to governments
(excerpt from MinnPost "Community Voices" by Sylvia Schwarz | Thursday, Nov. 19, 2009)

The movement is gathering steam since Operation Cast Lead beginning in December of 2008. Israel framed this as a "defensive operation," but in reality it was an offensive assault on the Palestinians in Gaza. Even before the assault Israel maintained a siege on Gaza -- which, according to human-rights agencies, led to a humanitarian crisis. While Israel is not currently bombing Gaza, the siege continues to this day. Normal activities: farming, fishing, attending school, buying groceries, and earning a living, are impossible for Gazans. Construction materials are denied entry into Gaza so that no rebuilding has been possible after the massive destruction of the civilian infrastructure.

Investigations discounted; people galvanized Israel and pro-Israeli groups in the United States discounted all investigations into war crimes committed during Operation Cast Lead, including the Goldstone Report, as biased against Israel. With typical near unanimity, the House of Representatives condemned the Goldstone Report in H.R. 867, assuring that it will not be brought before the U.N. Security Council.

But rejecting investigations, rather than inflicting amnesia, has galvanized people worldwide. Many church groups, labor unions, universities, and other organizations within Europe and the United States are now calling for BDS and for further actions and demonstrations to force the end of Israeli repression and human rights abuses.

On Dec. 27, 2009, one year after the start of Operation Cast Lead, an international delegation of more than 500 people from 35 countries and 32 US states (including several people from Minnesota) will cross into Gaza on the border with Egypt. They will meet with Palestinians, U.N. agencies, and NGOs working in the Gaza Strip. On Dec. 31, the delegation, along with thousands of Palestinians, in the spirit of Gandhi and Martin Luther King, Jr., will march toward the Erez crossing in a nonviolent expression of solidarity with the Palestinian people and an effort to end the brutal siege of Gaza. Simultaneously, others will peacefully demonstrate in cities around the world.

Finally, people who have been despairing of ever seeing an end to Israeli human-rights abuses have effective grassroots tools to force governments to act morally. These actions -- the Gaza Freedom March and boycott, divestment and sanctions -- are the beginning of the end of the human rights abuses in the Palestinian Occupied Territories.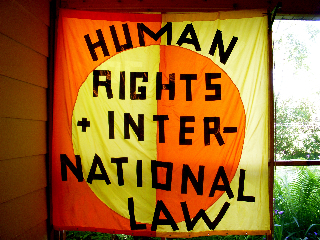 We are also contacting Egyptian Consulate and Embassy officials (as well as our Minnesota Senators Klobuchar and Franken) to ask for Egypt's assistance in safely allowing the 1300 international human rights activists peaceful crossing into Gaza from Rafah. (Sample letter below--contact info is: Egyptian Consulate in Chicago tel # 312 828-9162; fax # 312 828-9167; Egyptian Embassy in Washington D.C. [contact person is Omar Youssef] tel# 202 895-5400 or easier to click "Tell Egypt: Don't Block International Gaza Freedom March!" at Just Foreign Policy).

Dear Egyptian Embassy officials:

My husband and I are writing and calling to express our full support for the December 31, 2009 Gaza Freedom March. Several Minnesotans have already made travel plans and are planning on participating. So we urge the Egyptian government to allow the 1,300 international delegates to enter the Gaza Strip through Egypt.

The aim of the march is to call on Israel to lift the siege. The delegates will also take in badly needed medical aid, as well as school supplies and winter jackets for the children of Gaza.

Please, let this historic March proceed without difficulties! Thank you.

Coleen Rowley, Apple Valley, Minnesota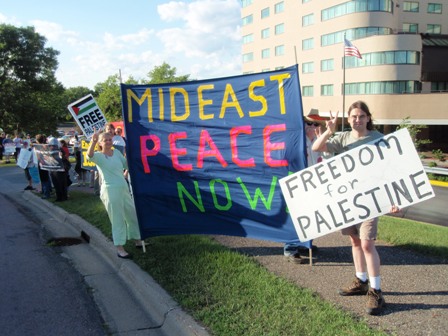 Popular in the Community