 SDEROT, Israel, Nov 19 (Reuters) - Big armoured bulldozers with blades tall enough to plough through houses and carve a path for tanks and infantry were lined up on Israel's border with Gaza on Monday, ready to invade if given the order.
More of Israel's formidable Merkava tanks were on the way south to join the battle lineup on a plain of fertile farmland and fruit groves. Soldiers camped out next to their armour. The observant Orthodox Jews among them said their daily prayers.
Everyone is waiting to find out if it will be truce or war. Mediator Egypt says a deal to end the fighting could be close. Israel says it is prepared to move troops into Gaza but prefers a diplomatic solution.
In the Israeli town of Sderot, well in range of Palestinian rockets and mortars, the feeble shockwaves of a flurry of detonations jarred the ceiling as the local council met in a bomb shelter 6 metres (20 feet) underground to talk about the crisis.
Sderot has been here before. In December 2008 the same tank and bulldozer transporters were rumbling down Highway 34 past the sleepy town that has become synonymous in Israel with random rocket attacks, blast shelters and jangled nerves.
People are waiting to find out if there will be a re-run this time. Defiant rocket fire from Gaza drove many out in 2008 during a week of bombing from the air, artillery shelling and naval gunnery. Then Israel sent some 30,000 troops into Gaza.
The final toll was 1,400 Palestinians dead and 13 Israelis killed. Israel was condemned by some states for using "disproportionate force".
"Many are wishing that our air force will carry on bombing (Islamist militant positions in Gaza). There is some fear of what an invasion will bring," said Miryam Sassy of Sderot's education board.
"There would be more violence, more bloodshed. But if we stop now we'll be in the same situation again in one month or six months or a year."
This is Israel's dilemma from the moment the low-level Gaza conflict erupted into full-scale fighting six days ago. The Palestinian death toll is nearing 100, more than half of them civilians, according to Gaza health officials. Israel has had three civilians killed by a rocket.
Invasion would push the casualty figures higher. House-to- house combat would mean more civilian deaths.
The Islamist Hamas fighters of Gaza and their junior cohorts have newly-acquired weapons such as armour-busting anti-tank guided missiles to greet the Israeli invaders, conceivably killing many more than last time.

The political fallout for Prime Minister Benjamin Netanyahu at home as well as abroad could be very negative. He is running for re-election in January. The impact at the ballot box of stopping before Hamas is effectively disarmed of its rockets could be almost as bad.
A ceasefire now may leave the Islamist forces still with plenty of rockets to threaten Israel in future, including long-range weapons that they have now proved can reach greater Tel Aviv, home to some three million people.
Hamas is an implacable enemy of "the Zionist occupier". It denies Israel's right to exist as a state and is pledged to take all of the land on which Israel was founded in 1948. It has spoken of a long-term truce, but never of a permanent peace.
Twelve-year-old boys in Sderot can tell the difference between a Palestinian rocket detonation and the sound of one being taken out in mid-air by Israel's Iron Dome interceptor.
"You hear the final whoosh in the air when a rocket gets through," said a boy at an outdoor cafe who played with his mobile phone during two detonations. "Those were Iron Dome."
But he got up and moved to shelter when the raspy croak of Sderot's alert signal sounded for a third time and a bang shook the ground. The warhead of the Gaza-made Qassam rocket is not powerful, but if you're close enough it will kill you.
Iron Dome's shield in the sky has been a game-changer. The army says it is knocking out 90 percent of incoming rockets that are targeted only if they are likely to hit residential areas.
Sderot's police station has a weird collection of rusting, petaled iron tubes from the scores of rockets that have hit the town since Hamas took over Gaza in 2007 from the Western-backed Palestinian faction of President Mahmoud Abbas.
They served as a backdrop for Barack Obama when he made a speech at the station while touring Sderot during a visit to Israel as a candidate in the 2008 U.S. presidential election.
Netanyahu says no country in the world would tolerate a constant drizzle of potentially lethal rockets on its citizens, traumatising families with the threat of sudden death.
He has the sympathy of much of the West. But how long will that last if Gaza is once again overrun, enraging an Arab world no longer under the control of pro-Western autocrats but ruled by Islamists who support Hamas? (Reporting By Douglas Hamilton, Editing by Jeffrey Heller)

Related
Before You Go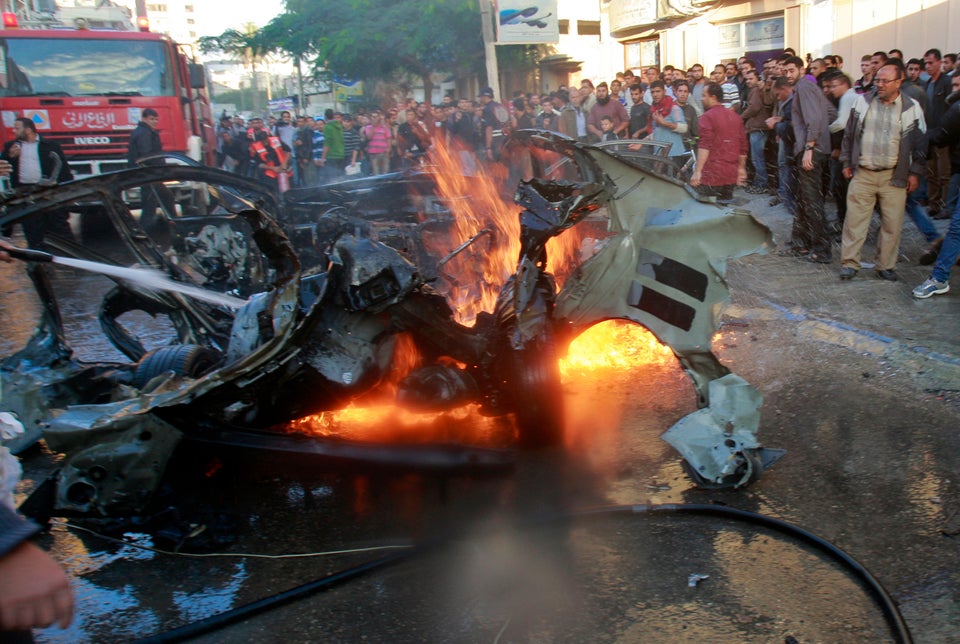 Israeli Strike Hits Gaza
Popular in the Community