 NEW YORK -- NBC News correspondent Ayman Mohyeldin said it's a "completely different dynamic" reporting from Gaza now than it was four years ago, given both the unrestricted access for journalists and widespread use of social media.
In late 2008, Mohyeldin was based in Gaza City, when the Israel Defense Forces launched a three-week aerial bombardment and ground invasion that killed 1,400 Palestinians. At the time, the Israeli military restricted foreign journalists from entering Gaza, leaving Mohyeldin and his Al Jazeera English colleague Sherine Tadros to cover the war with little competition.
While the pair received high marks at the time for their coverage, Mohyeldin, speaking by phone Monday from Gaza City, said "there was a dearth of information and pictures" as a result of so few journalists on the ground. "We couldn't be everywhere at the same time," he said.
Four years later, that's not the case. News organizations have flooded Gaza over the past six days of a conflict that has killed 104 Palestinians and three Israelis, along with wounding 860 Palestinians and 68 Israelis, according to CNN.
"I think it's a testament to how important journalism still is in having real journalists on the ground in Gaza," Mohyeldin said.
Widespread social media use is the other significant change in Gaza coverage from winter 2008-2009, with citizens uploading their own videos and journalists engaging over Twitter, Reddit and Google+.
In covering the war in Syria, news organizations have often relied on raw footage from areas where no journalists were present. It's a different situation now in Gaza, where numerous journalists are reporting each major strike throughout the day in real time on Twitter, often adding context and details as soon as they are available.
Take Monday's strike on a media center in Gaza City, an event quickly covered on Twitter.
BBC Middle East bureau chief Paul Danahar tweeted around 8:30 a.m. EST that Israel struck a building used by some outlets. "I'm standing in from of it," Danahar tweeted. "It's on fire. Smoke billowing out."
Soon after, NBC News chief foreign correspondent Richard Engel tweeted a picture of the building and noted that it housed Hamas TV and other offices. CNN senior international correspondent Arwa Damon tweeted that one person had died and five were injured in the strike.
The official Israeli Defense Forces spokesperson Twitter account -- which has been very active since the start -- quickly confirmed and defended the strike on Twitter. "A short while ago, the IDF targeted a cadre of senior Palestinian Islamic Jihad operatives who were hiding in a media building in #Gaza," tweeted the IDF spokesperson. A second tweet followed: "A direct hit was identified on the target. Four senior members of Palestinian Islamic Jihad were known to have been in the media building."
The AP, which has reporters in Gaza, sent a video of the attack over the wire, while CNN aired footage of it just before Anderson Cooper prepared for a live-shot. Cooper is also tweeting updates from Gaza to his 3.3 million Twitter followers, potentially bringing more attention to the conflict than does his primetime cable show.
Al Jazeera English also reported on the strike Monday, noting that the building is used by several outlets, including Britain's Sky News, Saudi-owned Al Arabiya and Hamas broadcaster Al Aqsa TV. Later, an AJE anchor confronted Israeli spokesman Mark Regev on air about targeting buildings that may include journalists, which drew condemnation from groups that include Reporters Without Borders.
A single strike four years ago would not have received nearly as much immediate media coverage, with foreign journalists -- likely watching smoke billow from their hilltop positions near the Israel border -- forced to start working Gaza sources in order to learn what may have transpired.
In covering a situation like Gaza, Moyheldin said that "viewers will benefit when there are more journalists inside."
Related
Before You Go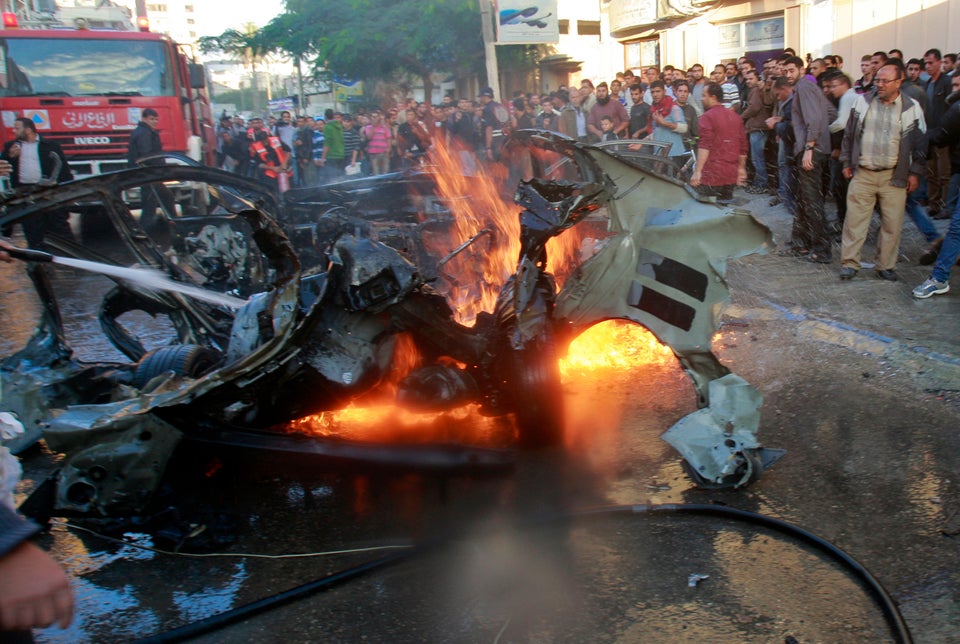 Israeli Strike Hits Gaza
Popular in the Community