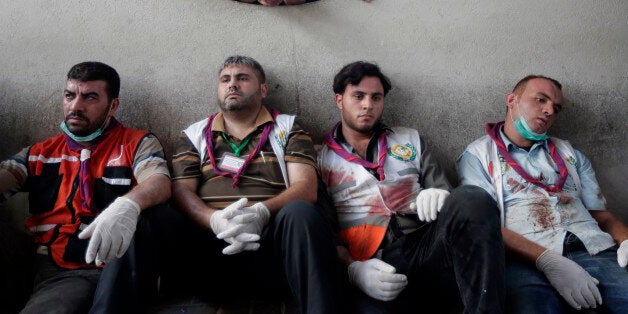 The WorldPost spoke to Doctors Without Borders (MSF) medical coordinator Audrey Landmann about the medical situation in the enclave. Landmann is responsible for MSF activities in Gaza and returned from the war zone last week. MSF has worked in the area for over ten years and has an international team of doctors at Gaza City's main hospital al-Shifa. The organization also operates a clinic and brings in medical supplies.
What is the medical situation like in Gaza right now?
Gaza is a very dangerous place at the moment. Hospitals and ambulances have been targeted, and medical staff have died. It is difficult to bring people who have been injured to hospitals. And when people are able to reach hospital, the medics are under great pressure because of the huge amount of patients, especially in the emergency rooms.
Gaza had a fragile health system before the current conflict -- a shortage of essential drugs, lack of medical supplies, and a lot of power cuts made it difficult to operate medical equipment. Now add the pressures of war. One doctor told us they have used 15-days worth of medical supplies in the last 24 hours.
There is a constant wave of casualties and many need multiple procedures, requiring a long stay in the hospital. Therefore, people are forced to share beds in hospital because there are too many patients. Others have to leave the hospital still in a critical condition. Some are not able to reach their homes due to the violence and have to stay at relatives' houses. The sanitary conditions are sometimes terrible. For example, one Palestinian nurse I know has a three-room apartment that is housing 40 people at the moment.
What longer-term impact will the war have on the medical system in Gaza?
I expect that the hospitals that have been damaged in the shelling will be repaired. I'm more worried about the follow-up medical attention for patients. We saw after previous wars in Gaza that people needed secondary follow-up care and surgeries. Now the system is more fragile than ever.
A second challenge is the mental health follow-up. There is the immediate trauma and then the follow up mental health care as people develop symptoms in the coming weeks. Right now people are in survival mode. A lot of people are in shock and won't allow themselves to think, they are just concerned about how to get their children to safety.
People are completely terrorized, tired, and there is no way to escape this tiny piece of land. Almost every day a part of Gaza is evacuated and people don't know where to go. They face constant bombardment. Sometimes there is bombing and shelling for 12 hours in a row. There is no place they feel safe. Parents worry for their children, and children have been completely traumatized by what they saw. Some families were completely destroyed. In one of our clinics there were three sisters and a father who were wounded -- they lost seven siblings and their mother.
Have you seen a lot of people seeking shelter in hospitals around Gaza?
I saw people starting to arrive at al-Shifa hospital in Gaza City after the ground operation began in the nearby neighborhood of Shujaiyeh in mid-July. In these first few days the UN was still able to take people to their shelters. But now the UN shelters are full and people are afraid to go to them after UN facilities were bombed.
What is appalling is that they arrive at the hospital with nothing. They are sitting on the ground, trying to put up sheets over their heads for shelter. Some organizations have delivered food vouchers - so the displaced get at least one meal per day - and have tried to truck in water. But the organizations have a lot of problems moving around to deliver aid because of the bombing. Some aid workers have died trying to deliver supplies.
At the last count there were around 2,000 people seeking refuge in the grounds of Shifa hospital. Now the same thing is happening at Nasser hospital, south Gaza's main hospital, after the Israeli army recently asked people in east Khan Younis to evacuate. They still have a sense of safety coming to the hospital, but I am not confident it will remain safe.
What sort of conditions are doctors in Gaza working in at the moment?
The Palestinian medical staff are real heroes. They are working for hours, often without eating or taking a break. They are exhausted, and emotionally impacted by the casualties. The doctors are very well organized and they are trying their best. They are working knowing that even in the hospitals, they aren't safe.
This interview was conducted on July 31. It was condensed and edited for clarity.
REAL LIFE. REAL NEWS. REAL VOICES.
Help us tell more of the stories that matter from voices that too often remain unheard.