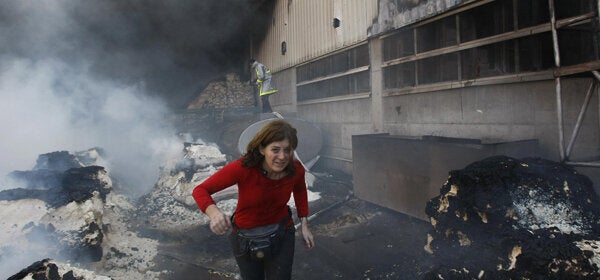 With the Israeli offensive on Gaza dragging into its third week, demonstrators around the globe have been pouring into the streets expressing their outrage against Israel's indiscriminate bombardment of residential neighborhoods in the Gaza Strip. In the Arab world, demonstrators have also turned their anger towards their leaders. They have been demanding the expulsion of Israel's ambassadors from Egypt and Jordan and the opening of the borders between Egypt and Gaza.
In Egypt (the largest Arab country), demonstrators carried placards demanding "To stop the Gaza Holocaust", and "Gaza, Forgive Us."
"Your Royal Highnesses and Your Excellencies--(we) Spit (on you)!"
Along with the images of bloodied children, scenes of destruction and carnage in Gaza, debates on Arab disunity have increased in the Arab media. The Arab public and opposition groups have been vocal in criticizing their own governments for not doing enough to help the people of Gaza. When Venezuelan President Hugo Chavez expelled Israel's ambassador from his country over its onslaught on Gaza, a Kuwaiti Islamist MP called for moving Arab League headquarters from Cairo to Caracas. He added that Venezuelan President Hugo Chavez "has proved that he was more Arab than some Arabs."
Since Hezbollah emerged victorious in the "Arab street" in the aftermath of the Israeli war on Lebanon during the summer of 2006, so-called moderate countries such as Egypt, Saudi Arabia, and Jordan were heavily chastised for their role in criticizing Hezbollah and its leader Sayyed Hassan Nasrallah for provoking the war with Israel. Today, the same countries are being attacked for conspiring against Hamas. The crisis in Gaza has managed to divide the Arab world yet again, further widening the gap between Arab regimes and their people.
Rumors have also been floating of Egyptian collusion with Israel. One circulated article claims that two days before Israel's invasion of Gaza, Israel's Foreign Minister Tzipi Livni visited Cairo and met with President Hosni Mubarak. There, Livni told Mubarak of the attack on Gaza and got Mubarak's approval for a "rapid, surgical operation" aimed at overthrowing Hamas and clearing the way for the return of Mahmoud Abbas and his men. According to this claim, 400 members of the Palestinian security forces under the command of former Palestinian National Security Advisor Mohammad Dahlan are currently waiting to take over the Strip once Hamas is defeated.
King Abdullah of Jordan has also warned that "there is a conspiracy being concocted against the Palestinian people, their future and right to establish their independent state."
Also, Libyan leader Muammar el-Qaddafi has demanded an open door for voluntary participation of Arabs to fight beside the Palestinians in Gaza. Qaddafi urged Arab countries to reactivate their common defense treaty to face the Israeli aggression on the Gaza Strip, saying that any Arab country victim of any aggression should be defended by all Arabs who must fight beside it, which is in accordance with the legality of international law. Right!
Meanwhile, the sentiment of the Arab populous was captured in this widely circulated photo over the internet which shows a demonstrator carrying the Palestinian flag with a message written on it in Arabic. It reads, "Your Royal Highnesses and Your Excellencies--(we) Spit (on you)!"
BTW, did I mention that here in the U.S. Arab Americans in solidarity with Gaza have been boycotting Starbucks? For the last couple of weeks, internet conspiracy theorists have been spreading a story that Starbucks is funding the Israeli attacks on Gaza!
Related
Popular in the Community