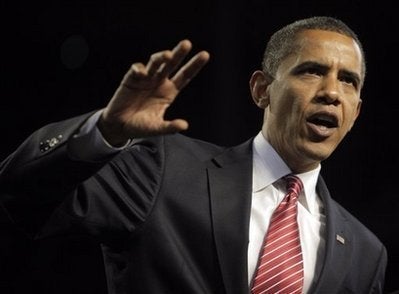 A Middle East news service is reporting that residents of the Gaza Strip are randomly calling up American voters in hopes of getting them to back Barack Obama in the presidential election.
The article, picked up by The National Political Do Not Call Registry, certainly reveals a new extreme in the world of election-call campaigns. It also demonstrates the extent of Obama's support in the region (though, politically, one can see the McCain campaign and the RNC trying to make into a negative for the Democratic nominee).
An article in Al-Hayat Al-Jadida, which was first noted and translated by Palestinian Media Watch, quotes "a young man from the Hamas-controlled Gaza region as saying, 'We dial random numbers and try to call people [in the United States] without knowing their identity or their affiliation....'" The same individual, the site wrote, "reportedly uses 'Internet sites that allow making free calls... in order to use them for the campaign supporting Obama.'"
As for questions of accuracy, as Shaun Dakin of the National Political Do Not Call Registry notes, this is not the first time that Obama has received unsolicited support from Arab residents of the Gaza. In fact, during the Democratic primary an Al-Jazeera TV report revealed that the same individual currently making the random telephone calls -- Abu Jayyab -- also organized a calling campaign to persuade American voters to support Obama in the Democratic primary.
Popular in the Community