 In Saturday's morning hours, Israeli military forces seized the Finnish-flagged SV Estelle in international waters allegedly using electric-shock weaponry to torture passengers who included lawmakers and peace activists from eight countries. The passengers attempted to sail to Gaza to challenge Israeli policies in the occupied Palestinian territories. Undeterred, joint efforts continue on shore where Palestinians prepare to build an "ark" in the coming months to sail out of port for the first time in 64 years.
Looming in the historical backdrop, a Palestinian family's experience as seaborne refugees in 1948 contrasts with an unlikely parallel between two opposing, ship-based movements that have been shaking historic Palestine across six decades.
In recent years, the political imagery of a giant ship sailing defiantly through a sea-wall of barbed-wire (signifying a naval blockade) has come to represent numerous joint international-Palestinian efforts like the Estelle and Gaza Ark to stoke world outcry over Israel's occupation spanning the Gazan coast.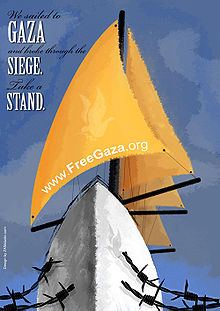 The unmistakable political art of these Gaza ship campaigns have carried this messaging across the world in a dozen voyages since August 2008. Five journeys have successfully reached Gaza in 2008. With the capture of the Estelle, Israeli military forces have now intercepted the most recent seven, altogether injuring dozens of passengers and, in one 2010 voyage, killing nine Turkish and American activists.
But this sort of blockade-busting advocacy is not the first that illustrates efforts to captivate world attention. Ironically, the imagery of boats ramming through barbed-wire blockades appeared internationally in the 1940s when the Zionist movement used ships to bring in refugees to increase Jewish presence in Palestine, then under British control. The British enforced a naval blockade on Palestine and set monthly quotas on Jewish immigration.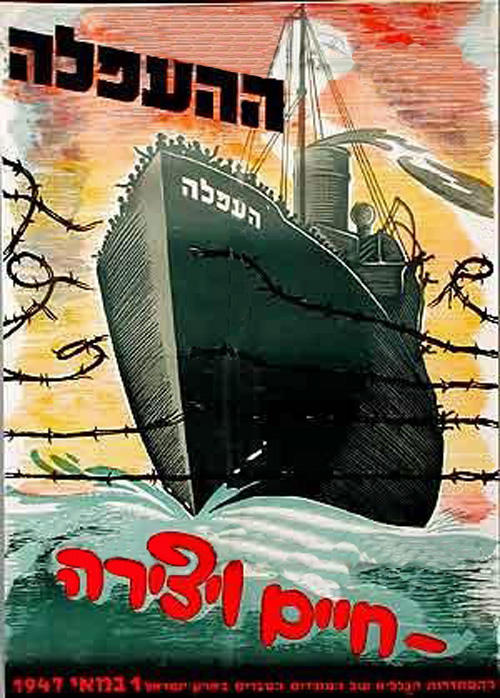 Although artistic narratives uniquely intersect across six decades, there are important historical differences in the circumstances and political movements characterizing the ship efforts.
Through ports like Haifa (modern Israel), which was a destination of many Zionist ships, new waves of Palestinian refugees boarded ships to flee for their lives in the opposite direction. In this way, Palestinian refugee ships marked a climactic consequence to the ships used by Zionist military-political groups to boost the settlement of Palestine.
Hasan Hammami was fifteen years old when he and his family were forced to leave by sea from their Jaffa home in 1948. In late April of that year, armed forces of the soon-declared Israeli state began shelling the city with mortar artillery-fire, followed by an all-encompassing military siege. Within hours of the onslaught, scrambling to board a cramped cargo ship carrying 3,000 other Palestinian refugees, Hammami's parents escaped with their eight children, aged four to eighteen.
The Hammamis' story is one of several Palestinian and Jewish families profiled in Adam LeBor's 2006 book, City of Oranges: Arabs and Jews in Jaffa. The British had planned to withdraw from Palestine in mid-May, 1948, six months after the UN partitioned 56 percent of the land into a new Israeli state. Pre-Israel military forces saw Jaffa "as a dangerous Arab enclave in the heart of the Jewish state," LeBor wrote. With the British gone, Zionist leaders intended to declare the State of Israel (they did so on May 14) and overtake areas such as Jaffa.
Overall, the Palestinian population still outnumbered Jews two-to-one, despite years of copious Jewish settlement efforts, including more than one hundred Zionist ship voyages, altogether carrying tens of thousands of Jews (though many were intercepted by the British) to Palestine since 1934.
The Haganah, the group that organized ship voyages and the precursor to the Israel Defense Forces (IDF), planned to blockade Jaffa when the British pulled out. But their allied military group, the Irgun, commanded by future Israeli Prime Minister Menachem Begin, grew impatient and desired publicity to rival Haganah's swift capture of Haifa days earlier.
British journalist and historian Jon Kimche reported from Palestine during the attacks. Following Irgun's "orgy" of plunder and destruction, the Haganah ended up joining the fray against the port city shortly after Irgun's assault. Haganah's "Operation Chametz" aimed (successfully) "to destroy the Arab villages round Jaffa and so cut [it] off from physical contact with the rest of Palestine, as a preliminary to its capture." Soon, just a few thousand of Jaffa's 100,000 Palestinian residents remained.
Today, looking back at his experience, Hammami rightly believes that reducing current and past history to a comparison of images is "not substantive." Beyond the clear intersection of political art, he says there is a "world of difference" in the circumstances of both Zionist ships then and Palestinian-international ships now that continue publicly challenging Israel's occupation through the naval blockade on Gaza.
One of the differences, he explains, is "in the treatment by European and North American governments... [which are]... winking at Israel to do what they like with both the international aid workers and activists as well as Palestinians under occupation."
As if to confirm Hammami's words, the Ministry of Foreign Affairs of Finland, whose flag flew on the SV Estelle, asked Israel to "act appropriately," having passed along an aggressive communication received from the Israeli government, according to Agence France Presse (AFP).
"[I]n case SV Estelle seeks to break the blockade at sea on Gaza (20 nautical miles)," the message read, "Israel will intervene in the situation by using force. Should this take place, the safety of the people on board may be jeopardised."
The "jeopardised" "safety" of passengers on board included severe tasering amounting to "electro torture," according to their lawyer Gaby Lasky who spoke to AFP over the weekend. As of Sunday, most of the 30 passengers were still imprisoned in Israel awaiting trial. The Swedish Foreign Ministry echoed the Estelle's assertion that Israel's blockade must end and questioned Israel's right to capture the ship, one-third of whose passengers were Swedish nationals, including a member of Parliament.
Also among the Estelle's passengers were parliamentarians and activists from Canada, Finland, Greece, Israel, Italy, Norway and Spain. Aid materials aboard the ship included cement, wheel chairs, children's books, sports balls and musical instruments.
An anchor for the Gaza Ark was also aboard the ship. The organizers of the Ark, including the Palestine Sailing Federation and Fishermen's Solidarity Campaign, say their project aims to break Israel's "other blockade" preventing fishing and export of former primary goods (such as garments, furniture, agricultural products) of Gaza's once healthy and viable economy. International partners in ongoing sailing campaigns are helping fundraise and assist as requested, including accompanying Palestinians on the voyage. The Ark also intends to revitalize Gaza's dwindling shipbuilding industry in order to integrate younger generations who've been cut off from possible career opportunities.
Completion of Ark refurbishing is expected after the New Year, with an anticipated spring 2013 sailing date. In both practical and symbolic terms, the Ark's departure from shore expresses Palestinian self-determination over their economic livelihood and liberation.
The Estelle's voyage, while thwarted by Israel, demonstrates that international civil society continues to stand beside Palestinians all the way, from the Mediterranean Sea to the Jordan River.
UPDATE: As of Wednesday 24 October, Israel has released and deported nearly all of the Estelle's passengers, with the remaining two scheduled to be released late Wednesday. Three Israeli passengers recently released from detention were on temporary house arrest. Passengers continue to report excessive use of force and "aggressive" interrogation by Israeli forces that raided the ship. In Turkey, lawyers of the humanitarian organization IHH, whose nine activists were killed by Israeli forces in a 2010 voyage, filed a legal complaint against Israeli leaders over the seizure of the Estelle, according to Electronic Intifada.