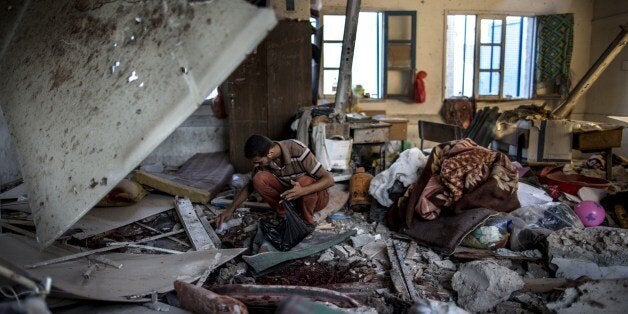 More than 240,000 Palestinians in Gaza have been displaced from their homes by fighting between Israel and militant groups, the United Nations said on Wednesday. Most of them have sought refuge in schools run by the UN agency for Palestinian refugees, UNRWA.
More than 20 days into the fighting, UNRWA's shelters in the north of Gaza and in Gaza City have reached capacity. Five UN-run schools that sheltered thousands of displaced have been hit in the past weeks, leaving dozens of people dead.
The WorldPost spoke to UNRWA's Spokesperson based in Jerusalem, Chris Gunness, about the humanitarian crisis in Gaza.
What options do civilians have left to find safety now that UNRWA shelters are reaching capacity?
Our shelters are overflowing. There are 2,000 to 3,000 people per shelter on average, and the number of displaced continues to rise. We'll soon be in a situation where there are tens of thousands of people on the streets of Gaza, no food, no water, no electricity, nowhere to run. We have reached a breaking point.
The time for humanitarian action alone has passed. Now its time for political action in order to bring about an end to the fighting. For the people of Gaza, that moment cannot come soon enough.
Four times as many people have relocated to UNRWA facilities in the past weeks than during the last major confrontation between Israel and Gaza, in 2008-2009. Why are so many more displaced this time around?
The Israeli military leafletted huge areas and told people to leave their homes. You need to ask the Israeli government why they've decided to displace all these people.
How is UNRWA coping with this huge demand for shelter?
We're overwhelmed. We just don't have enough of anything. UNRWA does not have unlimited capacity to carry on dealing with the consequences of what is going on. The parties to the conflict are responsible for the consequences to civilians of their military actions under international humanitarian law.
Imagine what is going to happen when the war is over. We are going to have several hundred thousand people -- many of whose homes have been completely destroyed -- stuck in our schools. They've got nowhere to go back to. Even if they still have homes there'd be no water, electricity, because thats all been blown up, too. The present is tragic but the future is absolutely unthinkable.
Can UN facilities still provide a safe refuge to Palestinian civilians in Gaza after the recent attacks on UN schools?
No, absolutely not. On six occasions, five UNRWA facilities have been hit, in two cases with profoundly tragic consequences -- with multiple deaths, multiple injuries, including women and children. That really illustrates how this war is being executed with a disregard for civilian life.
Gaza is a conflict with a fence around it. It is unique in the annals of contemporary warfare. There's nowhere safe to run and now there's nowhere safe to hide.
Israel has said militant groups have made use of UNRWA facilities in Gaza and has criticized the agency for handing over weapons found on its premises to Palestinian officials. What is UNRWA doing to prevent its facilities being used for weapons storage or militant operations by groups in Gaza?
We found weapons caches in empty schools that UNRWA is not actively using on three occasions. When we found the weapons during our regular inspections, we proactively told all the relevant parties, including Israel. We came out with a very strong public condemnation of the flagrant violation of our neutrality, and we took steps that are obligatory for a UN humanitarian operation anywhere in the world, which is to get in the local bomb disposal experts to make the area safe. Remember there was an urgent security imperative to make sure that civilians were not hurt should the weapons have detonated.
This idea that we somehow chucked them in the back of a truck, or that we should have driven them through a conflict zone and given them to the Israelis is absurd. It shows how little understanding the people who are accusing us of these things have of the constraints of a neutral humanitarian organization working on a battlefield.
What are your concerns about the longer term impact of the conflict in Gaza?
The prospects are absolutely appalling. After Operation Cast Lead (the last major conflict in 2008-9) billions were spent on reconstruction. UNRWA was in the middle of reconstructing some 10,000 homes and shelters and 100 schools when this fresh round of wholesale destruction started.
And now we've got perhaps more destruction. Its hard to do a proper assessment until the conflict is over. Its not even over yet, so goodness only knows where we're going to be at the end, goodness knows how long it will take to begin this reconstruction, and goodness knows how much money it will take.
This interview has been edited for length and clarity.
Popular in the Community