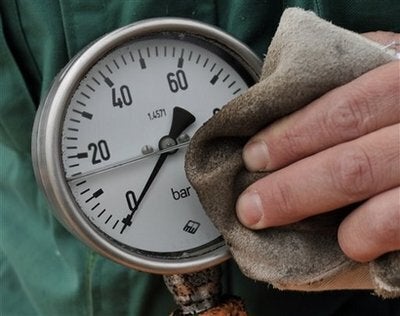 MOSCOW -- It maintains a private army, employs a half million people and runs entire cities around Russia. Now, the power of Gazprom has struck Europe with its full force, as the continent shivers under the firm's decision to shut off gas to its biggest and most lucrative customers.
Russia first closed the taps to Ukraine on New Year's Day, leading within days to severe disruptions in 18 European countries, which rely on pipelines that cross Ukraine to deliver most of their Russian gas supplies. EU efforts to mediate the conflict have failed. Government officials and the leadership of the state-run gas companies inside Russia and Ukraine continue to trade accusations over who is to blame.
Gazprom insists that the dispute is purely commercial. Squabbling over price, the two sides failed to sign a contract for 2009, leaving no choice for this "business" but to shut off the taps.
Yet most observers think otherwise. A look at Gazprom's leadership and murky history, particularly since Vladimir Putin rose to power nearly a decade ago, shows just how politicized the company is.
"To a large extent, Gazprom is almost a proxy for the government," said Chris Weafer, chief strategist at UralSib, a Russian investment bank. "It is the state's company and its most important asset."
Many inside Russia don't even call it a company. When the Soviet Union collapsed, its Gas Ministry became Gazprom. A partial privatization left the state with 40 percent ownership of the company, which in 2004 it boosted to a controlling stake of just over 50 percent.
Soon after Putin assumed the presidency in early 2000, a little known bureaucrat named Dmitry Medvedev was elected chairman of the Gazprom board. Medvedev -- who later became Putin's chief of staff -- remained chairman until ascending to the country's presidency in May 2008, after receiving Putin's endorsement.
Today, Putin's first deputy prime minister, Viktor Zubkov, holds the chairmanship. The CEO is Alexei Miller, an associate of Putin's from his days in the St. Petersburg government in the early 1990s. Miller has no gas industry experience, and it is said that he is merely a figurehead.
Nearly a dozen top Gazprom managers served in the KGB or its main successor agency, the FSB, including its deputy chairman, Valery Golubyov.
"The relationship is very close" between the company and the state, said Dmitry Peskov, Prime Minister Putin's press secretary. "Although Gazprom is an international corporation, the largest shareholder is the Russian state. There is nothing strange in the fact that the relationship between the government and Gazprom is really very close."
That's a different line than the Kremlin was spinning in early 2001, when Gazprom led a forceful takeover of NTV, a popular television channel that was openly critical of the government. One satirical program it ran, Kukly (Dolls), was said to particularly irk Putin. The station's owner, oligarch Vladimir Gusinsky, agreed to sell to Gazprom following a campaign of armed searches by the FSB, a brief arrest and back tax claims. Gusinsky now lives in self-exile in Spain.
These days the station dutifully runs state-friendly coverage. Its takeover was seen by many as the beginning of the end for independent media in Putin's Russia.
Beyond its media holdings, Gazprom now has over 150 wholly or partially owned subsidiaries, including assets focusing on banking, satellite communications, hotels and spas, electricity and agriculture.
It is a sprawling behemoth that employs at least 500,000 people, finances schools and hospitals in the bleak region of Siberia and essentially subsidizes the Russian economy by providing industry and homes with cheap gas.
A move to liberalize domestic gas prices was curtailed late last year, as the financial crisis -- and the effects of an internationally unpopular war in Georgia -- hit Russia hard in September.
"It has many of the attributes of a company, like outside shareholders. It files accounts. It talks to investors. But the economics of what it does has very little resemblance to a profit maximizing firm," says Ian Hague, co-founder of Firebird Asset Management, a New York-based fund that invests in Russia.
Hague, a longtime investor in Gazprom, says he sold off his fund's holdings in the firm throughout 2008. "They have no ability to generate consistent positive returns for minority investors," he says. "They don't care. That's not their business."
"It is the deepest trough in the barnyard," he adds. "For employees of Gazprom, for people in the administration charged with supervising Gazprom."
Sergei Kupriyanov, the gas giant's spokesman, denies that. "Absolutely not. If someone has something to complain about, let them show us the proof," he says.
One man who sought to expose the lack of transparency inside Gazprom was William Browder, an American who heads Hermitage Capital Management, once Russia's largest portfolio investor. Browder was denied entry into the country in November 2005, on suspicion he posed a threat to national security. He has not been able to receive a visa since, and now lives in London.
Gazprom is by far Russia's biggest company, bringing in $70 billion in revenue in 2007 and taking a $14 billion profit. Yet it is also heavily indebted, to the tune of $49.5 billion and was included on a list of firms eligible for a state bailout.
Some analysts say this is, in part, what drove the firm to seek a substantially higher fee from Ukraine, prompting the dispute that left 18 countries freezing at the start of 2009.
Yet Gazprom still has enough money to run a private army. Kupriyanov acknowledges that the force exists, but declines to name its number.
It also has a sense of its own power. Gazprom officials have a favorite joke they like to tell on New Year's Eve. "Come round to our offices in the morning," they say. "We'll serve you Champagne. But Ukrainian style -- no gas."