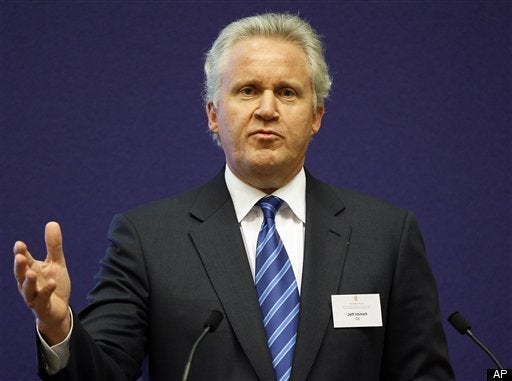 At a General Electric event in New York on Monday, GE and four venture capital partners announced 12 investments, totaling $55 million, in the first dozen winners of its $200 million Ecomagination competition.
Four top venture capital firms -- Kleiner Perkins, Emerald Technology Partners, Foundation Capital and Rockport Capital -- contributed $10 million collectively to the winners, with GE contributing $45 million as part of its open innovation strategy.
The eleven companies and one educational program not only receive investment funds, but also the keys to GE's kingdom -- that is, access to the industrial giant's army of product developers, engineers and sales people.
"What do I do? I've got 45,000 engineers and innovators, and 45,000 sales people. I can drive innovation at a scale these guys can't do," Jeff Immelt, GE's CEO and Chairman, told an audience at the announcement. (Watch video of Immelt's speech below.)
For small companies, commercializing green technology is no easy task. It's a capital-intensive process often more costly and complex than bringing IT and software to the marketplace. Installing a solar-powered air-conditioning unit in thousands of homes, for example, is far more cumbersome than making a mobile app downloadable to millions of iPhones.
Immelt noted during Monday's announcement that a single solar panel plant costs as much to build as the entire venture capital investment in Google. Not coincidentally, the majority of the submissions GE received this summer were in areas such as sensing and software rather than capital-intensive hardware such as solar power, Immelt said.
Since most startups are ill-equipped to deal with the costs and complexities associated with bringing clean-tech innovations to the market, partnerships with large, resource-rich corporations are seen as vital to the continued growth of green technology.
Still, the clean energy sector faces another constraint: brain power. Mark Little, GE's chief technology officer, said on Monday that America has fallen behind both China and Europe in educating its engineers in digital energy. "The U.S. used to be first in class in this area, but we have had to go to Europe and China for it as of late...There is a very large need for this technology and we don't have it at home," Little told the audience.
Watch the following video of Jeff Immelt's speech at Monday's announcement and for the company bios of the competition's first round of winners, click here:
Related
Popular in the Community