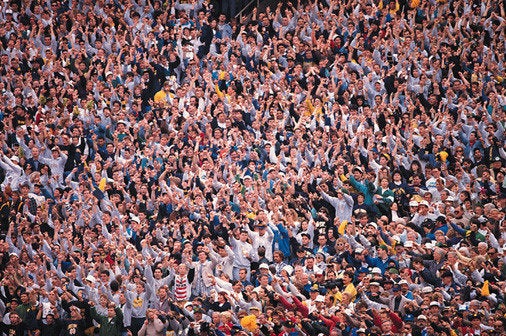 Ideas spring from the gaps between the technology of today and the needs of tomorrow. In the global energy economy, we face a chasm between nascent ideas with great promise and those that are commercially available to impact change today. Who can narrow this gap to deliver more accessible energy solutions? Private industry, as part of collaborative networks of ingenuity and innovation.
At GE, we know good ideas to drive this change can come from anywhere, so we invited thinkers from around the world to join our $200 million ecomagination Challenge and tackle the world's energy problems together.
The response was tremendous: 70,000 people from 150 countries came forward to present 4,000 ideas to revolutionize the smart grid. We discovered promising breakthroughs in energy storage, utility security, energy management software and other technologies. I was inspired by the huge number and creativity of ideas, innovations such as ClimateWell's solar-powered air conditioners, IceCode's anti-icing technology for wind turbines and Promethean Power Systems' cold storage method that enables farmers in emerging markets who lack reliable electricity to cool their products for storage and transport.
Finding bright, marketable ideas in such a vast crowd isn't easy. Smart companies in many sectors are starting to see the opportunities -- and in many cases, necessity - of seeking answers in a crowd. Here are a few lessons we've learned about problem-solving with a "network of ideas."
Create space for creativity and connections
To encourage an open exchange of diverse ideas, we issued a broad call to action and sought ideas from anyone, anywhere. We learned that:
A broad definition generates many solutions. Outlining the broad parameters of "Powering the Grid" - and not confining the focus to only one technology - helped foster and facilitate creativity across diverse categories.
Big companies have the power to congregate a broad range of ideas and people, and the scale to get ideas to market. Offering GE's deep knowledge and connections in the sector created an opening for start-ups and established companies alike.
Open ideation must preserve intellectual property to be effective. However, a willingness to share ideas begets better ideas, new partners and paths forward.
Empower ideas from anywhere
The Challenge enabled an unprecedented cross-pollination of ideas between inventors, scientists, students and entrepreneurs globally. In fact, more than 1,500 established companies participated -- 25 percent of which already generate at least $2 million in annual revenue -- shining a clear light on the support clean tech ventures need to bring their ideas to scale. To foster this kind of exchange, there are a few things to keep in mind.
Innovation comes from a place where gaps exist, problems are identified and ideas connect. Sometimes these ideas are local, as in the case of Promethean Power's method for farmers in emerging markets to keep milk cool when it's stored and shipped. And sometimes ideas are larger, like SecureRF, which has created a way to encrypt and protect the entire digital grid.
Challenges deliver more than monetary awards. Several participants said that joining the Challenge was important in itself. Concepts that received a high number of votes earned credibility with potential investors. Some entrants made important connections with companies solving clean energy problems in adjacent technologies.
There are many centers of innovation to engage. Universities are teeming with ideas that need market-based support. Engaging centers like these are critical to discovering the most promising ideas.
Realize the power of the community
We were surprised to see the depth of connectivity and engagement from the community of tens of thousands who participated, not with proposal submissions, but with their input, discussions, debates and enthusiasm. We saw it live, in person, at our Challenge community event in New York City. (Now if we could just harness this passion to power the energy grid!).
Through the exchange of these ideas, we are witnessing not only how the next generation grid, buildings and homes will look, but also how companies will innovate and collaborate in the future.
We can't wait to see what this crowd thinks of next.
Popular in the Community