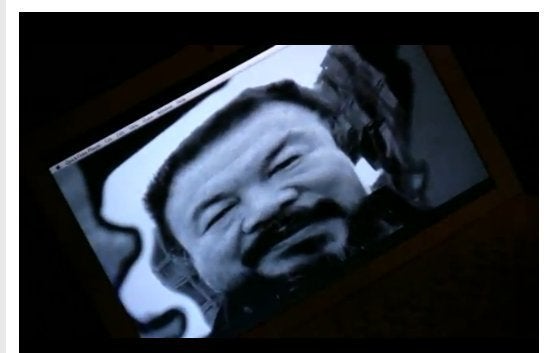 On Friday, Cuban artist Geandy Pavon made sure the Chinese Consulate in New York knew that he, and many others in the United States, want Weiwei freed.
Setting up a laptop and a projector on a bike path nearby, Pavon projected a giant, watery image of the detained artist's face on a wall of the building that houses the Consulate.
In the video below, watch passersby stop to applaud Pavon's efforts while some security guards mill about outside, trying to figure out what to do.
The performance piece, titled "Nemesis-Ai Weiwei: The Elusiveness Of Being", is part of the ongoing "Nemesis" project, orginally conceived to "protest and bring to light the death in a hunger strike of Cuban prisoner of conscience Orlando Zapata Tamayo while in custody of the Cuban government," Pavon wrote in a press release, according to Hyperallergic. "The concept of the project is to impose the face of the victim on buildings walls that house government offices … The light on the wall is a symbol of revelation."
The United States government has already urged the Chinese to release the artist and meanwhile, four of Weiwei's closest associates, reporter Wen Tao, driver Zhang Jinsong, accountant Hu Mingfen and designer Liu Zhenggang, remain missing.
Related
Popular in the Community