They say that politics makes strange bedfellows, but geeks do it better. For decades, few wanted much to do with those nocturnal-toiling, suit-less, pizza-inhaling species. But fast forward to today, when the khaki/untucked shirt look is decidedly in and so are the big brands looking for geek love. The race is on to see which geek company can mate with which big brand company to produce beautiful offspring.
Here are some of the strangest bedfellows. Maybe you know some others.
Food:
Monster and Kellogg: Ranked by Time Magazine as one of the top 10 tiny characters, the Keebler Elf purportedly lives in a magical tree where it passes the time dipping just about everything in fudge. Now, the little elves sport Monster N-Tune headsets (pictured below). It's part of a new ad-campaign designed to appeal to the kiddie set. In the back-to-school promotion that runs from July to October, buyers of Kellogg's snacks will get a chance to win a pair of N-Tunes plus free music downloads.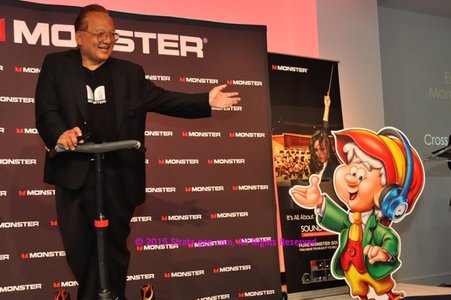 SteamCC, makers of Ripples, is a coffee printer that can print anything on the foam of a cappuccino. Later this year, Ripple Makers will be introduced in Lufthansa's First and Business Class lounges.
Fame:
Kim Kardashian: Known best for simply being famous, Kardashian created an app (pictured below) that already has over 28 million downloads according to Business Insider. It's a choose-your-own-adventure style game that allows users to go on photo shoots, dates and rub elbows with Hollywood elite. Play the game right and you become an A-list celebrity.
Ashton Kutcher wed both Mila Kunis and technology. He's got an uncanny sense of picking winners. The celeb invests in Uber, Airbnb and Spotify. He invested in the phone payment service Dwolla, ponied with the textbook company Chegg, as well as Flipboard, Foursquare, and more.
Dr. Dre cofounded Beats headsets. Will.i.am became the director of creative innovation at Intel. Justin Bieber led a million-dollar investment round in Shots, a selfie app. Justin Timberlake took a large stake in the $35 million Myspace buyout. And Snoop Dogg bought the streaming service Tidal outright for $56 million.
EyeWear:
After Version 1. 0 of Google Glass bombed, Tony Fadell of Nest fame was put at the helm of broken Glass. The first move was to jump in bed with Luxottica, the Italian high fashion glasses company. Luxottica is also the parent company of Ray-Ban and Oakley, so you can expect to see its fashionable mark on Google Glass 2.0.
Wristwear:
At Fashion Week, the news was all about Rebecca Minkoff, the fashion designer who teamed up with Intel to bring both diversity and high fashion to wearables. This year, Tag Heuer announcing a partnership with Intel and Google to produce "the world's first luxury Android Wear smartwatch." The watch is expected to hit the market this fall, reportedly costing $1,400.
Richline, the high end jewelry creator, partnered with Cuff, a maker of technology jewelry to create a line of interchangeable tech modules that can be used in various bracelets and jewelry.
Fitness:
Jawbone, the fitness band maker, that's running neck in neck (and lawsuit in lawsuit) with Fitbit, sleeps around. It just did a deal with Yummly, a website that offers recipes over the band. Jawbone also recently announced a future partnership with Amex to use the band as a payment system.
Under Armour, not a tech company, but a maker of fitness clothing, recently bought MyFitnessPal, an app to track exercise and Endomondo, a healthy diet and nutrition app.
Tory Burch was one of the early fashion designers to put a thoughtfully designed double wrap band around on the Fitbit bracelet, which is now sold on the Tory Burch site. And Misfit teamed up with Swarovski to create some ultra blingy fitness.
Cars:
This year's NASCAR racing circuit will feature Dale Earnhardt Jr.'s car adorned with the Windows 10 logo. Earnhardt will be a spokesperson for Windows 10. Mercedes' self-driving car will keep you connected using Qualcomm smarts. Ford kicked off the high tech matchmaking when it partnered with Microsoft for the Windows SYNC system now a common feature in many Ford models.
Do you have a favorite bedfellow? Let me know.
Robin Raskin is founder of Living in Digital Times (LIDT), a team of technophiles who bring together top experts and the latest innovations that intersect lifestyle and technology. LIDT produces conferences and expos at CES and throughout the year focusing on how technology enhances every aspect of our lives through the eyes of today's digital consumer.
REAL LIFE. REAL NEWS. REAL VOICES.
Help us tell more of the stories that matter from voices that too often remain unheard.