Even among the strange cast of European far-right populist leaders who have been gaining prominence in recent years, The Netherlands' Geert Wilders is unique.
Wilders barely campaigns in the traditional sense ― he avoids debates, televised interviews and doesn't talk to the national press. He's been under 24-hour security protection for more than a decade over fears for his safety, and communicates to supporters mainly through incendiary tweets. He's worked in politics since 1990, yet casts himself as the firebrand outsider.
Wilders' anti-Islam, anti-immigrant Party for Freedom consists solely of himself, and it's currently in a close race to garner the most votes of any single party in the Netherlands' elections on Wednesday.
Although the country's multiparty system makes Wilders' chances of governing extremely slim, he has managed to pull all of Dutch politics into his orbit while championing discriminatory views in a society that has historically promoted tolerance.
The Netherlands' election campaign has revolved largely around debates that Wilders has spent his career framing, notably the role of Islam and immigration in Dutch society. Wilders, who calls for such policies as banning the Quran and taxing women who wear hijabs, has co-opted the campaign narratives through his appeals to ethnonationalism and his calculated use of the media.
Much like U.S. President Donald Trump, Wilders uses inflammatory statements and policy proposals to gain publicity and force establishment politicians to address his views. Although his strategy predates Trump's entry into politics, Wilders has certainly incorporated a bit of Trump into his campaign ― promising to make "The Netherlands Ours Again."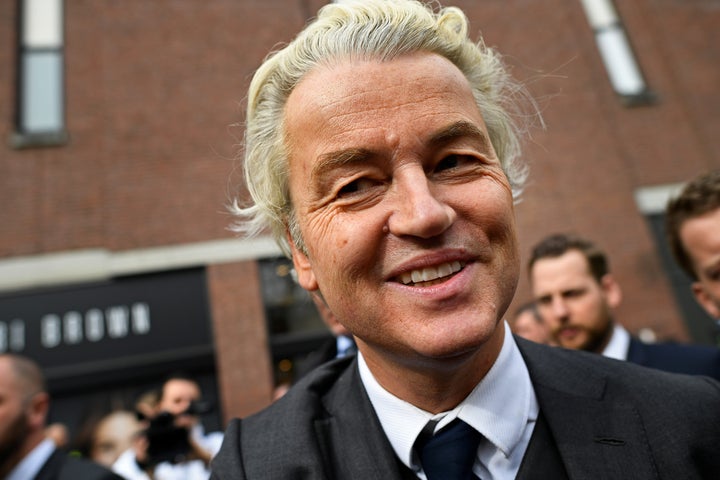 Whenever there is a terror attack or political scandal linked to Islamic militants, Wilders is also quick to capitalize on it through tweets to his 797,000 followers, vilifying Muslims or calling for closed borders.
He can even drive news cycles in other countries: He once posted a manipulated image of German Chancellor Angela Merkel with blood on her hands after a terrorist drove a truck into a crowd last December in Berlin. The U.S. got a taste of his influence over the weekend, after Iowa lawmaker Steve King used white nationalist language to approvingly tweet about Wilders.
Wilders' Trump-like outsized personality and his rhetoric about attacking elites and preserving Dutch identity has played well with supporters. He has managed to twist progressive Dutch values such as support for gay rights to argue that Muslim immigrants oppose those ideals, and therefore do not belong in the Netherlands.
Last December, Wilders was convicted, but not penalized, for inciting hatred against immigrants during a 2014 rally, when he lead supporters to chant that they wanted fewer Moroccans in the country. His poll numbers went up following the trial, and during his campaign launch in February, he said, "There is a lot of Moroccan scum in Holland."
Populism is having a resurgence in Europe amid an influx of refugees, growing antipathy toward the European Union and a shift away from establishment parties. Wilders has even contributed to the decentralization of Dutch politics through the rise of smaller parties that have gained ground in opposition to his ideas.
But none of these upstart parties, such as the pro-immigration Denk, have found nearly the same success. Since splitting with the right-wing People's Party for Freedom and Democracy (known by its acronym VVD) in 2004, Wilders has been a consistent figure in Dutch politics, and his Party For Freedom came in third in the 2010 election.
Despite his popularity, what Wilders likely cannot do ― and may not want to do ― is actually govern. There are dozens of parties running in the election and none will gain enough seats to rule alone. Instead, a coalition that will almost certainly exclude Wilders because of his discriminatory platform is likely to govern. Wilders' party currently trails a few points behind the VVD, at around 13 percent, according to a poll released on Sunday. 
Wilders' effect on Dutch politics is remarkable, considering over 85 percent of the electorate doesn't want to vote for him. Whereas far-right figures in other nations have been able to use a flagging economy to attack traditional politics, the Dutch economy is growing and unemployment is at its lowest rate in five years.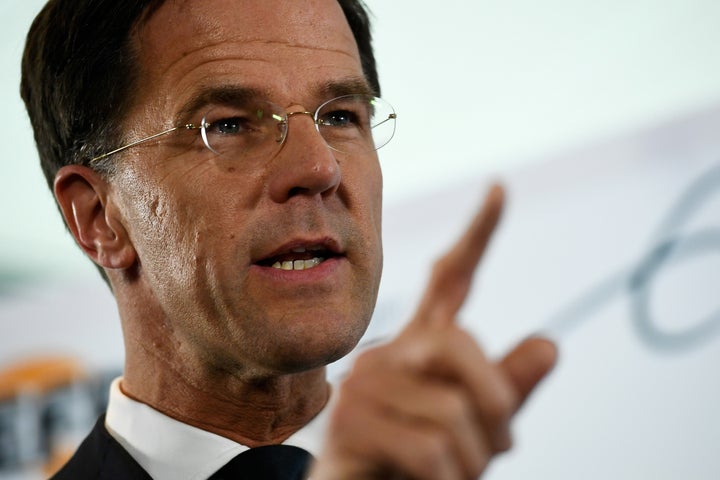 Even as Wilders looks to be shut out of a government coalition once again, he has already succeeded in heavily influencing the parties that will rule. As in other European nations with prominent far-right populist movements, figures like Wilders have the capacity to drag the political discourse away from the center. 
For instance, the lower house of Dutch Parliament passed a law in December that banned face veils in some public places, a policy that Wilders has backed for some time.
Prime Minister Mark Rutte of the VVD has also shifted his politics to the right to undercut Wilders' support. Rutte controversially wrote a Wilders-esque open letter in January, saying that people who don't respect Dutch customs need to "behave normally, or go away." 
Calling all HuffPost superfans!
Sign up for membership to become a founding member and help shape HuffPost's next chapter