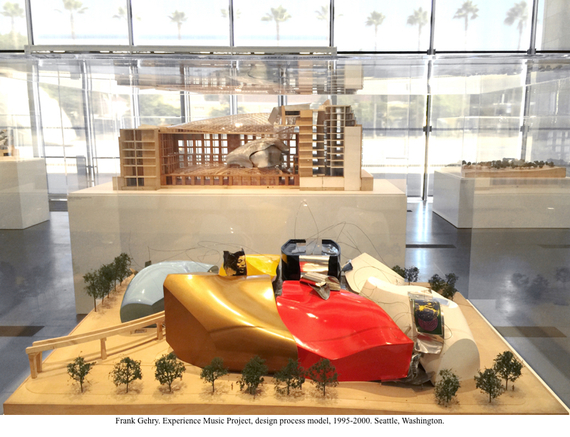 In its tribute to Frank Gehry, one of the most celebrated and innovative architects of our time, the Los Angeles County Museum of Art has accomplished the near impossible. The exhibition conveys the magic of Gehry's architecture, and shows him as an inspired artist who shapes his buildings like monumental sculptures. By its nature, architectural exhibitions hold a degree of separation from the very subjects they present. Typically, the photographs, the models, the sketches... they all inform visitors in a manner reminiscent of an eloquent academic lecture.
But this time around, LACMA, with its unique history of collaboration with Frank Gehry as a designer for a number of the museum's high profile exhibitions, was able not only to deliver a thoroughly researched lecture, but also succeeded to bring us, visitors, inside his studio and even inside his mind.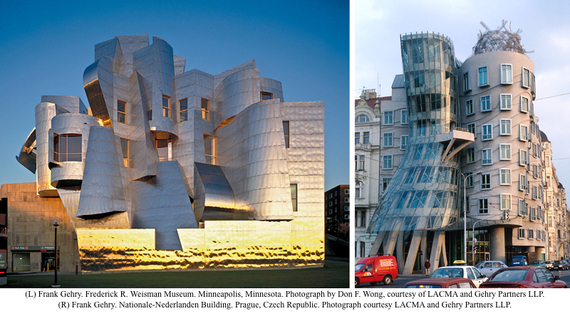 It's simply amazing how prolific and unstoppable Gehry has been in his career, which stretches over five decades. What a treat it would be to see all his buildings, not only here in the United States, but in Europe and the Middle East as well. If I ever go to Minneapolis, I would make a beeline for his Weisman Museum, which shines like a gigantic, multifaceted diamond. And the first thing I would do in Prague is run to see his "Ginger and Fred" apartment building, dancing in the company of classic 19th century architecture.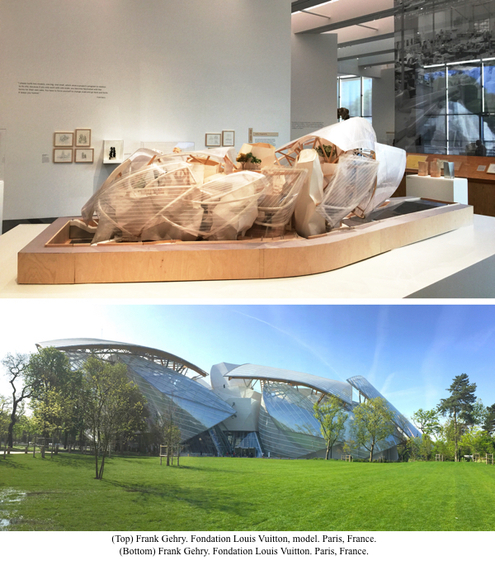 A few months ago in Paris, I saw Gehry's latest high-profile project: the Fondation Louis Vuitton. It took almost ten years to complete, and the complexity of its architecture is beyond description, and still, the impression the project gives you is that it was effortless --as if Gehry snapped his fingers and pulled the building out of his magic hat.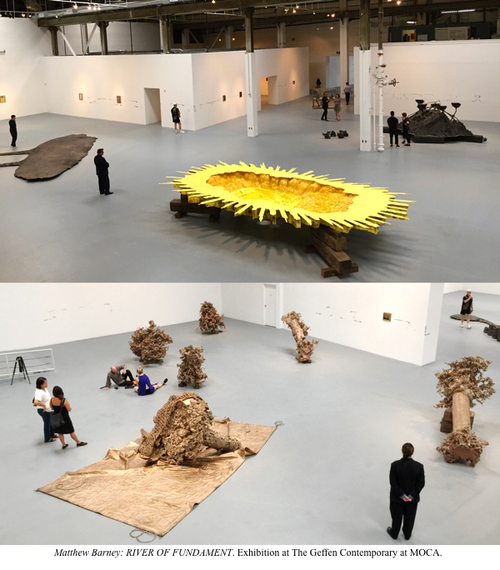 Across the city at The Geffen Contemporary, there is a sprawling museum exhibition of acclaimed American artist, Matthew Barney. It's impossible not to be impressed by the courage with which the artist embarks on his mind-boggling journey, casting gigantic sculptures from bronze and brass, sulfur and resin, and making movies that go on for hours.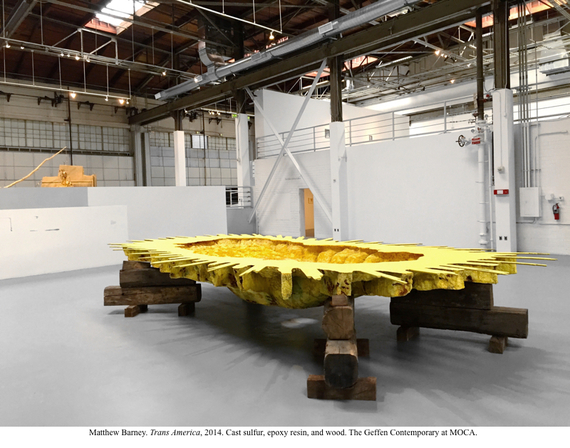 This exhibition, River of Fundament, covers seven years of Barney's art making, which was inspired by the Norman Mailer novel, Ancient Evenings (1983), set in ancient Egypt and telling a story of regeneration and rebirth. I haven't yet had the time to watch the movie, which is screened daily in a specially designed theater inside The Geffen Contemporary. But I had the opportunity to stand in front of his monumental sculptures --some of them weighing up to 25 tons --and marvel not only at the complexity of their creation, but also at the logistics required to transport and install them for this exhibition.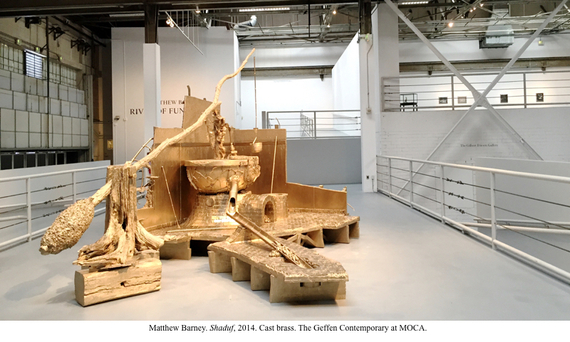 I've always been intrigued by Matthew Barney's art, but something prevents me from fully enjoying it. It probably has to do with their laboriousness, the way his works communicate all the sweat and all the labor that went into their creation. Don't get me wrong, I do appreciate and respect labor-intensive work, but when the artist succeeds, his or her artworks come across as effortless.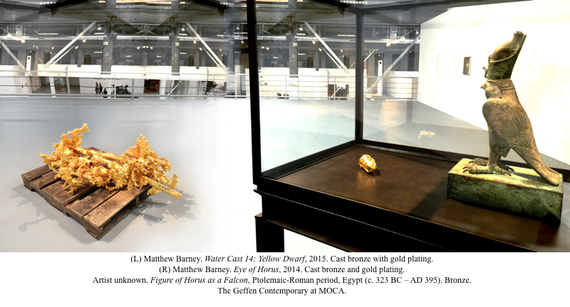 And here is one piece in this Barney exhibition that actually makes me feel that way. There is a small, elegantly designed metal vitrine, with only two objects inside. One is an ancient Egyptian bronze sculpture of a falcon, borrowed from LACMA's permanent collection. The other is a tiny, egg-shaped bronze sculpture plated in gold. The objects are not only connected by proximity, they speak to each other. It's up to us to decipher and interpret what they say. This is a small piece but it whispers a complex and compelling story.
To learn about Edward's Fine Art of Art Collecting Classes, please visit his website. You can also read The New York Times article about his classes here, or an Artillery Magazine article about Edward and his classes here.
Edward Goldman is an art critic and the host of Art Talk, a program on art and culture for NPR affiliate KCRW 89.9 FM. To listen to the complete show and hear Edward's charming Russian accent, click here.
Calling all HuffPost superfans!
Sign up for membership to become a founding member and help shape HuffPost's next chapter