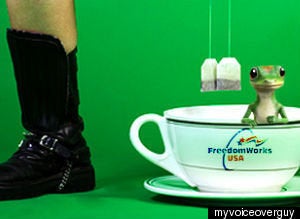 Lance Baxter, better known as D.C. Douglas but perhaps best known as the voice of certain Geico commercials (primarily as the tag announcer of a 2007-2008 celebrity ad campaign) has been fired by the insurance company after leaving a voicemail for Tea Party group FreedomWorks.
Douglas asked FreedomWorks in his voicemail what "the percentage of people that are mentally retarded who are working for FreedomWorks and who are following it," or as he has since put it, he "inquired as to their intelligence level."
In the voicemail, Douglas also questions how FreedomWorks will "spin it when one of your members does actually kill somebody, wondering if you've got a PR spinning routine planned for that or are you just gonna take it when it happens."
In the aftermath, FreedomWorks president Matt Kibbe published a post on the conservative website biggovernment.com, providing readers with a recording of the voicemail -- which included Douglas's personal phone number -- and encouraging people to call both Douglas and Geico to "[l]et them know that you, in fact, are not a mentally retarded killer."
According to a press release from Wednesday, Geico held auditions to replace Douglas the next day.
Douglas has since acknowledged that such an impulsive move was "STUPID!," but says he was impassioned by the "slurs the Tea Party crowd angrily yelled at Barney Frank, et al," during the climax of health care reform.
He also holds no grudge against his former employer, saying in the press release: "I don't blame GEICO for protecting themselves. They have a business to run and can't waste time getting caught up in FreedomWorks' circus. And they've been very good to me in the past."
Popular in the Community