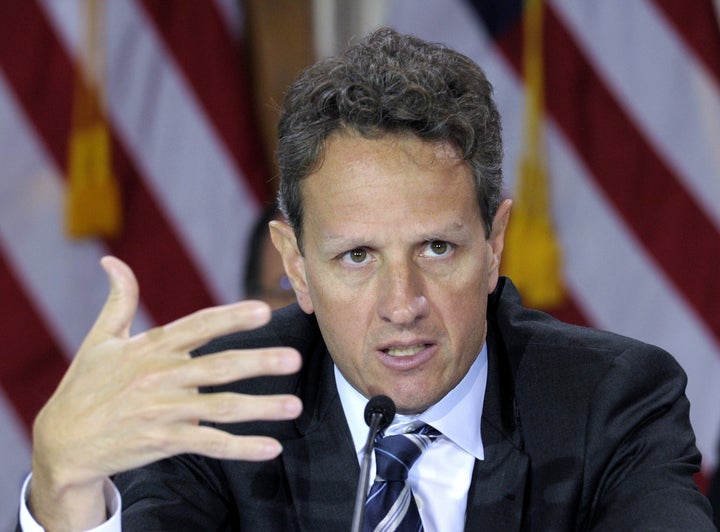 The U.S. Treasury Department has spent months blocking legal aid funding for borrowers fighting foreclosure, but is giving a late push to legislation that would expand its authority to help homeowners. In a bruising appearance before the Congressional Oversight Panel on Thursday, Treasury Secretary Timothy Geithner was accused of "covering for something" with current foreclosure policies. Now, as the clock runs down, the Treasury chief is throwing his support behind legislation that would extend millions of dollars in critical funding to homeowners in the states hit hardest by the foreclosure crisis.
Geithner has insisted that the Treasury does not have the legal authority to allow bailout money to be spent on legal bills for borrowers. That creates a difficult situation for the Obama administration's clunky foreclosure relief program, which often requires homeowners to undergo years of legal wrangling to achieve its stated goals.
But Treasury spokesman Steve Adamske says Geithner "enthusiastically supports" legislation from Rep. Marcy Kaptur (D-Ohio) that would explicitly grant Treasury the right to extend legal aid to foreclosure victims.
"I talked to Geithner, in fact, and Geithner agreed to support it," House Financial Services Committee Chairman Barney Frank (D-Mass.) told The Huffington Post. "I'm told Bachus was for it, but Boehner objected, even though it's no more money," Frank added, referring to the incoming committee chair Spencer Bachus (R-Ala.) and incoming Speaker John Boehner (R-Ohio).
Treasury has approved $7.6 billion in foreclosure relief funds to states hit hardest by the housing crash. The legislation would allow those states to use the funding for legal aid programs.
The bill is expected to be considered Friday under a special legislative fast-track requiring a two-thirds majority for passage. The legislation faces a difficult path forward with Boehner opposed to it, even though his state features one of the highest foreclosure rates in the country.
"This bill re-opens the TARP bailout fund for 'legal aid' programs, which could result in millions of taxpayer dollars being pumped into groups similar to ACORN," Boehner spokesman Michael Steel told HuffPost.
Consumer advocates have challenged Treasury's interpretation of the TARP statute, emphasizing that the Department has made use of broad interpretations when it comes to aiding banks, but taken a narrow perspective when helping homeowners is at stake.
Lawyers in state legal aid programs were critical too, uncovering rampant robo-signing and fraud in the foreclosure process earlier this year. Ohio Democrats in both chambers have been pushing to pass the legislation during the lame duck session. House supporters include Kaptur and Rep. Mary Jo Kilroy, while Sen. Sherrod Brown is the chief proponent in the upper chamber.
Recent reports suggest severe, nationwide problems with the mortgage system. A survey of 96 attorneys found that banks started foreclosure proceedings on 2,500 borrowers who were negotiating a loan modification. The survey was conducted by the National Association of Consumer Advocates and the National Consumer Law Center.
According to a Dec. 13 report by the Congressional Oversight Panel, Obama's main foreclosure prevention initiative, the Home Affordable Modification Plan, will reach less than one-fourth of the borrowers it intended to. Even when borrowers do get help, the process can require years of legal wrangling. Some borrowers have been stuck in trial modifications, awaiting permanent relief for 20 months. Under program rules, the trial period is supposed to last for just 3 months.
Even if the bill overcomes Republican opposition in the House, it will face an uphill battle in the Senate, leading some anti-foreclosure advocates to question Geithner's motives and accuse him of supporting doomed legislation while continuing failed foreclosure prevention policies.
Anti-foreclosure lawyers say that it has become very difficult to stay afloat financially amid the flood of improper evictions.
"We're shifting gears right now trying to find a model that works from a revenue standpoint," says Bubba Grimsley a top anti-foreclosure attorney in Alabama. "We've stopped taking contingency cases. Something's gotta change if we're going to continue to fight. That's a big part of the banks' strategy, to shut down all of us who are operating on a contingency basis, because a lot of borrowers can't afford a lawyer." Contingency billing is an arrangement in which lawyers do not charge borrowers until a case is successfully concluded, rather than billing on an hourly basis.
The House vote on the legislation will likely take place around noon Friday.
Despite garnering a strong majority, the bill's supporters were unable to achieve the two-thirds majority necessary to pass the legislation. The vote failed 240 to 145, with 78 members not voting.
Popular in the Community