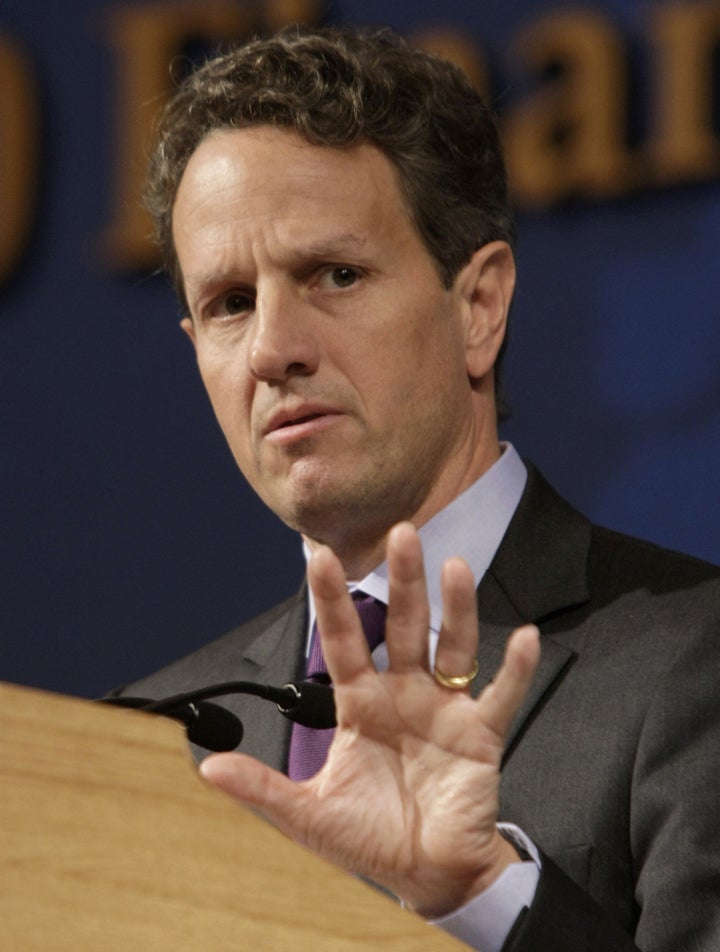 WASHINGTON -- Treasury Secretary Timothy Geithner has authorized big payouts to banks in an effort to encourage mortgage modifications, but is preventing borrowers in danger of losing their homes from accessing legal assistance under the Obama administration's foreclosure relief plan -- even when banks are wrongfully or fraudulently attempting evictions.
As of August, the administration's foreclosure prevention program -- which had paid a total of $231.5 million to banks -- had paid nothing specifically for borrower's legal fees, despite the urging of congressional Democrats who say legal funding is critical to easing the crisis.
Democrats from foreclosure-battered states are pushing new legislation that would overrule Geithner's edict, but the legislation is doomed this session with apathy from leadership in both parties and a packed lame duck calendar.
The 2008 bank bailout bill gave the Treasury secretary broad discretion to spend money to fend off foreclosures. But while Treasury has approved $7.6 billion in expenditures to help states prevent and clean up foreclosures, the rules dictate that funding cannot be used for legal aid, dramatically blunting the impact of the program. States initially applied for funds from the program in the spring of this year, but the Treasury refused to extend money for tackling legal bills. For cash-strapped borrowers battling foreclosure, such legal fees can make the costs of defending their homes insurmountable. Consumer advocates say the Treasury's legal reasoning is specious, and members of Congress are pushing against the edict.
"I don't see anything specific that would prohibit them from using this money for legal aid attorneys," says Ira Rheingold, executive director of the National Association of Consumer Advocates.
"Legal aid lawyers are on the front line of the housing crisis, and their hard work is often the only thing helping homeowners understand their rights in foreclosure," says Sen. Sherrod Brown (D-Ohio). Unlike many of the foreclosure prevention programs already in place, providing legal services with adequate resources is a simple, straightforward way of helping families keep their homes without providing a windfall to the banks."
Brown and 30 Democratic members of the House sent a letter to Geithner asking him to reconsider his decision. Geithner refused, citing a memo from Treasury General Counsel George Madison, which contends:
Legal aid services are not necessary and incidental, as a matter of law, to the implementation or effectiveness of the HFA Hardest-Hit Fund, because: (1) Congress has provided other specific appropriations that fund the same type of legal aid services proposed by the state Housing Finance Agencies ("HFAs"); and (2) legal aid services are not necessary or essential to the implementation of a loan modification program.
But as any housing counselor will attest, obtaining a loan modification can be impossible without a lawyer.
"There's certainly nothing I see in EESA that would prevent the use of HAMP funding to do whatever is necessary to make HAMP work," says Julie Gordon, senior policy counsel at the Center for Responsible Lending.
"Have they not paid any attention to what's been going on over the last two years around loan modifications?" Rheingold asked. "I guess calling Treasury clueless is better than calling them heartless, although both seem to fit."
Anti-foreclosure advocates have pressed the Treasury to reverse course. "What about the millions of families dealing with this horrendous foreclosure process who don't have legal help?" said Linda Ingram, a housing counselor who works with troubled borrowers in Missouri. Her question came at a Dec. 8 gathering of housing counselors and federal regulators. Ingram wanted to know why banks seem incapable of following straightforward foreclosure rules, and why regulators refuse to step in and do anything about it.
Officials from the Federal Reserve and the Office of the Comptroller of the Currency couldn't explain why they were allowing banks to improperly foreclose on families. But the answer to Ingram's question was clear to everyone in the room: Without a housing counselor and a good lawyer, foreclosure is all but inevitable. Nevermind whether the foreclosure is legal, or whether you've actually missed any payments. Once a bank decides to foreclose, it's virtually impossible to save a house without a lawyer.
The Treasury's foreclosure prevention program, the Home Affordable Modification Program, known as HAMP, has proven to be an outright disaster. Borrowers are routinely offered help, only to be foreclosed on, despite meeting their obligations under the program. A recent report from the Congressional Oversight panel expects that HAMP will help only 700,000 to 800,000 borrowers. In 2009 alone, 2.8 million homes entered foreclosure, and the Federal Reserve expects 7.4 million more to enter foreclosure between 2010 and 2012.
At last week's events, housing counselors brought forward dozens of horror stories-- banks that lost documents, dropped out of contact, and seized homes without cause. In many cases, banks acknowledged that a home had been improperly seized, but went ahead and sold the house to another borrower anyway. With legal help, those sales, and other bank errors, were reversed. Without legal help, borrowers would simply have been stuck.
What's more, the "other specific appropriations" Madison refers to are unlikely materialize. The Wall Street reform bill signed by President Barack Obama this summer did indeed provide $35 million in legal aid. But under Congressional budget rules, that $35 million must be appropriated by a separate bill in order to go out the door. The money has not yet been appropriated, and Congressional aides say it is unlikely to be.
And as Gordon emphasizes, Treasury first denied the use of TARP funds for legal aid in the spring of 2010, well before the Wall Street reform bill passed. The Madison memo, dated Sept. 10, cites a fund that did not exist when states were requesting legal aid.
"A decision that was made prior to the passage of Dodd-Frank, is explained based on what is in Dodd-Frank," said Gordon.
Now Sen. Brown and Rep. Marcy Kaptur (D-Ohio) are pushing new legislation that would explicitly overrule Geithner's opinion. They're hoping to get the bill through during the lame duck session, but to get any traction they'll need help from top Republicans and Democrats in both the Senate Banking Committee and the House Financial Services Committee. With just a few days left in the lame-duck session, there's little prospect for the bill to move through both chambers.
The legal aid money at stake is a relatively small portion of the total hardest-hit funding. Ohio, for instance, requested $5 million in legal aid funding, out of $570.4 million. But without that legal aid money, it's unclear how much good the remainder will do.
The benefits to big banks are clear. Blocking legal aid will result in fewer challenged foreclosures, and bigger bank profits from the foreclosure process. It will also prevent the public release of loan documents which investors might use to sue banks where mortgages have been improperly handled. Greenwich Financial, a major hedge fund, is currently organizing investors who have lost billions on bad mortgage-backed securities in seeking redress from big Wall Street banks.
Even if Congress fails to overturn the Treasury's edict, consumer advocates plan to keep pressuring Geithner. They believe the law grants the Treasury plenty of authority to authorize legal aid without additional Congressional action.
The Treasury did not respond to requests for comment.
Related
Popular in the Community