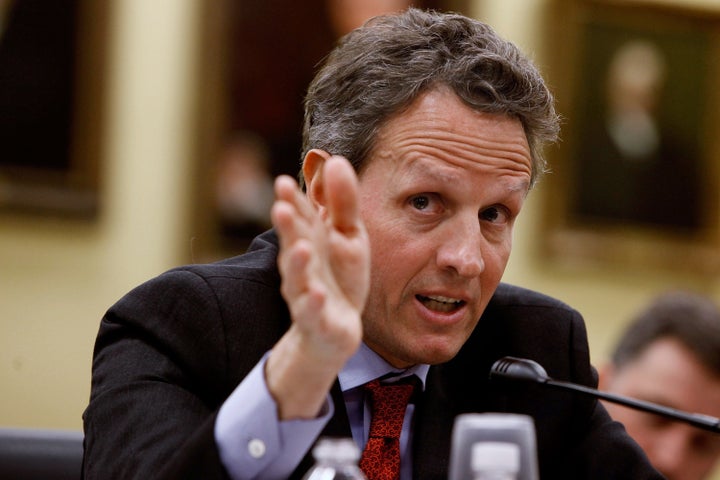 As doubts about the legality of foreclosure proceedings continue to grow, Treasury secretary Timothy Geithner said a nationwide foreclosure freeze would do more harm than good, Bloomberg reports.
Speaking to PBS's Charlie Rose, Geithner, who called the foreclosure crisis "a national tragedy," said a moratorium could further depress housing prices and said it would be "very damaging to exactly the kind of people we're trying to protect," according to the transcript of his remarks (hat tip to Politico). A nationwide freeze could prevent foreclosed properties from being sold, and, as Geithner noted, unoccupied houses tend to hurt the value of their neighbors.
President Obama's top adviserr David Axelrod has also said he was "not sure" about a national moratorium. Both Axelrod and Geithner warn that such a move could cause collateral damage to valid foreclosure processes. Geithner told Rose "we're not going to make the problem worse."
In an editorial last week, the Wall Street Journal expressed a similar opinion. Errors may exist in the paperwork, but, the WSJ says, there's been no proof of "substantive error" in the execution of a foreclosure. "Out of tens of thousands of potentially affected borrowers, we're still waiting for the first victim claiming that he was current on his mortgage when the bank seized the home," the editorial reads. "Even if such victims exist, the proper policy is to make them whole, not to let 100,000 other people keep homes for which they haven't paid."
The WSJ reported Tuesday that the government has not found any evidence of wrongful foreclosure eviction.
But some commentators beg to differ. Barry Ritholtz, CEO of Fusion IQ, who spoke Monday on CNBC about the severity of the foreclosure crisis, blogged Monday in response to the WSJ editorial that the newspaper's editors are either "clueless" or "liars." Ritholtz points to the case of the Florida man whose home did not have a mortgage and yet was foreclosed upon anyway by Bank of America, which has since frozen its foreclosures nationally.

Reuters' Felix Salmon, for his part, is also skeptical of the argument against a foreclosure moratorium. Responding to a release by a Wall Street trade group that warned about the damage a nationwide freeze would inflict on the economy, Salmon said, "it's far from clear that a foreclosure moratorium would hurt house prices." He added that such a move might help mortgage servicers sort out their legal issues.
Calling all HuffPost superfans!
Sign up for membership to become a founding member and help shape HuffPost's next chapter