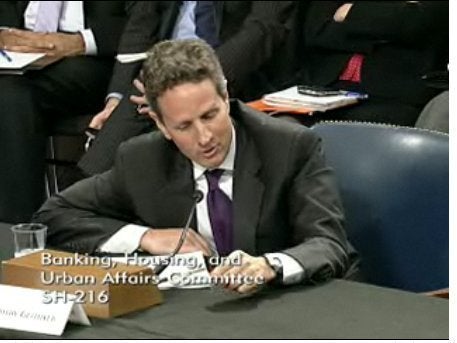 Treasury Secretary Timothy Geithner told the Senate on Thursday that he isn't "Mr. Chairman -- yet."
Geither was testifying before the Senate Banking Committee about the Obama administration's proposed new regulatory scheme for the financial industry. Sen. Bob Corker (R-Tenn.), at the start of his allotted questioning time, welcomed Geithner by saying, "Mr. Chairman, Mr. Secretary -- always nice to see you."
Presumably, Corker was referring to Geithner and Banking Committee Chairman Chris Dodd (D-Conn.). But Geithner jumped in.
"I'm not Mr. Chairman," Geithner said. "Yet."
Wall Street gossip site Dealbreaker posted an item, suggesting Geithner might be gunning for Federal Reserve Chairman Ben Bernanke's job. Treasury spokeswoman Meg Reilly subsequently wrote Dealbreaker to clarify: "He was, of course, referring to the Financial Services Oversight Council (he isn't chair yet because it hasn't been created yet.)"
But Corker did have a question about who is gunning for Bernanke's job.
"I saw that the Fed was a clear winner in this [proposal]. I think everyone on this panel would agree with this. This administration has received accolades in some quarters for trying to make sure there's no conflicts of interest and lobbyists can't be hired and all that," Corker said. "Would it make sense for the president to, in writing, tell all of us that no one involved in creating this at the White House or cabinet will be appointed as Fed Secretary -- or Fed Chairman?"
"No, I don't think that would be appropriate. Nor do I think it would be necessary," Geithner said. "I think you expected that answer, Senator."
The Associated Press said Corker posed the question "cheekily," adding that the senator "seemed to have in mind Obama's top economic adviser, Lawrence Summers, who is often mentioned as a potential successor to Fed Chairman Ben Bernanke, whose term expires at the end of next January."
Corker wouldn't like that.
"I think it would be good for us to know as we move through that none of the folks involved in creating all these new powers for the Fed are potential Fed Chairmen," he said.
<0--1201--hh>0--1201--hh>
REAL LIFE. REAL NEWS. REAL VOICES.
Help us tell more of the stories that matter from voices that too often remain unheard.