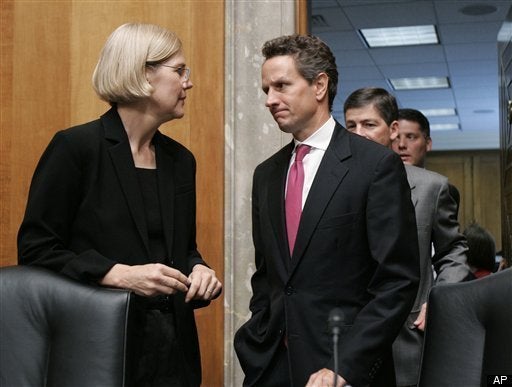 Treasury Secretary Timothy Geithner conspicuously stopped short of endorsing Elizabeth Warren to head the Consumer Financial Protection Bureau Thursday morning. And while he praised her for her effective advocacy on behalf of consumers, he also refused to say whether he would be happy if she got the job.
"I think she would be a very effective leader of that institution," he said.
At a breakfast meeting with reporters hosted by the Christian Science Monitor, Geithner said he has not yet made his recommendation to President Obama about who should be nominated for the post.
Asked who else might be in the running, Geithner noted that his "colleagues in the White House have put out two other names." Those are Michael Barr, the assistant treasury secretary for financial institutions, and Gene Kimmelman, chief counsel for competition policy in the Justice Department's antitrust division.
Both have backgrounds in consumer advocacy, but nevertheless are seen as more sympathetic to Wall Street than Warren. Geithner called them "two very well-qualified, excellent candidates as well" and added: "I've heard of others."
Warren is the grass-roots favorite for the job, with strong backing from congressional Democratic leaders, consumer groups and unions. A Harvard Law professor specializing in bankruptcy, it was her idea to create a consumer financial protection agency in the first place, and she led the fight to get it included in the financial reform legislation Obama signed into law on Wednesday.
In her role as chair of the congressional bailout oversight panel, she has emerged as a scourge of Wall Street bankers and their supporters -- and sometimes Tim Geithner as well.
"Everything we do in this area should be subject to brutal, independent evaluation," Geithner said Thursday. "And she has played a role in that."
He added: "I don't agree with all the conclusions she reaches."
Indeed, it is something of an open secret in Washington that there is no love lost between the two. And the Huffington Post reported last week that according to one unnamed source, Geithner has privately expressed his opposition to her nomination.
Geithner on Thursday said the leader of the agency should bring credibility and "fresh perspective" to the job. And he called Warren "one of the most effective advocates for reform in the country." He acknowledged her role as a champion of those who "view the system as fundamentally broken."
Nevertheless, it seems likely that the only way Warren will get the job is if Geithner is overruled.
Geithner took questions on a variety of other topics.
Unlike Obama's top political advisors, he waved off as inconsequential the Business Roundtable's recent 54-page letter to the White House asking for changes in regulations that protect the environment, workers, consumers and investors.
"That was a long diffuse list of political concerns" that reflected "nothing remarkable" he said. "There's nothing remarkable about businesses saying there's too much regulation."
He spoke optimistically about what he called a moderate economic recovery, and said the fact that the U.S. can still sell its debt at low interest rates is a reflection of the international community's confidence in the nation's economic strength. "I think that's an encouraging sign and it's worth reflecting on that," he said.
And Geithner was asked how he felt about the family of recently deceased Yankees owner George Steinbrenner avoiding about $500 million in taxes because estate taxes lapsed in 2010.
"I think it is a terribly troubling thing that the United States of America would let that lapse and leave its future uncertain for such a long period of time," he said.
But when asked if he would ask the family to voluntarily contribute the money to deficit reduction, Geither's only response was: "It's an excellent question."
*************************
Related
Popular in the Community