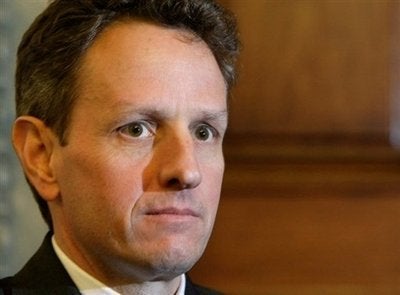 News broke late Tuesday afternoon that Treasury Secretary nominee Timothy Geithner had for several years employed a housekeeper without proper immigration papers and, separately, had failed to pay taxes for self-employment.
The story was reminiscent of mini-scandals that had derailed past nominees for cabinet posts. And, as such, they were immediately greeted as truly damaging news to Geithner's prospects for becoming Secretary of the Treasury.
But while the revelations create the type of embarrassing public relations headache that the Obama team disdains -- Geithner, after all, will be involved in tax policy if confirmed -- they represent mistakes that are quite common in nature.
"When one is self-employed you do owe self-employment taxes which are essentially the employee and employer portion of your taxes," said George Yin, a tax professor at the University of Virginia Law School and formerly Chief of Staff of the U.S. Congress's Joint Committee on Taxation. "If that is what they are referring to than yes, there are some people who serve as consultants and don't necessarily understand their obligations to pay self employed taxes. My guess is that it is not an infrequent error."
"The tax issue has apparently been resolved and he has paid any balance that is due," added Yin. "I don't know any of the background to that but I don't know if there is any remaining issue."
Geithner did, in fact, pay the back taxes owed for the work he did abroad for the International Monetary Fund -- amounting to roughly $43,000 over the course of four years. Roughly $25,000 of that was paid after his nomination by Obama to serve as Treasury Secretary. Currently, all of his taxes have been paid in full.
"While I do not know Mr. Geithner well, I do understand honest mistakes," said Senate Majority Leader Harry Reid on Tuesday afternoon. " Since the mistakes in his tax filings came to his attention, Mr. Geithner has paid all taxes due, including all interest. I continue to believe he has the skills the President will need to confront the challenges of our nation's economic crisis and I will support his nomination."
Moreover, the mistake he made is common enough that in February 2007, the IRS offered current and former U.S.-based employees of foreign embassies, missions and other international groups a "one-time settlement initiative" to essentially resolve mistakes like the one Geithner made.
"The President-elect chose Tim Geithner to be his Treasury Secretary because he's the right person to help lead our economic recovery during these challenging times," read a statement from incoming White House press secretary Robert Gibbs. "He's dedicated his career to our country and served with honor, intelligence and distinction. That service should not be tarnished by honest mistakes, which, upon learning of them, he quickly addressed."
In the end, the more incriminating charge against Geithner may be that he employed a housekeeper whose work authorization had expired during her employment. That lapse resonates because of the damage it caused to, among others, Bill Clinton's Attorney General nominee, Zoe Baird, and George W. Bush's first Labor Secretary nominee Linda Chavez. But here too the charges against Geithner appear more loaded than they may ultimately be.
According to Obama transition team talking points on the matter, "the Geithners verified that [the housekeeper] had a current Employee Authorization Document at the time she was hired. Mr. Geithner was unaware that three months before she stopped working for them to have a baby, her authorization expired. Nevertheless, she continued to reside legally in the United States, she was married to a U.S. citizen, and she was granted a green card a few months later."
Popular in the Community