co-authored by Ellen Dobbyn-Blackmore
Review: The Gelsey Kirkland Ballet at Symphony Space
Gelsey Kirkland and Michael Chernov have had their fledgling professional company of 28 dancers off the ground for just over a year now so it's a fair time to assess the preliminary results of their efforts based on this performance. Getting a ballet company started from scratch is an enormous undertaking and I have refrained from making any judgments until now to give them time to find their way. First and most important, their stated mission to prepare dancers for performance in story ballets is an unqualified success. The entire company, from the paid young professionals down to the youngest student from the Gelsey Kirkland Academy was fully committed to telling the story through gesture, intention and mime. The line between professional and student may be blurry here but every gesture was imbued with meaning, delivered with sincerity and feeling. It's a beautiful looking group of dancers taken from all over the country with a smattering from Russia, Brazil, Japan and other locales. They all look healthy and strong, well-rehearsed and technically accomplished. It would certainly be nice to have live music but that is an enormous expense. The Gelsey Kirkland Ballet really can't be criticized when we see so many performances to recorded music from established companies at venues like the Joyce Theater and City Center.
The program at Symphony Space on Friday and Saturday went to the heart of storytelling with two classics by Marius Petipa. The farcical demi-character ballet, Cavalry Halt, was the opener. As staged by GKA teachers Vera Solovyeva and Nikolai Levitsky, this version hewed very closely to the one presented at Lincoln Center by the Mikhailovsky Ballet last November. As with Mikhailovsky, the GK Ballet dancers displayed the reverence for the old work that is necessary to keep it from becoming ridiculous when it is performed. The degree of preparation was obvious as they took the stage and moved like well-trained professionals. They all had clearly delineated characters and resisted the temptation to mill around when they were in the background. There are so many little details that go into these old story ballets and all of them have been taken care of with this company. There's the character dancing that comes into play, the mime, the purposeful gestures. There's even a certain way of moving that goes with wearing these costumes and it all looked right.
Dawn Gierling filled the ballerina role of Maria very well. She has mastered the important art of making herself finish each step and coming down from pointe under control rather than jumping off or falling off while maintaining her aura of cheerful sweetness. The difference it made was that she always appeared to be under control. The role has a lot of demanding and meticulous choreography that doesn't allow much room for error. In order for it to work, the fifth positions have to be tightly closed, the upper body always relaxed and everything has to be phrased and finished properly. It's a sort of grammar of ballet if you like, and it can't be mumbled. Gierling did it beautifully. Anderson Souza as Philipp, her love interest, was pleasant enough and he's a fine dancer though not quite accomplished enough for this role. These roles inevitably have numerous overhead lifts and it became difficult to watch when Souza began to struggle under the burden of carrying Gierling on his shoulders. This is not a problem unique to Souza as it is seen even with principal males in leading companies who don't want bulky muscles ruining their line. He needs to work on his strength to preserve the illusion of his partner's weightlessness.
In the other featured roles, Katrina Crawford was lots of fun as Theresa, the town flirt. She alternately enticed and mocked the cavalry officers who had the misfortune to stop and demand refreshment in her village. She was a scene stealer whenever she was onstage and was spot on in her character dancing. The cavalry officers were uniformly well played, especially Alexander Mays in the slapstick role of The General. He pulled off his pratfalls and pomposity with cheerful goodwill.
If there were a prize for adorableness, Nicole Assaad would have run off with it for her performance of Columbine in the closing Commedia dell'arte classic, Harlequinade. Beyond being pretty to look at and a strong technician, Assaad packs her dancing with little moments that show how well she has studied the part. That is true of the whole company as they still have a limited repertory to rehearse but there's an effervescence to Assaad that is infectious and rises above her peers. Erez Ben-Zion Milatin was an ideal Harlequin to partner Assaad with his high energy turns and leaps and his ardent attention. Milatin is a great example of a dancer who works around his limitations. He is quite short and it is only with effort that he can get his legs above hip height but you never really notice it since he always seems to be flying and has a very charming presence. Harlequin and Columbine exchange frequent kisses during their dances and it always came across as sweet rather than affected or trite.
Anastasia Barsukova and Marko Micov were paired as Pierrette and Pierrot. In some ways Pierrot is a thankless role as he is continually upstaged by the other three leads. It takes some real work to get noticed in this role. Micov's costume didn't move well and seemed at times to be an active hindrance. His strength was in playing his character's haplessness. Barsukova, for her part, was winsome in her rendering of Pierrette and has very quick feet that are essential to her role. There are plenty of young dancers here that would be welcome in other companies and the overall impression is that you're glad that you came and even happier that Kirkland and Chernov have dedicated themselves to teaching. People come, of course, because of the Gelsey Kirkland legend but they will come back because the company puts on a fine show.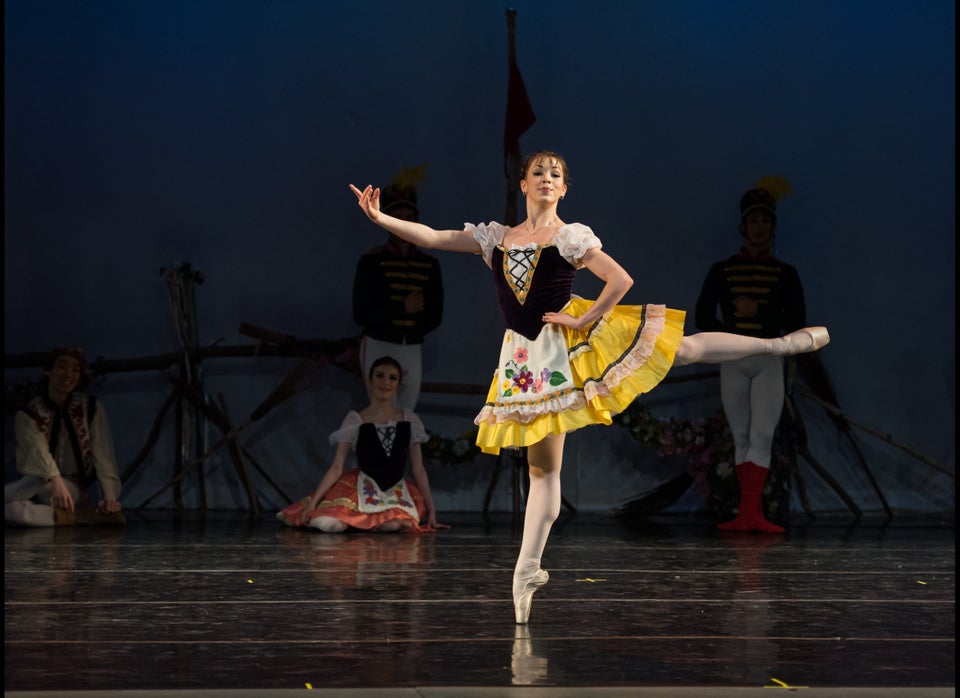 The Gelsey Kirland Ballet at Symphony Space, all photos by Luis Pons
In the short term, the challenge for the company will be to provide enough performance opportunities to hang on to the strong core of young dancers they have assembled. It's easy to imagine several of the leading dancers being siphoned away by companies like Boston Ballet or Atlanta Ballet that can offer more diversified repertoires and more time on stage. In the meantime, the value of the training the dancers are receiving should be a fair inducement. Kirkland and Chernov are ambitious and industrious and they clearly have a plan for the long haul. The company and academy are relocating to a spacious new facility in Brooklyn's DUMBO in June that will have its own 400 seat black box theater. That should provide further revenue streams as they can perform in their own theater and hopefully it will provide some security for the future.
Popular in the Community