The southwest has its own particular energy. The Sonoran Desert, the crossroads between north and south, Native American history that goes back a thousand years and the confluence of art and culture in a winter destination that allows the traveller to live an endless summer. During the month of February is the Tucson Gem and Mineral Show where an estimated 50,000 people come from all over the world to sell trade and admire fossils, gems, jewelry and art. The Gem and Jam Music Festival burst onto the scene nine years ago and has become one of the regions most promising and diverse music and art events.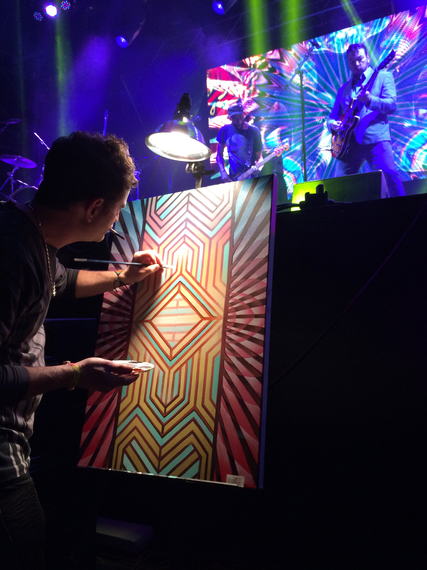 Xavi paints with New Master Sounds behind him on stage.
"Gem and Jam offers an open, inclusive space for any and all artists to live paint and share their work." -- Xavi, Visionary Artist
One thing that makes the event unique is that it seamlessly blends electronic dance music with live jam bands. Traditionally there is crossover between these different fan bases, but striking a balance that everyone can enjoy is not easy. Gem and Jam has managed to make it all work combining diverse musical elements with live art and an immersive environment that allows the festival-goer to be transported to a magical realm.
"Intimate and filled with blossoming creation, one is enveloped by art in varied expressions." -- Amanda Sage, Visionary Artist
With over 70 live artists painting throughout the grounds, it is an adventure to feel like you are part of the creative process. You can converse with the artists while they paint. Each time you re-visit them throughout the weekend, you get to watch their creative work unfold before your eyes.
"Gem and Jam was special in that there so much creative energy concentrated in one place. It felt like a true collective experience from everyone involved. It was a cornucopia of vibes." -- Doug Appling, Emancipator Music
A new blend of music is also emerging as electric dance music is combining with live musicians to create textured layers of rhythm and sound. Russ Liquid, of Gramatik fame, lays down juicy electronic beats then solos over them with a trumpet reminiscent of Miles Davis innovative style incorporating a New Orleans street parade flavor. Emancipator Ensemble also mixes electronic with violin, and other traditional music that creates a dreamscape which allows the mind to melt into bliss.
"Gem and Jam is a unique festival because it really throws the spotlight on visual art just as much as music. A lot of these West Coast style festivals have all three of those things, but usually the music is front and center -- at Gem and Jam, you can get caught up for hours just looking at the many amazing painters and jewelers featured. It satisfies a lot more of the senses." -- Ill-Esha, Producer/DJ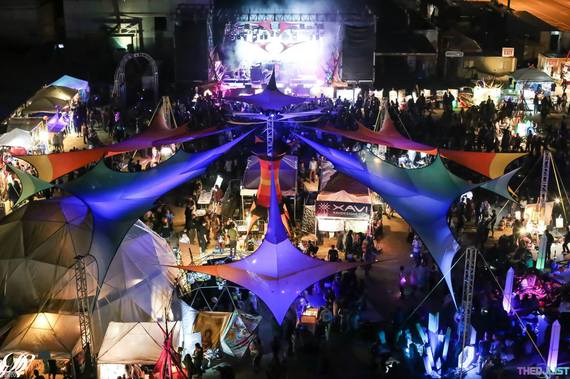 Photo Courtesy of Daniel Leist and The DJ List.
Beneath a giant, geometric-shaped, rainbow-colored tent (created by Funktionforms) I wandered through a forest of creative bliss watching imagination and inspiration take form on different canvasses. In the background I was hearing famed artists, Alex and Allyson Grey speak onstage about the power of art as a path to personal transformation. They spoke of their New York Retreat Center called Cosm Temple of Sacred Mirrors, which is a sanctuary for seeing ourselves and the world as reflections of the divine.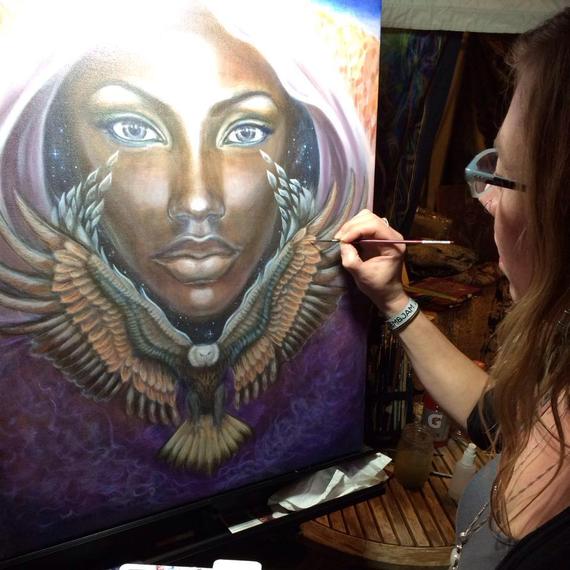 Elizabeth Banker at work.
The energy created by the fans inspires the artists both sonically and visually. Gem and Jam will continue to evoke artistry and the connection to our natural world. -- Elizabeth Banker, Visionary Artist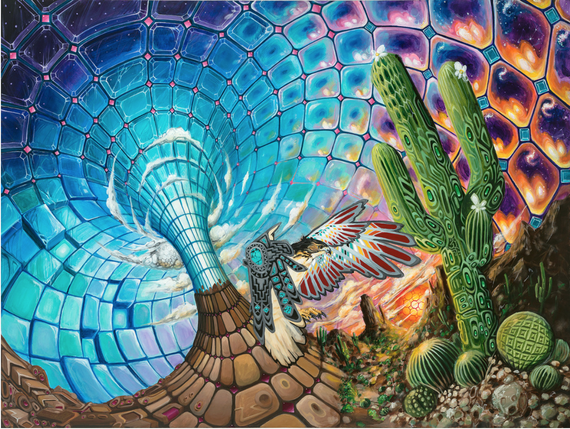 Artwork by The Welch Brothers
It is this spirit of collaboration, inclusivity that is supportive, inviting, and contagious. The art and good energy created at this event continues to ripple outwards like an all-embracing hug. The Welch Brothers captured the merging of natural desert landscape with cross dimensional visions of other worlds in a painting they started at Gem and Jam in 2013 which was used for the festival poster in 2015. This exemplifies the beauty of this evolving cultural expression that happens each February in Tucson.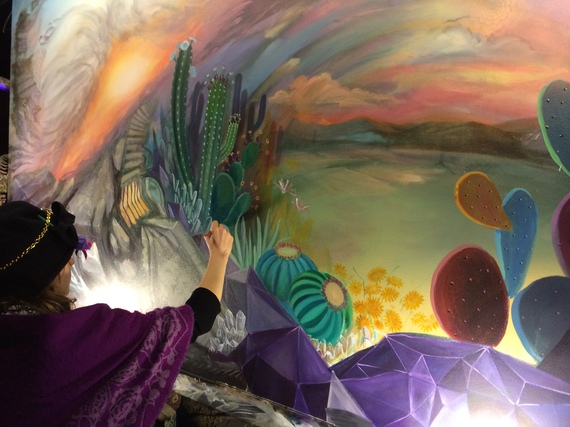 Jessica Perlstein works on a collaboration with Ashely Foreman and Derek Heinemann
There was this friendly environment where everyone had the opportunity to contribute their frequency which blurred the lines between event artists and audience. -- Ashely Foreman, Visionary Artist
If you want to get away from the cold and bask in the warm winter sun surrounded by art, music, gems and cultural artifacts from around the world then I highly recommend the Gem and Jam Festival. My only regret is that I do not have time and space here to talk about all of the other amazing artists and musicians that blew my mind over the weekend. If you'd like to see more pictures and read another write-up about the event, please take a wander over to The DJ List.