Zicana owner and founder Frank Marasco knows gemstones. Ask him about their porousness, heat sensitivity, or place of origin and he'll tell you that and so much more. His knowledge always transcends the scope of the question. His passion is evident and enjoyable. And there is nothing we love more at St. Charles than working with people who are passionate about their craft. I sat down with Frank to discuss the various applications of semi-precious stones in design and their influence on his newer endeavors.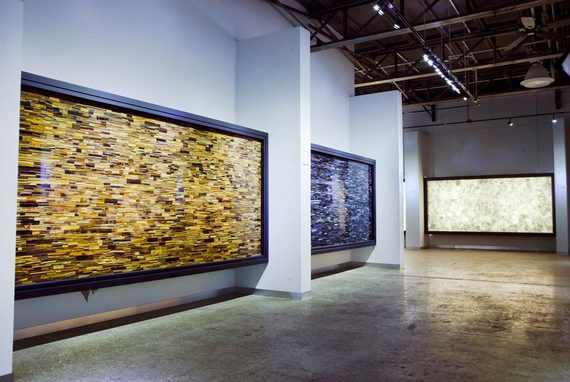 Framed and underlit Tiger Eye and Blue Tiger Eye slabs grace the walls of the Zicana showroom in Westbury, NY.
Lindsey Katalan: Tell me a little bit about Zicana.
Frank Marasco: Zicana designs, and is a leading artisan of, fine crafted made-to-measure gemstone surfaces and original signature pieces. Inspired by the organic beauty of natural elements, the label offers a series of collections consisting of jewelry, home décor and accessories. Zicana was derived from an epiphany I had while running the family's custom stone boutique. I came to explore gemstones and in 2011 had several revelations about using these exclusive jewels in new mediums and applications. It was from these concepts that the brand emerged.
LK: Your collection of gemstone surfaces are extraordinary. I have personally seen them used in kitchens and wet bars. Have you had designers work them into other rooms? If so, where and how?
FM: Since its inception, Zicana has been commissioned by interior designers, companies and private individuals alike. We work on several types of projects all the time. We actually have one happening now that is probably our largest yet; a restaurant in Massapequa, Long Island that will boast a spectacular grand bar comprised of our gray agate stone, sculpted and finished in a very unique fashion.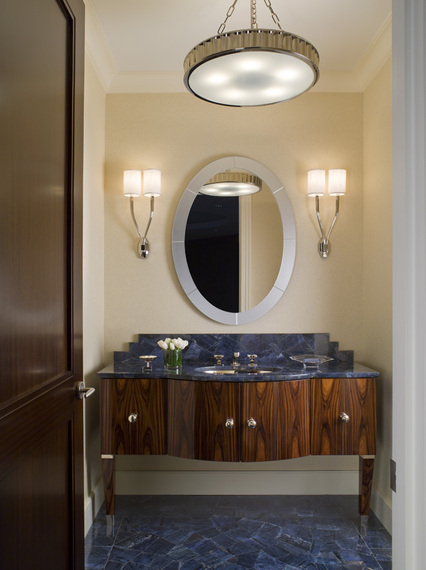 Dumortierite covers the surface and floors of this Miami powder room designed by Karen Williams of St. Charles of New York
LK: What is your most popular stone right now? Where, in your opinion, do you anticipate the trends will be going in the future?
FM: Because of the current trend in the world of design, our most popular materials are white and gray. I see the trend staying here for a while, due to their neutrality when applied to kitchen and bathroom applications. I believe that once more colorful materials are discovered, they will be used and appreciated as home accents in an area where clients are willing to be more daring.
LK: I hear that you are going to be delving into lighting. Can you tell me a little bit about this particular project?
FM: We have been working on a small lighting collection that involves incorporating the gems with different kinds of mediums. I hope that using exotic stones for lighting will showcase some of the possibilities and things you can actually do with this particular product and just how special it is.