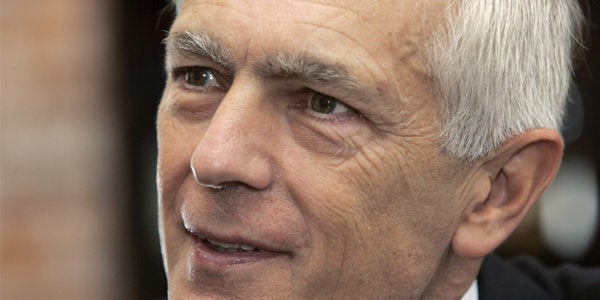 On Tuesday, Sen. Kent Conrad revealed that Sen. Barack Obama is including "former top military leaders" among the approximately two dozen names currently rattling around in a not-so-short vice presidential short list.
Such figures don't come much more "top" in either political party than retired four-star General Wes Clark, the former Supreme Allied Commander Europe for NATO during the Kosovo War. After a late entry into the Democratic 2004 presidential race, in which he won the Oklahoma primary and finished second in three other contests, Clark turned himself into a popular surrogate on the stump for Democratic congressional candidates during the midterm elections.
Relatively new to partisan politics, he seems to have taken to the enterprise with gusto. As an early backer of Sen. Hillary Clinton, Clark traveled in the last year to Iowa, New Hampshire, Wisconsin, Ohio, Texas, Indiana and South Dakota. But even now that the spouse of his former Commander in Chief is out of the race, Clark isn't done for the season. In an email pitch to his nationwide network of supporters last week, Clark urged party unity and described the call to elect Obama as a "critical mission."
In a wide-ranging interview with The Huffington Post, Clark offered opinions on the current state of American foreign policy, the Democrats' emergence as a more "full-service" party on security issues, and -- lest anyone doubt his potential use as a running mate for Obama -- the shortcomings of Sen. John McCain.
"I know he's trying to get traction by seeking to play to what he thinks is his strong suit of national security," Clark said of McCain while speaking from his office in Little Rock, Arkansas. "The truth is that, in national security terms, he's largely untested and untried. He's never been responsible for policy formulation. He's never had leadership in a crisis, or in anything larger than his own element on an aircraft carrier or [in managing] his own congressional staff. It's not clear that this is going to be the strong suit that he thinks it is."
Resume aside, though, Clark also took issue with the Arizona Republican's instincts on national security. "McCain's weakness is that he's always been for the use of force, force and more force. In my experience, the only time to use force is as a last resort. ... When he talks about throwing Russia out of the G8 and makes ditties about bombing Iran, he betrays a disrespect for the office of the presidency."
Clark also said Democrats are making progress in becoming a "full-service party" that can compete on security concerns as well as domestic issues. "Republicans like to focus on the threat, on fear, on insecurities. It's what motivates their base," he said. "As Democrats, we focus on hope and possibilities in the future. So the two parties are asymmetrical. And because the two parties are different, it makes the national security [issue] play differently to both parties. But I think we have to point out the failures and shortcomings of the current approach. In the foreign policy arena, John McCain has pretty much bought the central thrust of the Bush administration's foreign policies: relying on threat and bluster [and] isolating people we don't agree with instead of engaging them."
Still, Clark says Democrats can't afford to be branded as unwilling to use force. "My take is that Senator Obama has been very clear ... As he said in his recent appearance before AIPAC, he is strongly committed to America's allies. And it would be a mistake for anyone to assume he won't use force when it's necessary and appropriate. ... I think it's a question of whether you believe all intercourse with an enemy must end in conflict or not."
Citing the issue of Iran's nuclear program, Clark suggested a prime window of opportunity may have been missed early in the Bush presidency, before the election of Mahmoud Ahmadinejad. "I think Iran has come out of the Bush administration as a much stronger power," he said. "First of all, we eliminated the primary blocking force to their west in Iraq. Secondly, we have been ineffective in using the broader tools of U.S. diplomacy and moral suasion in the region -- and that's allowed Iran to capture Hamas, displace Fatah and strengthen [its] grip on Hezbollah. ... Without effective diplomatic engagement of Iran, we've allowed them to pursue a nuclear program that is likely aimed at achieving nuclear weapons. But we've refused to sit down and talk to them about it. ... I still favor an effort to engage Iran, but the clock is ticking on their probable nuclear program. This makes everything much more complicated and difficult now.
"I think that there was a window [for diplomacy]. Maybe two or three windows of opportunity. They might or might not have been fruitful. There are never any guarantees with diplomacy. But there are never any guarantees with force, either. John McCain should know that. He and I, along with many others, were caught up in an inconclusive war in southeast Asia."
Still, for all of Clark's authority on defense issues and his willingness to go after McCain, some observers remain skeptical of his potential usefulness to Obama in the vice presidential slot. An unsteady first impression with the press in 2003 provided enough fodder for doubts that linger to this day regarding Clark's effectiveness as a campaigner.
It's clear that the former general, who studiously avoids any chatter about the current veepstakes, is keen to note his "learning curve" as a politician and his work ethic as a surrogate, citing the dozens of congressional candidates who requested his assistance in 2006. A source at the Democratic Congressional Campaign Committee confirmed that work ethic, saying that Clark has done everything that's been asked of him -- from voicing robo-calls to mining his email list for donations to making those personal appearances. "I don't want to brag on myself," Clark said, "but we got into places where no other Democratic spokesmen were invited."
Clark also suggested those travels have been good for his own political education. "You have to learn how to run for elective office, no matter where you've had responsible positions before. You have to learn how to hit the pitch. I think I had a pretty good learning curve in my run for office. By the time I was campaigning in January, I was doing very well. But you don't do it overnight."
When asked, Clark reports a feeling of contentment with his work in the private sector. Joined with the opportunity to comment on current affairs, he rightly deems it "a full life." But even Clark admits he doesn't have everything. "I miss my friends in the military. You know, the camaraderie," he said.
Perhaps he'll have the opportunity to reenlist for one more campaign.
Popular in the Community