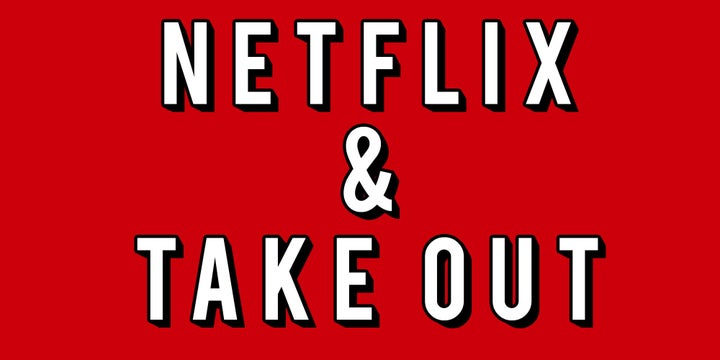 Connor Freeman really doesn't like going to restaurants, and he has a host of reasons.
For one, they're too noisy.
"I'm that person that likes to keep my conversations between me and the person I'm talking to, and I'm a loud talker in restaurants, so I tend to get looks because people are listening to me or hearing me," he said.
Dining out also takes too long and is too much of an "ordeal," said the 21-year-old from Sarasota, Florida. "Getting ready, getting to the restaurant, getting food and then getting back home: It can definitely be a big process."
Freeman's aversion to dining at restaurants is fairly common among others in Generation Z ― those born between the mid-1990s and early 2000s. Slightly older millennials like to see and be seen, but Gen Z often prefers to stay home and get takeout.
Ordering in is unquestionably Freeman's preference. He said he works a lot as a manager of a smoke shop, so he likes to be at home, where he can hang out with his dog and roommate and play video games or watch TV while he eats.
Twenty-four percent of Gen Zers order takeout three or four times in a typical week, which is more than any other generation, according to a study released last fall by the International Foodservice Manufacturers Association (IFMA) and the Center for Generational Kinetics. Comparatively, 21 percent of millennials, 17 percent of Gen Xers and 6 percent of baby boomers order takeout at the same rate.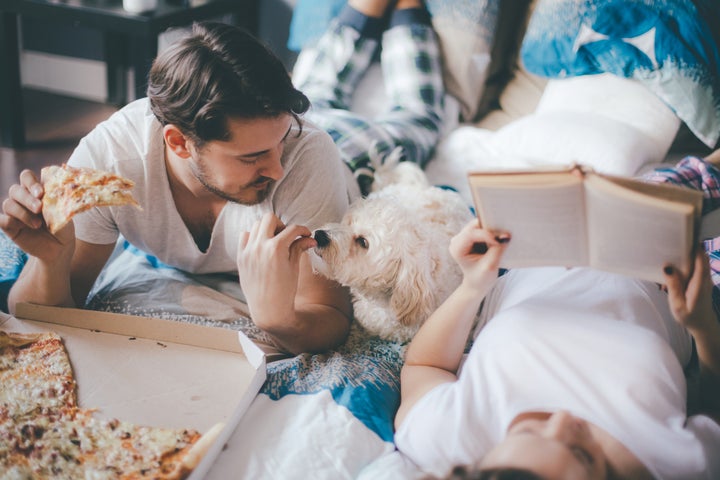 Gen Z overwhelmingly prefers takeout over dining in, whether they're eating alone or with others, and they use food-ordering sites and apps more often than other generations.
In many ways, Gen Z's takeout preference plays into some of the commonly held stereotypes about the generation. Because they grew up with technology, they're always connected and used to ordering anything they need with a click or two. They're also high-level multitaskers and expect convenience.
Gen Z is still spending money at restaurants, so people in the industry aren't sure what the long-term impact will be. But many restaurants are responding to the increased takeout and delivery business by linking up with third-party food delivery apps, like Uber Eats or Bite Squad, and they're revamping their takeout and carryout strategies to meet the demand, industry experts say.
A Time Investment
The Gen Z takeout trend is causing a shift in the restaurant industry, said Mike Schwartz, IFMA vice president of member value.
"What we've found is that the younger generations really want food where they want it and when they want it," Schwartz said. "It's easy, especially with the advance of technology and all these apps that exist like Grubhub and Uber Eats. Gen Z has been conditioned from a very young age, pretty much since they were born, to use technology, and it's been an enabler for them."
"Going to a restaurant, that's an investment of time: Getting to that restaurant, sitting in the restaurant, eating, as opposed to the comforts of their own home, sitting on the couch, watching Netflix and having the opportunity to still eat a good meal while multitasking," he said.
"I definitely like to watch Netflix. I feel like it's just more comfy. You're already kind of being lazy by getting takeout and so you kind of just want to enjoy relaxing and watching TV."
Freeman, who gets takeout about three or four times a week, usually uses mobile delivery app Bite Squad to order. He likes to order barbecue, which he said wasn't available for delivery before the app.
Craig Key, chief marketing officer of Bite Squad, a Minneapolis-based food delivery app that's available in about 50 markets, said Gen Z is one of the company's strongest user groups.
Gen Zers are tech natives, he said, and all about connectivity. "If they've ever had a phone, it's probably been a smartphone, so they're used to using their phones for this kind of social connectivity."
Convenience is another major motivator for Gen Z's takeout habit, whether they're using a delivery app or picking it up themselves, Key said ― and they don't mind paying extra for that convenience. The IFMA survey found that Gen Zers would pay more than older generations for food delivery: 54 percent said they'd pay $3 to $5, and 19 percent said they'd pay $6 to $10.
"Where they spend and how they spend is based on experiences, and they spend on convenience," Key said. "So, a service like ours, or Lyft, a ride-sharing service, or other digital marketplaces that connect buyers and sellers and create conveniences are going to do really well with that audience."
The Creature Comforts Of Home
Like Freeman, other Gen Zers cite time, convenience and the desire to multitask as reasons to eat takeout.
Zoe Bridge, 17, said visiting restaurants is usually reserved for a special occasion. Bridge, a food blogger at GenZfoodie who lives in Phoenix, is passionate about cooking. But she doesn't have much time to cook during the school year and opts for takeout so she can do homework while she eats.
Bridge often walks to nearby eateries, but also uses food delivery apps, mostly to order in healthy meals.
"I feel like restaurants are very busy all the time, and it's a big whole hour-and-a-half excursion when you could just get takeout and then sit and chill at home," she said. "I definitely like to watch Netflix. I feel like it's just more comfy. You're already kind of being lazy by getting takeout and so you kind of just want to enjoy relaxing and watching TV."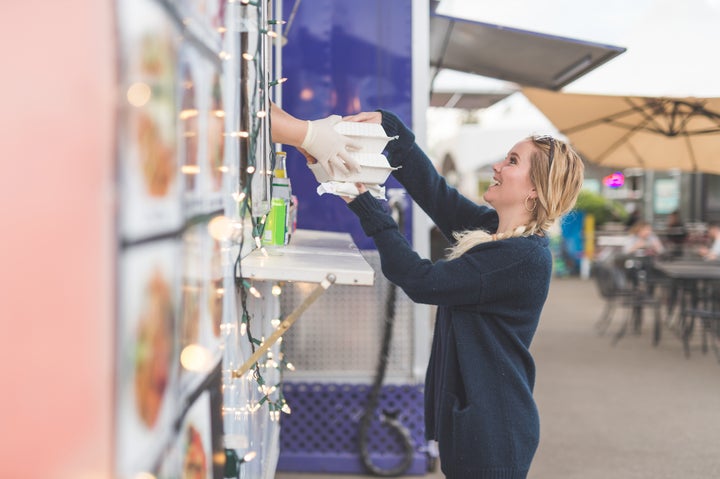 Andrew Levenson, 22, called his preference for takeout a "lifestyle choice." Like Bridge, he saves his dining-in experiences for special occasions.
"If I don't have to get in my car and drive somewhere and sit for an hour and then drive back, and I can just have someone bring it to me in 30 minutes, then I'd much rather do that," said Levenson, who works at an advertising firm in Little Rock, Arkansas. "I think that's probably the consensus with my generation just because of convenience."
He said he'd rather spend time at home, where he can stream movies or TV shows or enjoy other activities during mealtimes.
"I'd rather be doing other things while I'm eating, than just eating," he said.
Levenson said he doesn't mind paying extra to have food delivered. Plus, he said he can save money by drinking his own booze at home.
"If you look at Gen Z and their food and beverage and cuisine preferences, it truly is global in nature," said Hudson Riehle, the senior vice president of research and knowledge group at the National Restaurant Association. "Their palate is extremely sophisticated compared to the older cohorts, and their expectation is that these global cuisines not only be universally available, but also available through the carryout and delivery."
Restaurants Respond
One of the main drivers of restaurant growth, in terms of traffic and sales, is what Riehle calls the "off-premises market" ― including carryout, delivery, drive-through, curbside pickup and food trucks. This accounts for 63 percent of restaurant traffic nationwide, he said.
"When you examine the off-premises market and who uses it, the majority are individuals under the age of 35," he said. "From the consumer perspective, there's nothing more convenient than having the restaurant come to them. Looking ahead for sales growth in the restaurant industry over the next decade, a very important component of growth ― and this is driven obviously by the Gen Zers and the other younger consumer cohorts ― is the off-premises market and specifically delivery."
Delivery accounts for only about 3 percent of restaurant traffic today but is the fastest-growing segment of the off-premises market, according to Riehle.
"The technology is enabling all of us to be lazier."
One challenge the restaurant industry faces in meeting Gen Zers' demand for takeout is ensuring that quality is the same in a customer's home as it is in a restaurant. No one wants a cold, soggy burrito.
Many restaurants are stepping up their delivery operations, while also looking at new technology to accommodate the growing number of takeout orders.
They're also rethinking their current models to reach younger diners, said Schwartz from the IFMA. Specifically, he said, they're examining how takeout meals are packaged and how they can keep food from losing heat and quality while in transit.
"A big topic that's out there right now is how to make sure that the experience away from home is the same as it is or as close as it can be in the store," he said.
Gen Zers say they don't see their takeout habits changing anytime soon. Generally, Freeman said, there's just more to do at home.
"Going home [from work] is kind of like my little paradise," he said. "If [mobile ordering] wasn't a thing, I'd definitely be going out and getting more food at restaurants just because I wouldn't be able to stay home. So, it's like the technology is enabling all of us to be lazier."