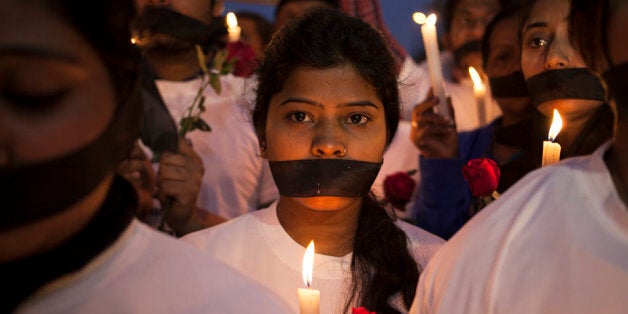 KARACHI, Pakistan -- The week before the Paris attacks, over 1,000 women from 115 countries met to discuss ways to combat gender-based violence. Unsurprisingly, though violence against girls and women is a far more longstanding, persistent and endemic problem than global terrorism, this gathering -- the 3rd World Conference of Women's Shelters -- made no major headlines.
The only time the issue of violence against women does capture the world's attention is when it is related to active war zones, such as ISIS kidnapping Yazidi women or Bosnian women being raped during the Yugoslav war. Yet violence against women and girls goes on every day in every country, including those officially at peace. Complacency towards gender-based violence is equivalent to accepting that sexual and physical violence is merely a way of life for girls and women. But allowing it to continue is as unthinkable as allowing ISIS to rampage and kill wherever it pleases.
Perhaps it isn't fair to compare a shocking terrorist attack such as Paris with violence against women, but Dr. Denis Mukwege, the gynecologist and surgeon from the Democratic Republic of Congo whose Panzi Hospital has helped thousands of women gang-raped by Congolese militias, unequivocally describes sexual violence in conflict as "terrorism." Listening to Emma Murphy, a survivor of domestic violence from Ireland, describe the emotional, mental and physical abuse her partner put her through is a testimony to the terror that can take place in the home.
One in three women worldwide are victims of physical or sexual violence -- a far higher number than people affected by terrorism.
Sexual violence against girls and women is a human rights violation, and one in three women worldwide are victims of physical or sexual violence -- a far higher number than people affected by terrorism. Women and girls are unsafe on the Internet too. Three out of four women and girls online have suffered cyber violence, according to the UN Broadband Commission Report "Cyber Violence Against Women and Girls." Still, no country on earth has made tackling gender-based violence a number one priority or vowed to go after it the way U.S. President Barack Obama has vowed to "destroy ISIS."
The Istanbul Convention, a pan-European treaty that protects women and girls from violence, has still not yet been signed by Great Britain. What's known as the "women's bill of rights" -- the UN Convention on the Elimination of Discrimination against Women (CEDAW) -- has not yet been signed by the U.S. Senate, even though it has existed since 1979 and been signed by 187 other countries (excluding the U.S., Iran, Sudan, South Sudan, Somalia, Palau and Tonga). There are articles in it that its signatories do not live up to -- for example, Article 6, relating to the trafficking and prostitution of women, is still being violated in Europe, the Middle East and North Africa with impunity.
The importance of these treaties cannot be overstressed in the global fight against gender-based violence. Rather than empty promises to empower women or safeguard their rights, these conventions are legally actionable, meaning that governments who have signed them but fail to enforce their articles can be held legally liable for those failures. They also provide blueprints for women's organizations in countries to work with ratifying governments, who become obligated to secure the rights of women and girls in their respective countries. One of the World Conference on Women's Shelters' major points in its call to action is urging countries to sign and support CEDAW and the Istanbul Convention; they are as important as security pacts and peace treaties made during times of armed conflict.
Allowing this to continue is as unthinkable as allowing ISIS to rampage and kill wherever it pleases.
Dr. Mukegwe's keynote speech also called for red lines to be drawn against sexual violence in war, the same way red lines have been drawn against chemical, biological and nuclear weapons. He deemed it a travesty that women and girls are still sold on the marketplace like slabs of meat and identified this as a regression in the battle to secure the rights of women worldwide. For the world to not arrive at a consensus against rape as a weapon of war, an instrument of ethnic cleansing and a deliberate strategy to evoke terror in communities is as huge a security failure as those leading to major terrorist attacks around the world.
Yet the answer to fighting violence against women does not lie in armies or air forces, drones or intelligence. This may be why the war on terror is more compelling than the war against gender-based violence; the solutions simply aren't as sexy. Participants at the conference spoke about the need to engage men and boys, to teach them that violence against women is dishonorable, to delink rape and abuse to masculinity. They identified shelters as places where women can go to escape intimate partner violence, political engagement and legal instruments, and economic empowerment and financial independence as crucial factors in helping to end gender-based violence, one woman at a time.
These prescriptions do not put power in the hands of the military industrial complex, nor world leaders at peace summits, but rather represent the tireless work of NGOs and grassroots organizations. They put power in the hands of networks of women helping other women and those in government offices who cede knowledge and leadership to activists and advocates in the field. They may appear less glamorous than the serious business of warmongering and peacekeeping. But ending gender-based violence is vital to maintaining world peace, as studies have linked women's empowerment and security to the security of nations.
Violence against girls and women is not just a girls' and women's issue; it is an issue of men and boys, of families, communities and countries. Taking active steps to fight gender-based violence the same way the world is now scrambling to end terrorism would be no less of a service to humanity.
PHOTO GALLERY
Weapons Women Carry With Them To Fend Off Attackers
Calling all HuffPost superfans!
Sign up for membership to become a founding member and help shape HuffPost's next chapter