 A little girl's school assignment has generated impassioned debate online after her father, blogger Steve Bowler, sparked outrage by posting the third-grader's worksheet, which dealt with gender stereotypes.
Dad, who designs and blogs about video games (@gameism on Twitter), pointed out his daughter's unsuccessful attempt to separate items into three categories: boys, girls and both. On Saturday, he posted her completed worksheet and tweeted: "Proud my 8yo girl failed this worksheet. Wish she had failed it even 'worse.' #GenderBias"
Based on the image alone, Bowler tweeted that it looked like his daughter's class was asked to sort activities and products like "Barbies" and "Erector sets" into gender columns. She crowded all the answers into a column labeled "Both," and the teacher wrote at the bottom, "We talked about how each square needs to be filled in."
"My wife brought [the worksheet] to my attention Friday night when we were looking through her schoolwork folder," Bowler told HuffPost via email, adding that his daughter hadn't complained about the assignment herself.
And yet, the image went viral (to the tune of more than 6,600 retweets) -- unleashing outrage from parents, teachers and others on Twitter, Reddit, Facebook and more corners of the web.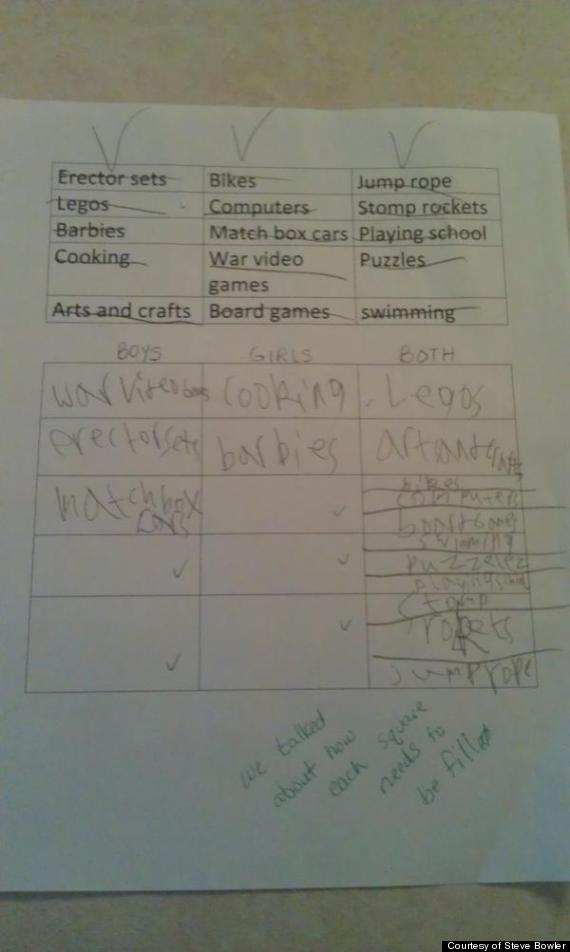 Redditor Dhuske suggested that the "entire point of the test" might be "to check if children are aware of gender stereotyping," writing: "That's the only way I can see it make sense, anyhow. I disagree with it, but I see the reasoning."
"I think some of the confusion you may be having is a conflation of a moral 'wrong' and a 'wrong answer,'" Dhuske added. "Gender stereotypes are wrong morally, but it is right to say that some gender stereotypes are common."
Others on Reddit expressed further doubt. A teacher who goes by the screen name Imac32 said that while the point of the worksheet might have been to point out harmful stereotypes, that concept is flawed in itself:
"Even if [the teacher] is trying to teach them the idea that gender bias exists and to not be biased, well ok I guess maybe if that is the purpose of the lesson. But, to then correct the student when they show that they are not exhibiting bias tendencies is absurd and self defeating!"
"It was evidently part of a bunch of worksheets regarding Allie's Basketball Dream (a story in which a girl plays basketball and her friends make fun of her, saying basketball is a boy's sport)," he wrote, explaining that while he and his wife recognized that the assignment was designed as "an exercise in maybe dispelling pre-conceived gender biases in the kids," he didn't understand why the teacher hadn't offered "praise" for comprehension of the story's themes. "Regardless, even with the best intentions, the worksheet is pretty sketchy and shouldn't have been assigned as-is," he concluded.
While the dad linked to a packet meant to accompany the book on both Reddit and Twitter, he noted that the packet did not "recommend having a gender role/bias discussion worksheet as pictured (or otherwise)."
On Monday night, as promised, Bowler tweeted the parent-teacher conference post-mortem.
"So, anticlimactic update," he wrote. "[T]eacher tried to use the gender bias in the book/story as subject of the sorting worksheet. Old teacher, bad idea."
He added: "A situation where there was seemingly good intention and just naive/poor execution. Still super proud of our daughter. Thanks everyone!"
He told HuffPost, "I think any time you attempt to make gender a 'worksheet' you're going to run into trouble. The online resources for that lesson on Allie's Basketball Dream recommend a group discussion about how Allie might have felt about being told basketball is a 'boys' sport, and for 8-year-olds, that seems like an appropriate level of discussion on gender bias."
"There are many sources of gender stereotypes in children's worlds including their parents, TV, books, movies, peers, teachers and siblings," she told Huffpost via email. "Much of the psychological research on this topic would suggest that it would be better for teachers not to make gender salient to children unless the intention is to teach them how to counter stereotypes."
Bowler said he was happy he shared the assignment online. "I'm still proud of my daughter and how she thought about the problem as it was presented! I had no idea it was going to be as viral as it has, but hopefully it can have a positive effect and help people be more aware of the 'everyday casual sexism' that occurs in their lives."
Support HuffPost
A No-B.S. Guide To Life
Related
Before You Go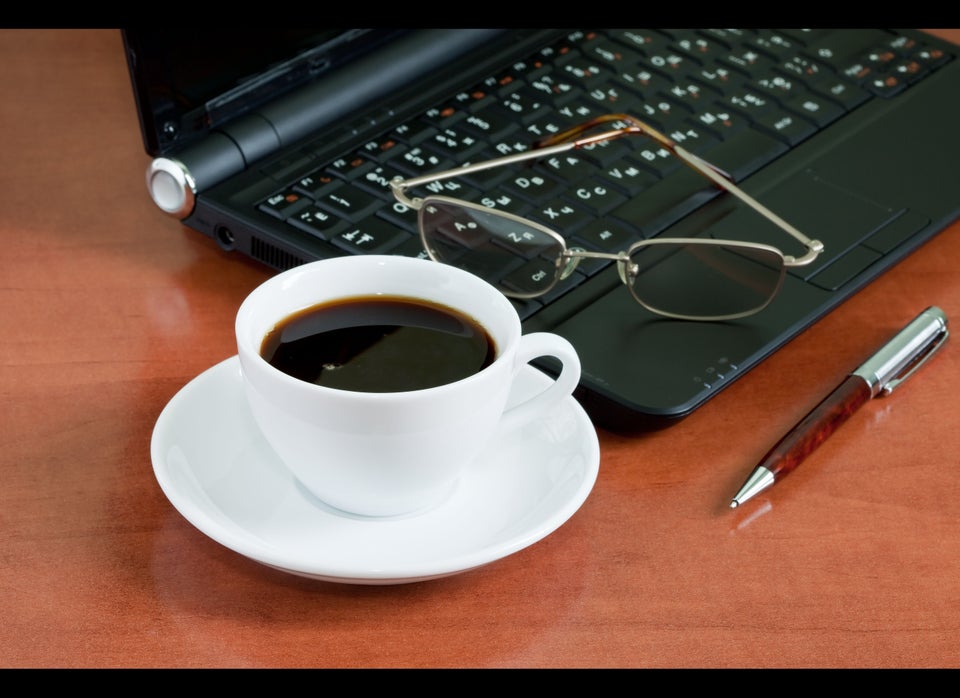 Secrets Your Principal Wants You To Know
Popular in the Community