For American transgender people in many states, U.S. passports are frequently the most convenient way to obtain ID that reflects gender designation change, and in some states, it may be the only way.  As illustrated on the map below, states have different requirements to accommodate gender designation changes on driver's licenses and state IDs.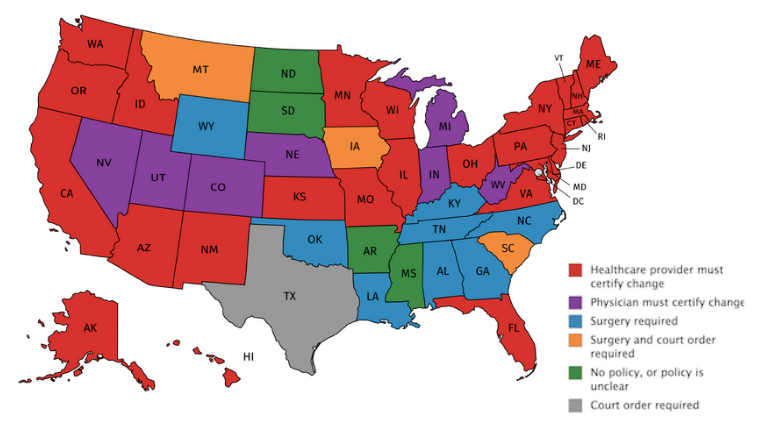 Until 2010, to change the gender marker on a passport, individuals were required to have undergone sexual reassignment surgery.  Under an Obama administration policy enacted in 2010, the State Department allowed individuals to change gender markers on a US passport, if the applicant applied with a letter from their a physician stating that the passport applicant had "appropriate clinical treatment." "Appropriate clinical treatment," was used as a somewhat loose and subjective term- the doctor and transgender individual ultimately define what that means together, and it doesn't necessarily require the huge leap of undergoing gender reassignment surgery.
"That simple change in documentation where your name and gender matches your appearance can change your world," said Toni-Michelle Williams, a community organizer with the Solutions Not Punishment Collaborative.  "It can change your interactions with police and the people you meet in everyday life. It makes all the difference."
Meeting state requirements to change gender on state ID and driver's licenses can be tricky. Many transgender people have no desire to undergo reassignment surgery.  Others do; however, the cost of surgery or other circumstances can be a barrier that prevents or delays a desired transition.  For this reason, a passport is a great option if you want or need an ID reflecting a transition.  It's an opportunity to have Federal ID, more powerful than state ID, reflective of one's gender.
To obtain a new passport with a gender change, you can apply for your passport through the State Department or Post Office.  If you are in a hurry to get a passport, or would like an experienced professional to help you with the requirements, you can hire experienced private companies to walk you through the process.
Calling all HuffPost superfans!
Sign up for membership to become a founding member and help shape HuffPost's next chapter
This post was published on the now-closed HuffPost Contributor platform. Contributors control their own work and posted freely to our site. If you need to flag this entry as abusive,
send us an email
.