71 years ago, the United Nations Charter stated that "The United Nations shall place no restrictions on the eligibility of men and women to participate in any capacity and under conditions of equality in its principal and subsidiary organs". In 1979, the year I joined the UN, the General Assembly adopted the Convention to Eliminate All Forms of Discrimination Against Women. Profound changes have since occurred in the workplace which should have made it easier to ensure gender equality and empower women in the UN system. Think of flexitime and telecommuting. Think of training on diversity and unconscious bias. Think of all the digital tools now available for us to exchange best practices, manage data and monitor the implementation of our policies. And yet...
And yet , 21 years after the Beijing Declaration and Platform of Action established a target of 50/50 gender parity at the professional and higher levels, progress in our ranks is simply too slow. In 2013, of the 32,000 staff employed by the UN in professional categories worldwide, 41.6% were women. But they are fewer in the upper echelons of the secretariats, and system-wide, only 30 per cent of Directors are women. Above that, the air is even thinner for women, who represent only slightly more than a quarter of all top executives.
How can the UN, which is supposed to spearhead the implementation of the Sustainable Development Goals, including Goal 5 on gender equality, be a credible actor for change when it finds it so difficult to reach parity among its own staff, when talented women moving up the ranks still face a glass ceiling and institutional bias and when many of its meetings and panels feature only men? As a UN senior manager, I felt that it was no longer enough for me to sit and complain about the state of things.
So last year, together with Ambassador Pamela Hamamoto, United States Representative to the UN in Geneva, and with the support of Women@TheTable, we launched the International Geneva Gender Champions initiative through which Champions commit to practical, impactful and measurable ways of operationalizing gender measures in their workplaces. At the heart of this initiative is the panel parity pledge. It demands that both genders need to be represented in all panel discussions. In addition, each Gender Champion chooses two other concrete and measurable commitments for gender equality in their organization. With already close to 120 Champions, the initiative is really changing the way we do business in International Geneva.
One of my own commitments, as a Gender Champion, was to introduce a Gender Policy for the UN Office at Geneva, which I head. With the support of UN Women, the policy came into force on 1 September 2016. It aims to establish an organizational culture free from gender bias and discrimination, improve the representation of women at all levels so we can reach gender parity, and ensure gender equality and the empowerment of women in all aspects of our work. Of course, it will only truly make a difference if all staff and managers, men and women, understand it, accept it, embrace it and implement it. We all have a role to play.
With its many partners, the UN works to improve the life of billions of people around the world. It will only succeed if men and women are equally represented in all its processes. Ignoring half of humankind will simply lead us nowhere. It's high time for meaningful change!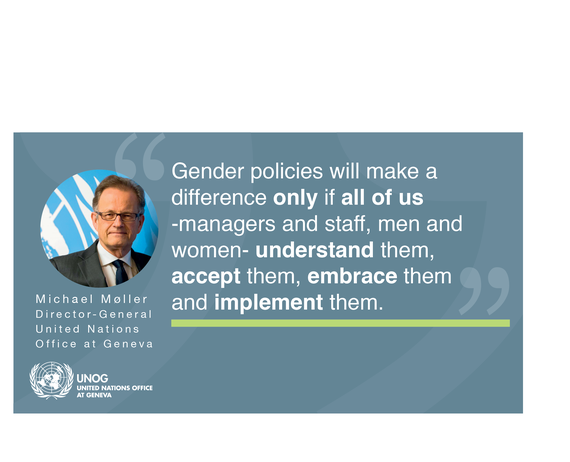 Calling all HuffPost superfans!
Sign up for membership to become a founding member and help shape HuffPost's next chapter