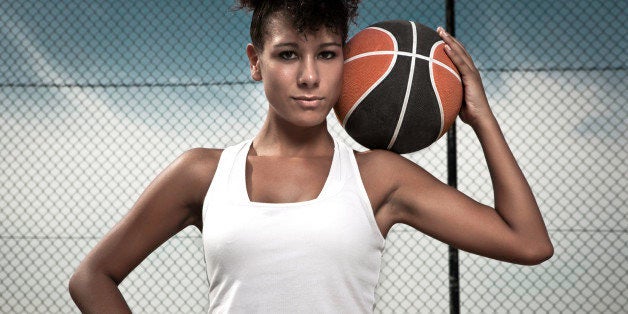 March is Women's History Month, a time to shine light on the contributions of women in society and throughout history. As a longtime athlete and coach, I take this time to look at the history of sport and how it has changed and evolved to provide female athletes, coaches, and administrators with equitable experiences and opportunities. Despite the remarkable progress made by and for women in athletics, there remains a very troubling trend that needs our collective attention.
In 1972 the passage of Title IX changed the sports landscape for women. While the participation of women in college athletics grew by 600 percent, the experience of female coaches got decidedly worse. Before the passage of Title IX, women coached 90 percent of women's college teams. Today, it is a mere 40 percent. This drastic drop-off in women coaching women's sports serves to underscore how much work is needed to truly make sports the equitable space we know it should be.
It is difficult to point to a specific cause for any problem that is systemic to a community. Certainly there are many issues that have impacted this sharp decline. As someone who has spent his entire life working in and surrounded by sports, there are at least three potential causes that immediately come to mind.
The first is that society does not view men's and women's sports with equal appreciation. While women's professional sports leagues are growing their business and are still relatively young, the American obsession with sports is still largely focused on men. It is men's sports that attract hundreds of thousands of fans in stadiums and millions of viewers on television, and is a large part why March Madness brings in over a billion dollars in ad revenue. I believe this heightened interest in male athletes has led to a false assumption that male athletes make better coaches.
The second issue is that those making decisions about the hiring and firing of female coaches are often men. Only around 20 percent of college athletic departments have women running them. If society falsely values male athletes over female athletes, then the hiring and firing of coaches will also be biased. This is evidenced by the fact that only about 3 percent of men's sports teams have female coaches. While men are perceived to be equally qualified for coaching male and female athletes, women are forced into having half the coaching opportunities with twice the competition.

Luckily we are starting to see some high profile examples proving this assumption wrong. With the Spurs hiring Becky Hammond, to Martina Navratilova, Lindsay Davenport and Amelie Mauresmo all coaching some of the top male tennis players in the world, these women are showing that gender has nothing to do with one's coaching ability. While it is still not the norm, they mark important and visible steps in the right direction.
Despite these advances, one of the most troubling trends has been the termination of extremely successful female coaches. Take for example, the disputed firing of Shannon Miller, the head coach of the University of Minnesota Duluth's women's hockey team. Miller has coached the Bulldogs to five national championships, the most in NCAA history. Despite her winning career, the justification for her termination was due not to a lack of success, but because of budget constraints and a belief that her higher-than-average salary was not the best use of department funds. While the impetus behind her firing is still being debated, the impact of her termination is not. Veteran female coaches with winning records and high salaries do not have the same level of job security as their male counterparts.
The third and final issue is that women do not have vocal male allies among coaches. The silence of the male coaching community is an implicit endorsement of this biased culture. While job opportunities for a coach of either gender remain limited, the lack of opportunities for women as compared to men is without defense. Until those who benefit most from this bias start calling attention to this inequality, the number of women coaching at the highest level may continue to decline.
I have spent the last four years of my life tirelessly working to end homophobia and transphobia in sports by educating and empowering more allies to speak out, but this work has taught me that systems of oppression are not mutually exclusive. We cannot end one form of discrimination without simultaneously addressing others. Allyship is not an identity; it is a philosophy that requires a person to act against all forms of bullying, bias, and discrimination. If we are ever to reach a time where prejudice is spoken of in the past tense, then we will need men to vocally and proudly identify as allies to women, and to begin holding themselves and the larger sports community accountable for a culture they continue to help create.
Sport should be the ideal reflection of a meritocracy. Athletes from diverse backgrounds, experiences, and identities are thriving, but coaching continues to lack the diversity one would expect from generations of talented male and female athletes. So as we celebrate the enormous achievements of women this month, let's not forget how much work has yet to be done in sports. As you follow your March Madness bracket, ask yourself why we aren't following the women's tournament with the same level of interest or enthusiasm. And lastly, question, call out, and challenge those who benefit most from various forms of oppression and inequality to do more to help dismantle it. The sports community will continue to drop the ball on gender equality among coaches, until we challenge more people to handle it.
Related
Popular in the Community