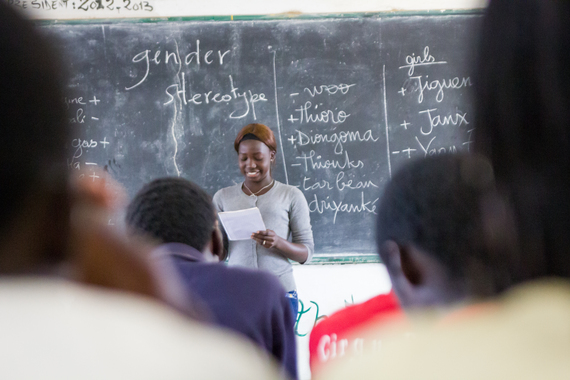 How can education better support both girls and boys? A new resource offers guidance.
Teachers are on the very frontlines of this struggle. Across Africa, Asia, Latin America, and around the globe, educators and administrators are working in concert with their communities and with peers in other countries to help girls learn in the classroom and beyond. But how can greater numbers of teachers do this effectively when faced with a daunting array of socioeconomic, cultural, and institutional barriers, from a lack of basic resources to the complex interplay of gender, violence, and education?
Jennifer Gibson, Branch Chief for Teacher Exchange Programs at the U.S. Department of State, explains that, "With this input from skilled teachers across nearly 70 countries, the guide takes a highly pragmatic approach and offers techniques that educators in a range of environments can put to immediate use."
This resource is designed as a flexible map for evaluating, building, and implementing gender-inclusive teaching in instructional materials, classrooms, schools, and communities. IREX is also offering a free webinar to walk users through the new guide on Monday, June 13 at 9:00-10:00 AM EDT.
"[T]his teaching guide is timely, precise, and very straightforward. It is also easy to use, thus easily adaptable," notes Phionah Musumba, an alumna of the U.S. Department of State's Community Solutions Program and Founder and Executive Director of the Centre for Disadvantaged Girls and the Malkia Foundation in Kenya.
"Gender" doesn't just refer to girls, but to people of all genders and how they interact with one another. And while girls are often the most marginalized and those most frequently targeted for violence, boys have unique educational needs, including overcoming behavioral challenges and pressures to work instead of completing their education.
In response, the real-life strategies throughout the guide include practical steps to examine and address negative gender stereotypes, methods for tracking both behavior and learning responses from girls and boys, and overall approaches for schools and communities to become more gender-friendly and inclusive.
Each section provides an opportunity for educators and administrators to observe current teaching practices, reflect on the gender-inclusiveness of those practices, and take action toward a more gender-inclusive classroom. While designed principally for teachers, this resource is free for anyone to use to help ensure that youth of all genders can succeed at equal levels in education and beyond.
Related
Popular in the Community