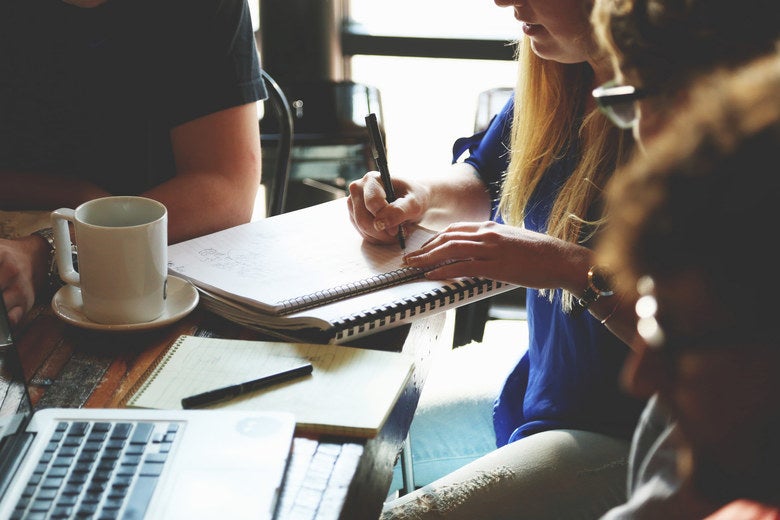 I work at a professional women's network (you may know it — Ellevate Network) and yes, I am a self-proclaimed and proud feminist. I'm not here to talk about feminism, since I've already written an article about that (see here), but I want to talk about something that is both related and timely, and truth be told, has been bothering me for a while.
Since I have a tendency to self-reveal a little too much, I'll keep up the trend. I'm a Republican. Gasp! I bet you didn't see that one coming...
Seriously, though, please don't send me any hate mail. Thanks.
I'm a Republican in a city where it is extremely unpopular to be a Republican, in a time when it is extremely unpopular to be a Republican, in an industry/field in which it's extremely unpopular to be a Republican.
But, to believe that men and women should have equal rights, opportunities, paychecks, advancements, investing opportunities, access to capital, and more… that goes beyond political parties.
Regardless of your political stance, gender equality is good for all. Period. No if's, and's, or but's about it. It's good for the economy, for innovation, for morale, and essentially everything else (ok, I have no research to prove that gender equality is good for everything in the world, or that it'll definitely solve world hunger and bring world peace... but do you have any research saying it wouldn't?). Let's look at the first few statements:
Gender equality is good for the economy. McKinsey Global Institute (MGI) reports that through the advancement of women, we could add $12 Trillion to the global GDP.
Gender equality is good for innovation. A report by Forbes Insights found that among companies with more than $10 billion in annual revenues, 56% strongly agreed that diversity helps drive innovation. In an article published in Innovators Magazine, they found that creative potential is positively correlated with the level of diversity. They also found that a lack of women in entrepreneurial teams diminishes this creativity potential and ultimately reduces the opportunities for innovation.
Gender equality is good for morale. In Sallie Krawcheck's book, Own It, she points out that women are relationship focused. She says, "... there is research to back up the claim that women are more empathetic, better connectors, and natural relationship-builders." All great traits for increased morale!
Aren't those points that everyone, regardless of politics, can get behind? While there is an endless amount of turmoil in politics right now, the truth is that believing in gender equality should not be construed as a political issue or stance.
It's certainly not the easiest time to discuss politics, and I know that there a lot of people who disagree with me and might even hate me a little for admitting my stance (that seems unfair, but alas). But I think it's important to talk about gender equality from the perspective of someone who isn't liberal, because although gender equality is not a liberal ideology, it certainly has been getting that rap — and that serves to divide people, not unite them. 
My opinions and ideas on gender equality bring a different perspective than many of my peers because of my differing beliefs, including my political stance, and that is not something from which I shy away. It is this difference of thought that is the exact reason diversity and inclusion is, and should continue to be, a priority. Focusing on diversity brings together people from all different backgrounds, experiences, and identities to collaborate and innovate — this is why equality is so important. Women and men are not the same, but they each have their strengths, and studies have shown that when brought together, it creates something more powerful and innovative than either one alone. If we all had the same perspectives and ideas, we would never progress and never improve.
Regardless of your political stance, gender equality is good for all. Believing in gender equality plays no part in my political beliefs. And that's coming from the mouth (hands, really) of a Republican. 
Madeline Kelley is a Business Development Associate at Ellevate Network, working to create partnerships with companies to help them attract, retain, and develop their female employees. She believes that by providing companies the opportunity to partner with Ellevate in concurrence with their internal women's groups, or in lieu of, they will be able to help increase the number of female leaders in the workforce.
The opinions of Ellevate employees expressed here are their own and not reflective of that of Ellevate Network.
Ellevate Network is a global women's network: the essential resource for professional women who create, inspire and lead. Together, we #InvestInWomen.
REAL LIFE. REAL NEWS. REAL VOICES.
Help us tell more of the stories that matter from voices that too often remain unheard.
This post was published on the now-closed HuffPost Contributor platform. Contributors control their own work and posted freely to our site. If you need to flag this entry as abusive,
send us an email
.