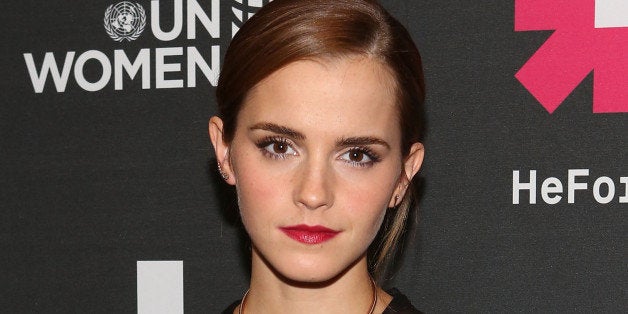 This interview is part of a special series on men's role in feminism at Ravishly.com, a community for women that strives to foster a dialogue between disparate voices and experiences. To read other perspectives, click here.
It's been promoted by Emma Watson in an impassioned speech and supported by the likes of President Obama, Matt Damon and UN Secretary General Ban Ki-Moon. So far, more than 200,000 have signed its pledge, and leaders of countries around the world are holding special events to advance its cause.
But for Elizabeth Nyamayaro, it began as a relatively simple idea: Engage men in the fight for gender equality.
Nyamayaro -- senior advisor to the Under-Secretary-General and Executive Director of UN Women -- launched the HeForShe campaign in September as a means to promote solidarity among both genders to enhance the rights of women around the world. The initiative has since become something of a juggernaut, warranting 1.2 billion Twitter impressions within its first two weeks; eliciting the backing of diplomats, politicians and celebrities across the globe; and, most importantly, inspiring action in places as far-flung as Brooklyn and a remote African village.
We chatted with Nyamayaro, who has also been involved with WHO, UNAIDS and the World Bank, and has worked at the forefront of Africa's development agenda for more than a decade -- about why solidarity is key to progress, how men benefit from feminism... and the most inspiring stories she's heard so far.
Why was the HeForShe campaign launched?
It was really an attempt to look at the issue of gender inequality not as a woman's issue, but as a societal issue that requires men and women working together. For the first time in the women's movement, we really want to engage men as our allies and partners to address the inequalities that affect women and girls globally. In terms of our bigger goal, we are hoping to mobilize one billion men between now and September 2015 as advocates and agents of change for gender equality.
What's your personal story in coming up with the idea and getting it off the ground?
So there's a very long story to this. A very, very long story! I come from a very humble upbringing in Africa. I grew up in a very poor family in a village, and there was an interesting dynamic in my own village, where obviously, the village leaders who were mostly male would make all the bigger decisions.
Long story short, I ended up here in the developed world, and I stayed 10 years working in the United Nations system, and then I worked in the private sector for a while. About 11 months ago, I was invited to come back to the UN. But initially, I thought, Well, I don't know if I want to come back to the UN this soon. Because I had spent 10 years of my life working there.
But then I found out that the UN was actually creating a position for me as the senior advisor to the newly-appointed Head of Young Women -- Phumzile Mlambo-Ngcuka -- who is just a phenomenal individual. She is a former freedom fighter from South Africa who was involved in the anti-apartheid movement, and was also the first woman to be deputy president of South Africa. I just thought, Well, what an incredible opportunity. I can't pass on this.
So I ended up moving to the Young Women division, and really within my very first few months of orientation and meeting with the leadership team and understanding what our priorities were and the mandate and the strategy track for young women and how we were focused on ending violence against women and ending issues of unequal pay... it was almost a disconnect for me, because there was no mention of men at all. And I kind of went back to my own upbringing. I realized that without addressing men, this was going to be a very, very long struggle for us because the people that tended to make the decisions for me in my own village were men.
I then went to publicists and different advertising companies and said to them, "I don't have any money, but I would like to work with your creative team to come up with a campaign that is revolutionary, that is going to really flip the women's paradigm on its head, and raise this not as a women's issue, but as a societal issue." So the publicity team and I worked together, and they came up with the title 'HeForShe.'
Initially, actually, the campaign tagline was "Men raising their voices for change." I tested this tagline, and realized it needed to be a little better. This was causing a lot of discomfort with some of the feminists because it was all about men, and also the idea of a man raising his voice can be seen as a negative thing. I wanted to come up with something unifying, so I came up with, "A solidarity movement for gender equality." That's really the long and short story to it.
What do you mean by solidarity in the context of what you're trying to do?
It's about bringing together one half of humanity -- which is men -- in support of the other half of humanity -- which is women -- for the benefit of all. We call it solidarity because, as you very well know, the traditional history of the feminist movement has only been led by women for women. It's the first time that we are calling upon men, and men are saying, This is not a women's issue. This is a societal issue. It requires both men and women to work together.

And I think if you look at history, society performs well when we all work together. Even if you look at the civil rights movement in the U.S., it was about African-Americans working together with non-African-Americans, so white Americans could address the issue of racism in the U.S. Another good reference point is the gay movement. Gay rights and gay marriage were not won by just gay people working alone. It was about gay men getting straight people as allies and supporters.
How has the campaign unfolded so far?
The campaign has strong online and offline components. Online, we are mobilizing men through the interactive map at HeForShe.org, where we have close to 200,000 men globally who have signed up to be advocates for gender equality. We are also engaging with men and boys via social media platforms, especially Twitter, Facebook and Instagram. Within the first week of the campaign, we generated, on Twitter alone, 1.2 billion impressions.
But the big part of our activation is offline. We are integrating the campaign across all the global UN Women Council offices, of which we have 90 around the world. Just to give you an indication of some of the latest stuff that's happened, the Prime Minister of Sweden declared himself a HeForShe advocate and also went on to declare his government was, too. The Head of State in Finland held a national event for HeForShe, officially launching it in that country. During the same time, the former Prime Minister of Finland, her name is [Tarja] Halonen, identified herself as the godmother of the HeForShe campaign. She's committing to mobilizing 1 million men for us within her country.
Recently, the president of Kenya -- Uhuru Kenyatta -- held a national event as well, where he launched HeForShe at the national level. There's a lot of exciting things that are happening offline. That's part of our next stage, too, for additional strategy getting into 2015. We are going to be able to share with people these kinds of stories, and all the impact that has been created offline.
What are some of these inspiring stories? How have men engaged with the campaign?
It's been actually a very humbling period for us, to realize how men want to do more. Men were saying, "You know, I just signed on. Now, what more can we do?"
One of the stories was about a man in Zimbabwe who identified with the campaign and went around his village. He collected all of the men that were abusive to their wives, and they started a husband school. And he's made it his own HeForShe commitment to turn these men into better husbands and fathers.
There's also an emerging story, out of Brooklyn, about a man who decided that he wants to create HeForShe coffee places to support gender equality where women and girls can feel safe. So there's a lot of stuff that's starting to come up, and again, within the next year, early next year, we'll start to share the stories publicly with everyone.
When you say it's a men's issue also, what do you mean by that? How do men benefit from a gender equitable world?
Economically, when women benefit, society benefits. There's evidence that points to this. When a woman makes money, her money's often spent on the family. When the man makes money, sometimes it's spent otherwise. So we know that women having power affects communities and society at large. We also know, even here in the developing world, that companies with more women in leadership positions tend to have more return on investment.
Beyond this, gender inequality also impacts men because of the stereotype and expectation that the man is the breadwinner. In her speech [about the campaign], Emma Watson even pointed out the fact that in the UK, the biggest killer for young people is suicide. Because men are struggling with this expectation that they should be the breadwinner, that they should provide. If the man doesn't feel the need to be the breadwinner, that also makes his life a lot easier and a lot happier. Accepting that men should not cry or express their emotions also limits men from having a fuller life. Perhaps even sometimes a happier life.
In addition to the pledge signing, which I know is a key part of the campaign, what are some of the other initiatives that this encompasses?
There are three A's. The first A is "HeForShe is an Awareness platform." It's about providing a platform and a path on which men, for the first time, in a bigger way can identify with the equality agenda. It's about sensitizing men as well.
The second A of the campaign is "HeForShe is an Advocacy platform," where we hope to create impartial qualitative legislation. As I mentioned before, the campaign is being implemented across UN Women Central Offices. It is also being implemented through other UN agencies on the ground. And so we are hoping that by mobilizing men within countries around the world, they can act as our supporters in encouraging other men, and sometimes pressuring them, to implement policies and legislation that would benefit women and girls.
And then the final A for the campaign in the "HeForShe is an Action platform," which is we are looking for the individual stories to share. We want men to identify things in their own communities and find a way to address them in a way that is meaningful to them. We are intentionally letting this be an organic movement, because again, ultimately, the people will create the movement, and it is the movement that creates impact.
The other action for us is the fundraising; we would like to also utilize this platform to fundraise for women and girls' programs around the world. Men can donate right now at heforshe.org. And again, you find that with every other women-related program, we have the least funding, and the same goes for young women, and so we would like to be able to leverage this opportunity. Men make more money than women, so how can we all support each other? How can they support financially women needs, and promote the lives of women and girls around the world?
We're launching a pilot program to address this this week.
As much as we're going to let organic solutions come from men themselves -- almost a bottom-up approach -- we also want to be able to look at how we can make sure that there's a top-down approach. So how can men in power do more than just sit in husband school, for example? How can politicians, CEOs and universities, for example, do something concrete and meaningful moving forward?
There are some who have argued that positioning men as the "saviors" of gender equality works against the feminism cause--that we shouldn't give men such a big voice in this movement. How do you respond to that?
This is not the first time I'm hearing this question, and actually, we have a very good response to that. This is not about men just speaking up for women. This is not about men speaking on behalf of women. This is about men supporting women. This is why we deliberately are calling it the solidarity movement. It's about men and women working alongside together in support of each other, not men coming in to save women.
Again, the argument is very simple. Like I mentioned to you before, we can make progress, and we have made progress. And it's actually kind of weird that this campaign would come from a women's organization if you will, because we fully understand that this is still the women's movement, and women have made progress on our own. But progress has been very slow. There was a recent report from Oxfam a few months ago that speaks to the fact that if things continue as they are, it'll be 75 years before women have access to equal pay or 2086 before girls in Africa have access to education.
Now, how can you, how can we, not be impatient for progress with something like this? And we know that, again, women can do it. This campaign is not to say that women can't do this on their own. But we are simply saying, this is a societal issue. It requires both men and women to participate. We are impatient for progress. We'd like that progress to happen now rather than in 2086.
So this is why we are making the argument that we need men as well to support this, because lots of the power still resides in the hands of men. You can't talk about any violence against women and not talk to the men who are mostly perpetuating the violence. You can't talk about access to equal pay for women without talking to men; in fact, no country in the world has been able to achieve that without speaking to the men, who are mostly the CEOs.
I know one of the other tenets of the campaign has been implementing it at colleges and universities. Why did you feel it was important to target higher education?
This is actually part of the pilot program that we're going to be announcing. We look at it from two standpoints. Number one, half of the work population is under 30. So the youth are real catalysts for change, and we need to engage them. The other thing for us is when we're progressing with universities, the issue of violence on college campuses has become a big issue, not just in the U.S., but globally where we have offices. So we also need to figure out a way that we can work with the administrators at these universities to make lasting change for women and girls.
There's a big focus on how can we leverage the learning institutions to address the issue of violence against women and girls on college campuses. But also, more specifically, the other catalyst for change is that we know a lot of the ignorance happens because people are not aware -- so how can we use the platform to sensitize, so that the future generation is starting in a different place than where we are... where half the men simply say they don't know that this is an issue?
How is that manifesting? How are you educating college men?
Within the pilot program, there's an engagement framework for the college campuses. One of the key things that I can give you as a highlight is to make gender training mandatory in orientation because, again, a lot of the students that we're talking to, they say that they actually didn't know that "no means no," because nobody ever told them that this was an issue. But also, after that, there's making sure that there's a refresher on a yearly basis for the students at the college.
How did you get Emma Watson involved in the campaign?
The UN, as you may know, has a program for Goodwill Ambassadors, where we identify prominent people, either within the arts or literature or other fields, to lend their voice to our work. The UN Goodwill Ambassador Program tends to run for three years and is renewable, depending on what impacts they have.
I identified Emma Watson, approached her, and we started having a dialogue. And it just became apparent to me that she was somebody that we definitely wanted. She was passionate. She also had a very powerful story to tell, which I think she shared a bit of in her speech about her parents divorcing when she was young, and how she at some point needed her father just as much as she needed her mother, and how her father faced some stigmatization from the community because he was at home looking after the kids.
So again, it was just a natural thing where we realized we had found our girl when I started talking to her. So I signed her on as a Goodwill Ambassador, and then her and I discussed it and she really wanted to lend her support to the campaign. So that's how we got her engaged.
What do you think boys and men can do on a regular basis to engage with gender equality?
We are hoping that the HeForShe campaign provides them with an invitation. Some men have told us that they have so disengaged from the issue of women's rights and gender equality because women have tended to have either blame them for the sins of other men, they have not felt welcome at all, and they have been made to feel guilty about being men. We are hoping that the HeForShe campaign provides them with the invitation to, as an entry point, identify with and support the issues.
We have action kits on our website at heforshe.org, for if you're at university, if you're a student, if you're in civil rights organizations... also with these different stories coming up next year, we'll be able to who that, if you're just an individual man, here are some of the things that other men have done.
But the first thing that we want men to do right now is that we want to get support. We want them to go to heforshe.org, take a HeForShe commitment. We want them to let us know what they're going to be doing to support women and girls. And we want to share their story.
Related
Popular in the Community