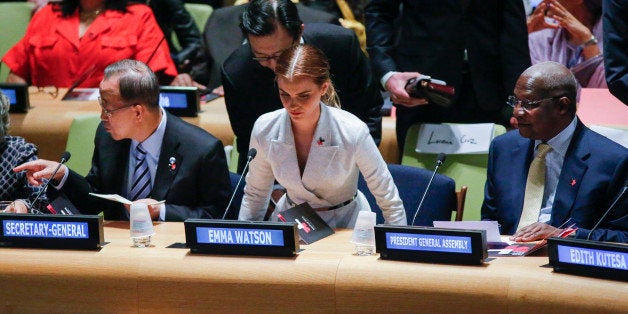 Throughout my career and my life advocating for women's equality in the workplace, I've come to realize something: Gender equality for women cannot happen without men.
Actress, women's rights activist and U.N. Women Goodwill Ambassador Emma Watson introduced the HeForShe program to the world at a special event in New York last week.
"We want to try and galvanize as many men and boys as possible to be advocates for gender equality," Watson said. "And we don't just want to talk about it, but make sure it is tangible." Read the entire speech here.
As Watson declared at the U.N., she is a feminist. She is proud to stand up and say that, despite the fact that the word "feminist" can be "uncomfortable."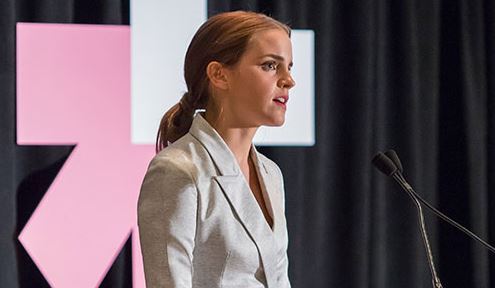 I, too, understand the uncomfortableness that comes with the word.
But I have decided I am a feminist.
In 1965, when I hired as the first woman professional at Arthur Andersen & Co., I didn't think of myself as a feminist. Early on, I had a job, and soon realized that I needed to concentrate on "my career." How was I going to be admitted to the Partnership?
Fortunately, I had male friends to focus me in the right direction for promotion and to help begin to bring about equality. I got my first job at Arthur Andersen thanks to the foresight of a male professor at Purdue and others who realized that getting the job done right didn't depend on gender. Fourteen years later, when I was named the first female partner of Andersen Consulting -- now known as Accenture -- it was also because of the forward-thinking actions of many male partners.
For real change, and in order to get more women in charge, today's CEO's (mostly men) must have a strategy to achieve equality for men and women. This is more than having a concerted effort to recruit women professionals. They must "create the pipeline" for women, to ensure there are ample women candidates for all leadership positions when they become available. And they must make sure there are sponsorship and mentoring programs for women to show them the way.
The U.N. isn't the first governmental body to recognize the importance of men in the gender equality equation. Australia's appointed Sex Discrimination Commissioner in 2010 established that country's Male Champions of Change collaboration to have the male leaders make significant and sustainable change in the number of women in leadership roles in Australian companies, government and society.
The 30% Coalition, a group I belong to, organized a Champions of Change program. These executives seek to promote gender diversity in the corporate boardroom. They are public advocates to encourage other leaders to support their mission... to enlist more men in top corporate positions to recruit and develop more women to fill board seats.
With the HeForShe program, the United Nations recognizes that gender equality is a human right, and that having women in leadership roles makes society better in a myriad of ways.
Smart businesses realize also that gender equality makes companies better in a myriad of ways too.
According to Catalyst's groundbreaking 2011 study, "The Bottom Line: Corporate Performance and Women's Representation on Boards," companies with three or more women board directors on average outperformed companies with zero women board directors -- by 84 percent when measured by return on sales and 60 percent when measured by return on invested capital.
Improving gender equality in the workplace means improving corporate decision-making. Having women in the board room and in the executive suite means having better insight into half of the world's population; having insight into the minds of consumers who make most household buying decisions and having insight into the people who control more than half of all personal wealth and stock ownership in America.
But as Emma Watson points out, when it comes to gender equality in the workplace, we don't just want "to talk about it, but make sure it is tangible."
To do that, we must hold male leaders accountable. We must not just let them "check the box" on diversity. There needs to be accountability. As shareholders, board members, investors and consumers, we need to make sure we hold them accountable to make companies more diverse, and in turn, stronger and better.
Corporate executives -- men and women -- should be measured by equality goals, as well as financial goals. Their performance -- and their pay -- should be impacted accordingly.
Like Emma Watson, I truly believe that men need to take up the mantle to advance women in leadership positions.
Men -- fathers, brothers, friends, neighbors -- should want equality for all just as much as women want equality for all... especially when they have spouses, daughters and granddaughters.
Popular in the Community