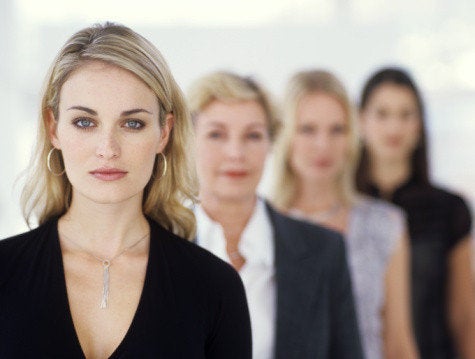 "There's little correlation between a group's collective intelligence and the IQs of its individual members. But if a group includes more women, its collective intelligence rises," was the finding of a study published by the Harvard Business Review. The finding begs the question: Why do women continue to be under represented in the growing tech industry -- a space that continues to be both founded and funded overwhelmingly by men?
Female Founders Still Under Represented in Tech
Of the nine top tech companies recently highlighted by CNN Money, only one -- IBM -- had either a founder or current CEO who is a woman. While women-owned firms make up 40 percent of the private business in the U.S., only 8 percent of new startups backed by venture capital included at least one female founder, according to research put out by CB Insights in 2010. And according to the National Center for Women & Information Technology, women make up less than 5 percent of CTOs of the top Fortune 500 IT companies.
The disproportionate breakdown of founders based on gender has little to do with the ability of women -- just look at this list of Fast Company's "Most Influential Women in Tech" -- but might partially have to do with the fact that so few women are team-members among the leading venture capital firms that could get women-run start-ups the necessary funding to get off the ground.
Men Continue to Dominate the Venture Capital Space
A 2004 study by the Kauffman Foundation about women in the venture capital industry came to the conclusion that increasing the number of female VC professionals would increase the likelihood "that firms will invest in promising ventures led by women." But nearly a decade later, the gender imbalance still seems stark.
The latest Midas List, Forbes' annual list of the 100 top venture capitalists, for example, includes just two women -- Deborah Farrington (ranked 77th), founder of StarVest (in which five of the six partners are women), and Theresia Gouw Ranzetta (ranked 93rd) at Accel.
"There are more women CEOs, and there need to be more women VCs too," Farrington said in a recent profile of her.
Industry professionals, such as consultant Whitney Hess, are struck by the need for more women VCs: "With women making 85 percent of purchasing decisions and far surpassing men in their Internet usage, doesn't it seem wrong that hardly any women are involved in controlling which companies create our future?" she asked on her blog. Hess decided to research the gender ratio of some popular venture capital firms and was dismayed at the results. Of the 25 "high-profile early-stage" venture capital firms she looked at, 12 had no women in investment positions at all, and only four had teams that were comprised of at least 15 percent women.
While the numbers remain dismal, some see signs of hope in the fact that there are any female team-members at the leading venture capital firms.
Listed below are some of the most-respected venture capital firms that have at least three women on their U.S. "team" of investment professionals (not necessarily partners):
Top VC Firms With Female Team-members
Kleiner Perkins Caufield & Byers
•24 percent of U.S. based team-members are women
KPCB, which was founded in 1972 and counts in their portfolio FindTheBest, Groupon, Klout, Spotify and Square, currently lists 11 women on its U.S. team, more than any other high-profile venture capital firm, out of 46 U.S. based team-members.
•19 percent of U.S. based team-members are women
Founded in 1987, Canaan Partners is divided into three teams (health care, technology and operations). Of the U.S.-based team, two members of the seven-person health care team are women (one a general partner, one an investment analyst). There is one woman out of 11 team members for technology -- Maha Ibrahim, one of the first investors to recognize the potential of social gaming. The finance/administration team has the best ratio: one woman, two men. Of the 21 U.S. based team-members, four are women -- 19 percent.
•18 percent of U.S. based team-members are women
DFJ was founded in 1985 and has funded Hotmail, Overture and Skype. The firm lists four women on a U.S. team of 22.
•15 percent of U.S. based team-members are women
Founded in 1983, Accel Partners includes Facebook, Groupon and Kayak in its portfolio and lists three women on a team of 20 in the United States, including Tracy Sedlock, Chief Operating Partner.
New Enterprise Associates
•15 percent of U.S. based team-members are women
Founded in 1978, NEA has funded 3com, CareerBuilding, Diapers.com and WebMD. The firm, which is divided into three teams (information technology, health care and energy technology), has only four females in its team of 41.
Other major VC firms have fewer than three women on their teams, but because their overall staffing is lean, the one or two women represent a higher-than-average percentage. This includes Union Square Ventures, with two women out of eight team members -- though the women are not investing partners.
Related
Popular in the Community