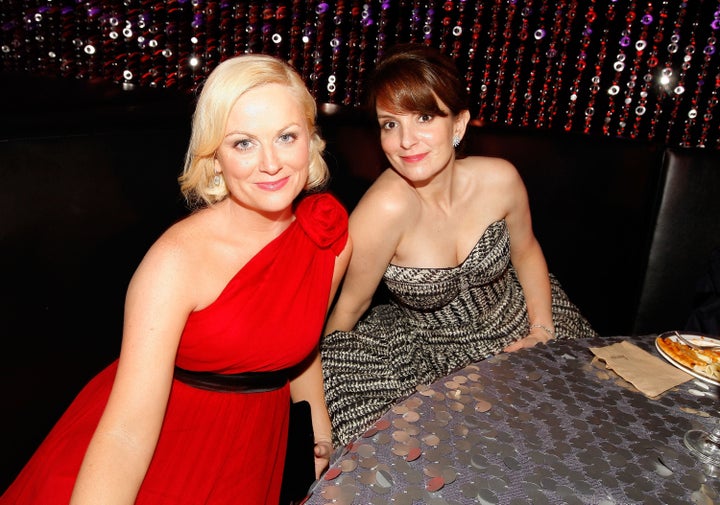 It's been said that nobody puts Baby in a corner. Unless "Baby" is a metaphor for "women" broadly, in which case many of us are putting Baby in a corner -- and a box.
The box I'm talking about is the "Women in..." box. Women in Hollywood, Women in Advertising, Media, Digital Media, Entrepreneurship, Technology, Film, Music, Aviation, Politics, Business, Communications, Leadership, Science, Sports. Women of the Year. Women Who Lead... pretty much any vertical, any industry and every part of life.
It's the box that Tina Fey and Amy Poehler inadvertently brought up on stage with them in the first moments of the Golden Globes acknowledging it had "been a great year for women in television." And it had (though this is a bit like saying 2010 was a better year for the economy than 2009, so yay for relative progress).
While this is a box typically wrapped in celebration and well-intended recognition, it's still a box and a corner nonetheless.
So here's my question: is calling out "Women in..." really helping us move closer to true gender equality, an equality that continues to lag beyond all reason, ability and time? Or, in doing this, are we just ghettoizing and separating women, and thus slowing progress?
I think it's the latter. I think we're segmenting and dividing when we don't have to. We're reinforcing unnecessary gender-based distinctions, and consequently strengthening the walls of the same boxes we're trying to break down.
The thing is, and to paraphrase Dr. King, I have a dream that my 7-year-old daughter will one day live in a nation where she won't be judged by her genitals or gender, but by the content of her character. Crazy, right?
That she's an amazing girl and will one day be an amazing woman is without parental doubt. However, I'd much rather she focus -- I'd rather she be culturally encouraged to focus -- on the amazing part, not the gender part.
While I understand that gender identity is for many a matter of who they are not what they are, I hope that what my daughter is will become less of a defining characteristic for her and her generation than it has been for her mother's. I hope that who she is and what she does or doesn't do will matter most of all, and as it is more likely to be for my son (who, back to Dr. King's dream, will one day have to contend with being a black man in America, no easy task, that).
I understand that we the people often define ourselves in whole or part through the prism of how others see us, and that parts of our identity can form as a function of and response to oppression, discrimination, adversity and disagreement, all of which women still face.
I understand that these "Women in..." events have been historically provoked by Baby's needing to create a space and place of her own, after having been left out and put in a corner for so long.
Yes, sustainable progress will be when we take "Women in" any walk of life for granted and needn't remark on it at all. And I can't help but wonder if we shouldn't be the change we want to see, and stop remarking on it now. After all, there's no award for "Women in Nursing." Because if we're going to move from here to equality, we have to stop making these distinctions when they don't need to be made.
Given this, amongst my worries for my daughter is that we're prolonging gender-based inequities despite our best intentions by continuing to call "Women in" out. I worry we're helping the other team win. Yes, there are times when the differences between us are paramount and true and relevant.
That it's still a "man's world" is tragic, beyond a doubt, and in desperate need of correction. Women's rights and gender equity are still waiting to be fully and culturally realized. But we're not elevating women or gender equality this way. We're segregating and perpetuating separate and unequal, and difference and distinction.
This may be the bias born of the privileged perspective of having been a white man for as long as I can remember. Maybe.
But I'll gladly give this privilege up for my kids. I want them, my daughter and son alike, to grow up thinking "I am awesome, hear me roar," and to be defined by their roar (or whisper) and not their gender.
I'd much rather they both be good people than that either be a good woman or man. Let their gender, like their genitals, be an important part of them, but between them and whomever they choose to share them with.
I'm all for celebrating relative progress, and like many of you, I want to shorten the path to real progress. There's enough ignorance and cultural inertia in my women's and my daughter's way already. Let's get out of the way and her way when we can.
I think it's time to take Baby out of the corner and the box.
Related
Popular in the Community